A year after landmark HC ruling, lesbian couples still face discrimination
Published on Jun 07, 2022 12:29 AM IST
Suffering from gender dysphoria since adolescence, R Ramya, 24, is in the process of a sex change to transition to identify as a male.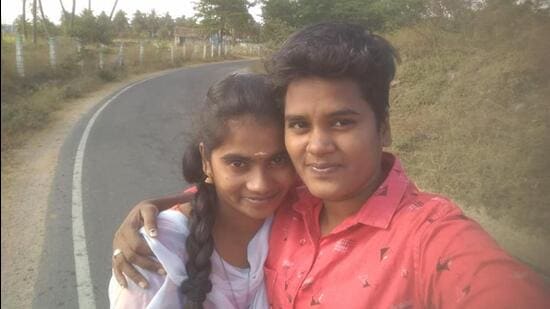 Suffering from gender dysphoria since adolescence, R Ramya, 24, is in the process of a sex change to transition to identify as a male.
Growing up in rural Tamil Nadu, Ramya battled several hurdles, including no access to information, a conservative environment and trying to make sense of her emotions.But a lot has changed in one year for Ramya after the Madras high court on June 7 last year in a landmark order banned attempts to "cure" the gender identity and sexual orientation of people as a part of the orders to sensitise state and Union government departments and civil society to protect the rights of LGBTQIA+ communities.
The order came following a petition by another lesbian couple from Madurai who had sought protection from their families opposing their relationship.
The court had taken the opportunity to issue orders to police, prison, health, judicial and education authorities with justice N Anand Venkatesh choosing to go for counselling to better acquaint himself with LGBTQIA (lesbian, gay, bisexual, transgender, queer, intersex and asexual) issues. It included guidelines for police to not harass the community on account of their parents filing 'missing complaints' which is what happened to Ramya eventually.
After Ramya and her partner S Nidhi, 23 eloped, the former's family filed a missing person's complaint at local police station. Ramya was constantly receiving death threats from her family."They would have killed both of us in the name of honour," Ramya said. Her fear led her to contact a local NGO who connected her to a lawyer in Chennai to file a case in the Madras HC.
On June 25, a bench comprising justice M Nirmal Kumar followed the previously guidelines laid down by justice Venkatesh and the missing complaint filed by Ramya's family was quashed by the court. "...the respondent police are directed not to cause any harassment and also give appropriate protection for the safety and life of the petitioner following the guidelines issued by this court," the June 25 order had said.
Justice Venkatesh who has continued to hear the case has passed several orders in the past year such as revamp of MBBS courses in India after observing that queer-phobia is being reaffirmed throughout during the education of a doctor. An order directed the state government to include a specific clause in the Police Conduct Rules to provide punishment for misconduct if police harass persons belonging to the LGBTQIA+ community, activists and the NGO workers who assist them.
"...the change must take place at a societal level and when it is complemented by a law there will be a remarkable change in the outlook of the society by recognising same-sex relationships," stated the 107-page judgement passed on 7 June, 2021. The order came roughly three years after the Supreme Court decriminalised adult consensual same-sex relationships and seven years after it affirmed the rights of transgender people.
During the latest hearing on April 8, the additional advocate general informed the court that the social welfare and women empowerment department was working on the Draft Transgender Persons (Protection of Rights) rules.
Despite all these changes, the two lesbian couples and LGBTQIA+ activists say they continue to face discrimination.
Living a double life
The Madurai couple who are 23 and 24 years of age said that the fear of separation made them approach the court. They spoke to HT through Whatsapp messages via an intermediary as they were afraid of their identity being revealed.
"We felt like we created a history in this age after overcoming each and every struggle. We are still facing problems but we are happy to see people of our community come out boldly after seeing the judgement," the couple said calling the judgement a "turning point in their lives." A year after the judgement, one of their parents has accepted them as they are and their relationship. "The other family is not even ready to understand what LGBT is," they said.
They continue to live in fear in terms of family, educational institutions and employment. "Revealing our identity is a huge issue for us. It's like a lifetime fear. Every day we wake up in a lot of fear but we continue to hope that everything will become normal again and our parents will accept us. We hope for the fear to fade away. We also want to live our life to the fullest and together."
Ramya recalls that after her family separated her from Nidhi last January, following which her uncle took her to a counsellor in a government hospital. "My uncle told the doctor that I have a mental problem. I shared everything with the doctor and told her I'm not mental, I just love another woman," said Ramya. "The doctor gave me a clean chit and sent me home. My family was expecting her to admit me for treatment."
This was not before Ramya's family thrashed the two women. "We didn't bleed but we were battered," said Ramya. "My mother and chitappa (younger uncle) slapped us many times. They kept shouting at Nidhi that she spoiled my life. We couldn't make them understand that we were in love. There is no room for talking about being a lesbian in a village like ours," she said. After this, Ramya was locked up and Nidhi was taken to the local police station by the family where her brother was contacted. The duo was separated for three months.In April, they managed to flee to another region.
"I studied in a girls school. When I was in Class 9, I was confused as to why I looked at girls differently. I couldn't be normal when I was speaking to them," said Ramya, who relied on internet to understand why she liked dressing up like the other sex. One day her mother saw her secretly wearing jeans inside her room and beat her. "I was only allowed to wear sarees and sometimes a salwar."
After completing Class 12, Ramya was forcibly married when she was 17. "My husband was a good man. I shared everything with him and told him that I'm leaving. He understood why we never lived like a normal couple," Ramya said.
A year on, Nidhi's family has come around and visits them often. "But my family has ostracised me. They didn't even call me for my younger brother's marriage. My father works abroad. He still talks to me but says if you come to see me come alone," she said. The two have rented a house and have kept their identity hidden from house owners, like they have done at their places of work.
The Madurai couple still worry about their protection. "Where we come from, if parents know their child belongs to the LGBTQIA+ community, they will be killed," they said. "The law is on our side but people around us can't accept us. People like to ask questions like how it is possible to fall in love with the same sex," they said.
"Life has changed a little. When it comes to LGBTQIA people, police harass them, beat them, ask intrusive questions. We are also humans. We should be respected and treated equally. We should be able to get a job, rent a house, even after revealing our identity. But it is hard," they said.
Intersex rights activist and South Representative of National Council for Transgender Persons, Gopi Shankar Madurai said that unless anti-discriminatory practices are accompanied by penalties, the harassment against the community will continue. "The court has granted us constitutional rights but as a statutory authority myself I can say that it's difficult to implement these changes on the ground without political will," Shankar said. "A state government can override a court judgement by passing a resolution in the legislative assembly."
Personalise your news feed. Follow trending topics