Aaditya Thackeray pans BJP for politicisation of schools with CAA talks, says mustn't be tolerated
Updated on Jan 11, 2020 02:52 PM IST
Aaditya Thackeray also suggested what the Bharatiya Janata Party or any other political leader should do to contribute towards students' education.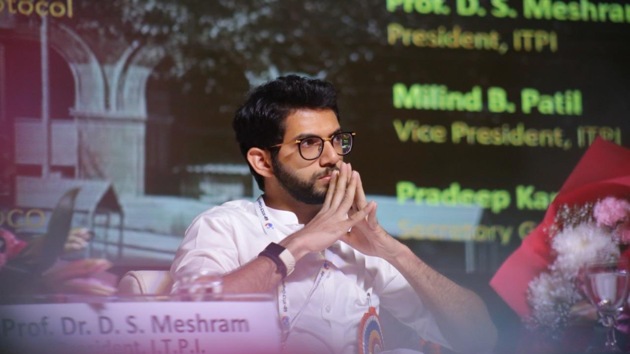 Hindustan Times, Mumbai |
HT Correspondent
Maharastra minister Aaditya Thackeray on Saturday questioned the BJP's campaign in schools to teach students about the contentious Citizenship Amendment Act (CAA), a criticism dismissed by the opposition party as "dirty politics".
The young Shiv Sena leader tweeted a day after a few BJP leaders visited a school in Mumbai's Matunga area to "spread awareness and correct misinformation" about the law, which has sparked protests across the country.
The BJP had organised a talk at Dayanand Balak Vidyalaya on Bhimani street from 10am to 11am on Friday for students of Classes 8, 9 and 10.
The newly-appointed environment, tourism and protocol minister also suggested what the Bharatiya Janata Party or any other political leader should do to contribute towards students' education.
"To campaign abt an Act in schools is ridiculous. What is the need for such political campaigning justification, if there is no ill intent? Politicisation of schools mustn't be tolerated. If politicians want to speak in schools, speak on gender equality, helmets, cleanliness!" Aaditya Thackeray tweeted.
His party had supported the Citizenship (Amendment) Bill in the Lok Sabha but took a sharp U-turn in the Rajya Sabha by abstaining from voting for the new law when it was presented in Parliament in December last year.
The BJP's spokesperson Madhav Bhandari accused Thackeray and others of "playing dirty politics" over the act.
"CAA is not a political thing. These people are trying to politicise a national issue that should have remained out of dirty politics. They are playing dirty politics. CAA is a national duty. Each and every nation loving person should join this campaign," Bhandari said.
"We have launched a campaign in the entire nation. We are reaching person to person," he added.
Facing protests across the country, the BJP is pulling out all stops to dispel doubts about the provisions of CAA and has started a door-to-door campaign that will reach out to three crore families to clear perceptions about the act.
The BJP has asked every member of the party to personally reach at least 10 citizens of the country and create awareness about CAA.
Bhandari said, "The leaders individually will choose by their convenience how to create this awareness."
According to the BJP leaders who organised the event, "students were given information about CAA and any misinformation they had was corrected."
Students were also given postcards pre-addressed to Prime Minister Narendra Modi and encouraged to post them after writing their "true feelings" about CAA.
Nehal Shah, the BJP corporator from the Matunga area who was one of the event's organisers, said they plan to take the outreach beyond schools in the city.
"This is the first school we have taken up but we will do all of Mumbai's schools and colleges in the upcoming days. We are not doing this as BJP workers but as citizens. Before this, we have done it in in societies and at joggers' parks," Shah said.
She said the party is not asking them forcefully to support CAA but wants them to make an informed decision.
"It was surprising to see that such young students understood what is CAA and they are in support of CAA," she added.
"When so many students around the country are protesting against CAA, from JNU and Jamia Millia Islamia, these school students' knowledge and perspective were refreshing. There were five students who spoke. They were students from a different religion. Few were Muslims, some were Hindus," he added.
Sumita Singh, another organiser, pointed out that among the students in the school, which has 25% Muslim pupils, who spoke only two were Hindus.
"Those who are creating havoc in the country by sneaking into our country will be targeted. This is what we need to spread awareness about. The new generation needs to have correct information about CAA, they are curious but are misguided. Once they understand CAA, they are very accepting of it," Singh said.
Singh is Arya Samaj chairperson and approaching schools operated under the trust.
Shree Dayand Vidyalayaa in Kandivali's Charkop will host the campaign on Monday. On Tuesday, it will be organised at Dayanand Vedic Vidyalaya at Mulund.
Close Story
Personalise your news feed. Follow trending topics