Adulation, jail, criticism: At 25, Hardik Patel has seen it all
Three years after he made the whole nation take note of him by leading the Patidar youths' agitation for quota in education and jobs, Hardik Patel now needs to walk the tight rope in carving out his path to Delhi.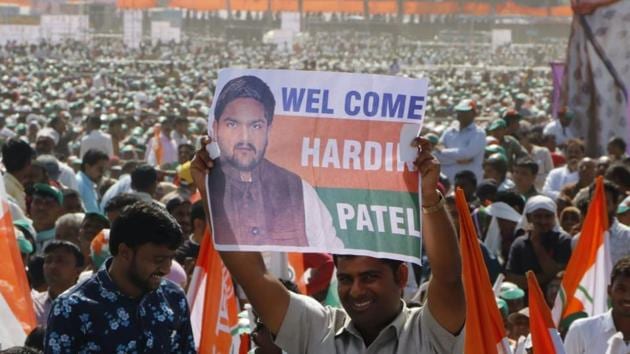 Updated on Mar 12, 2019 06:56 PM IST
Patidar leader Hardik Patel joined Congress in Ahmedabad in the presence of its president Rahul Gandhi and other top leaders in Gujarat's Ahmedabad on Tuesday.
Three years after he made the whole nation take note of him by leading the Patidar agitation, which reopened the debate around caste based reservation system in India, the firebrand leader now has to wait and watch, before he can make his next big leap — entry into electoral politics.
For live updates, click here
A conviction in a rioting case and two years' sentence, unless stayed by a higher court, could pose hurdles in his political career.
"I am just a 25 years old. I still have time on my side," he said, when asked about contesting the Lok Sabha elections.
In 2015, fame came suddenly and unexpectedly soon after college for the young man born to a Kadva Patidar middle class family . But now, Hardik, who hails from a Viramgam town near Ahmedabad, needs to walk the tight rope in carving out his path to Delhi.
For one, stir is over. The NDA government's big move of clearing 10% reservation for economically weaker sections of non-reserved category is expected to pacify the angry Patidars.
Secondly, the ground support that he enjoyed from the community during the peak of the agitation is a matter of past. Except a grand reception in July 2016 given to him upon release from nine-month imprisonment in Surat Lajpore Jail in connection with two sedition cases, his subsequent programmes in the past two years have failed to regenerate the magic of the August 2015 Ahmedabad rally.
His efforts to revive the agitation through hunger strike in August 2018 got lukewarm response. Recently, his Kadva Patidar community invited PM Modi for inauguration of religious and educational complex to come up at a cost of Rs 1,000 crore, signalling that BJP has wooed back its traditional vote bank.
Luxurious lifestyle, sprawling home in posh areas, swanky cars, branded watches and expensive phones that Hardik acquired soon after the Ahmedabad 2015 rally , led accusation against him of siphoning off community funds. A luxury resort sojourn and big fat wedding ceremony for his sister, further dwindled the support as his dictator like style of functioning alienated him from other founding members of the agitation. So when he opted for a low-key event for his wedding earlier this year, it was seen as well thought out strategy.
A closed-door meeting ahead of December 2017 in an Ahmedabad-based luxurious hotel he had with Gandhi, was the last blow to his then already cracking team.
While the Patidar businessmen and industrialist-fund providers of the agitation are being wooed back by the BJP, the youth — his core supporters — are apparently disillusioned by his conflicting claims and moves as he is set to join a political party after projecting himself apolitical.
The BJP has been calling him and his agitation a design of the Congress. "Hardik who?" asked BJP state chief Jitu Vaghani when his reaction on the matter was sought. The BJP's strategy has been to ignore him publicly.
Hardik's outfit Patidar Anamat Andolan Samiti (PAAS) has supported the Congress in past two elections — 2015 local body polls and the 2017 assembly elections. On both the occasions, the Congress made inroads into BJP's rural Patidar dominated bastions. The urban fortress of BJP, however, has remained intact.
Hardik, if he will contest, has been on the lookout for a seat where the caste arithmetic goes in his favour, like Jamnagar or Amreli. Though Amreli is Patidar dominated, a divide between to sects — Kadvas and Leuvas — can result in complications, especially for an outsider like Hardik.
If Jamnagar, as suggested in some media reports, will be his choice, the BJP has already made it a difficult battle for the Congress. For, before the Congress could formally include Hardik Patel in the party, two of its MLAs from Jamnagar — Dharmendrasinh Jadeja and Vallabh Dharaviya — have defected to the BJP.
"In the Gujarat politics, he will now be just any other Congress leader, unless he proves himself to be an extraordinary," said political analyst Hari Desai.
Time, which Hardik says is by his side, will prove.
Close Story