'All's well that ends well': How Air Force helped in Russia plane's bomb scare
Jan 11, 2023 10:05 AM IST
The Goa-bound chartered flight was diverted to Jamnagar, Gujarat following a bomb threat received by the Goa Air Traffic Controller.
A Russian airline operating a Moscow-Goa (Dabolim) flight was the subject of a bomb scare this week forcing authorities to land it mid-route - at an airport in Gujarat's Jamnagar - and carry out a nearly 10-hour check of the aircraft, the 244 people onboard and their baggage. The IAF shared a video of Azur Air flight 2401 departing for Goa after it was cleared, saying 'All's well that ends well!'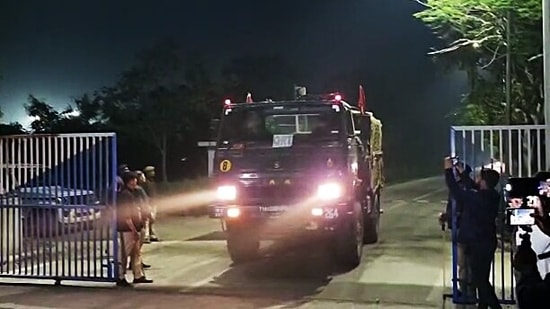 As part of protocols in such a situation, the Air Force co-ordinated with ground staff and special forces, including explosives experts from the elite National Security Guard, who were flown in on IAF planes to carry out checks.
That all of this was done with only 50 minutes response time, which underlines the speed and efficiency with which the Indian Air Force operates.
"Upon landing, Indian Air Force security personnel had isolated the aircraft in its isolation bay and evacuated 236 passengers to safety."
"Immediate hospitality was extended by the authorities at Air Force Station Jamnagar to make the passengers comfortable."
READ | Nothing suspicious on Moscow-Goa flight after bomb threat - Top 5
"NSG bomb disposal teams flown in by IAF aircraft scanned the aircraft and personal baggage before clearing the flight for departure to its final destination - Dabolim Airport, Goa," the Air Force tweeted Tuesday.
The IAF shared night-time videos of the plane being checked and taking off.
According to ANI, senior Air Force officials, including Air Commodore Anand Sondhi, maintained constant watch on developments at the Jamnagar airport. Emergencies like this are normally routed to airports handled by the aviation ministry - like Mumbai or Ahmedabad - but there was very little time to react, hence the flight was sent to Jamnagar.