Video of surgical strike with govt, PM to decide whether to release it: MoS Ahir
Updated on Oct 05, 2016 10:29 PM IST
As chorus for showing proof of surgical strikes on terror launch pads grew, Union minister Hansraj Ahir said on Wednesday the army has handed over to the government video clips of the cross-LoC operation.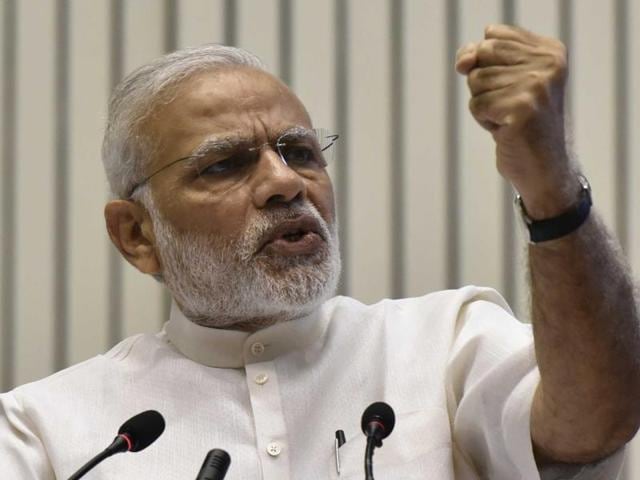 Union minister of state for home Hansraj Ahir on Wednesday said a video of the surgical strike conducted by the Indian Army in Pakistan-occupied Kashmir (PoK) was with the government and a decision on releasing it would be taken by Prime Minister Narendra Modi.
"Yes, the government has received the video clip (from the army). The decision for releasing it or not is to be taken by the Prime Minister," Ahir told reporters at the Sahyadri guest house here.
"The laid down procedure has been followed. The DGMO briefed (about the surgical strikes). It was not the defence minister nor the Prime Minister and not the home minister. It was the DGMO who briefed (the media). That was the right thing to do and they (Army) did it.
"There was a time when written documents were submitted. Now the times have changed. Now clips are given and the clips have been given," Ahir was quoted as saying by PTI.
Ahir slammed the Congress for politicising the issue by demanding the release of the video to counter Pakistan's claim that the operation never took place.
"Whatever is going on the surgical strike, it is only for the sake of publicity, but at a very cheap level," he said, adding that the BJP had never asked for any CD of surgical strikes conducted during the UPA regime. "We are of the clear view that parties should refrain from making such demands."
He said the morale of the Indian Army would not be affected but Pakistan may benefit from such politics. "(The) Congress is unable to digest praises for PM and army jawans."
A political slugfest broke out over the surgical strikes, with Mumbai Congress chief Sanjay Nirupam calling it "fake", provoking stinging criticism from the BJP even as his own party said it "totally dissociates" from his remarks.
The Congress leader went on to demand "some evidence" to prove the surgical strikes did take place and accused the Centre's ruling BJP of indulging in politics over the issue.
Delhi chief minister Arvind Kejriwal, too, had asked the government to release the proof of the cross-LoC surgical strikes to counter the Pakistani propaganda against the operation.
With patriotic sentiments running high amid soaring tensions with Pakistan, Union minister Uma Bharti said leaders who cast "doubt over the army's surgical strike should take Pakistani citizenship".
With inputs from PTI