Bangladeshi man held guilty of raping 71-year-old nun in West Bengal in 2015
Nov 07, 2017 11:17 PM IST
Six others, including Noju, were also guilty of committing dacoity at the Convent of Jesus and Mary in Ranaghat on March 14, 2015.
A local court in Kolkata on Tuesday held a Bangladeshi citizen guilty of raping a 71-year-old Christian nun in West Bengal's Nadia district more than two years ago, an incident which triggered widespread protests and outrage across the eastern state.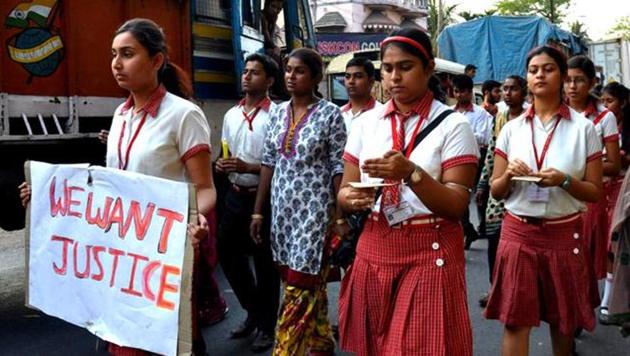 The city sessions court held Nazrul Islam, alias Noju, guilty of rape. Six others, including Noju, were also held guilty of committing dacoity at the Convent of Jesus and Mary in Ranaghat on March 14, 2015.
Gopal Sarkar, a resident of North 24 Parganas district, was found guilty of criminal conspiracy. He was accused of providing shelter to the gang of criminals from Bangladesh. They plotted the crime at Sarkar's residence but he was not present at the scene of the crime.
"This incident is particularly shameful for the people of West Bengal, a state where persons such as Sister Nivedita and Mother Teresa have worked. The missionary, who was raped was an aged woman who was working for the welfare of the people," judge Kumkum Singha remarked while delivering the verdict.
Singha made it clear that the case was not of gang rape. The quantum of punishment will be announced on Wednesday.
"We will plead for the maximum punishment possible punishment, which is life term, under the sections," public prosecutor Anindya Raut said after the verdict.
"We have succeeded in arguing against the charge of gangrape," Fazle Ahmed Khan, the lawyer for the accused, said.
Nuns of the church were also present in the courtroom when the verdict was pronounced.
According to the complaint lodged by the church authorities, a gang of seven to eight men ransacked the church between 2 to 5am on March 14 and took away cash, camera, computers.
The men were caught on closed-circuit television (CCTV) cameras on the campus of the Convent of Jesus and Mary High School. While the faces of four of the men were recorded, four were drawn later on the basis of the description given by nuns and the security guard present when the incident took place.
The accused were booked for rape, dacoity, and criminal conspiracy.
Prime accused Noju was picked up by the police from Sealdah railway station in Kolkata on June 17, 2015. The victim identified Noju from a gathering of 10 persons at a test identification (TI) parade in July in the city.
A total of 42 witnesses were examined during the trial.
Ranaghat is about 78 km from Kolkata and just 20-30 km from the India-Bangladesh border. It is connected to Gede, a point on the Bangladesh border about 55 km away, by train.