DGCA notice to Go First for leaving behind 55 flyers at Bengaluru airport
Jan 11, 2023 12:06 AM IST
The aviation regular issued a show-cause notice to low-cost airline Go First for leaving 55 passengers, who were to board a Delhi-bound flight on Monday morning, stranded at Bengaluru airport
New Delhi: The aviation regular on Tuesday issued a show-cause notice to low-cost airline Go First for leaving 55 passengers, who were to board a Delhi-bound flight on Monday morning, stranded at Bengaluru airport.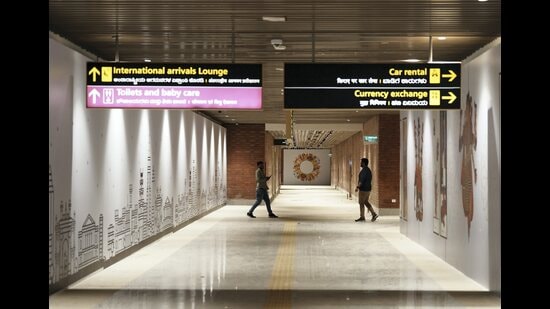 The Directorate General of Civil Aviation (DGCA) issued the show-cause notice to the chief operation officer of the airline as to why enforcement action should not be taken against them for "dereliction of their regulatory obligations".
Go First's flight G8-116 took off for Delhi from Bengaluru's Kempegowda International Airport around 6.30 am, leaving 55 passengers stranded in the shuttle bus.
Soon after the incident, DGCA sought the incident report from the airline, which was submitted on Tuesday.
In a statement, DGCA said prima facie it emerged that the airline failed to comply with prescribed rules. "Go First failed to comply with the provision specified at para 9 and 13 of CAR Section 3, Series C, Part II issued by DGCA resulted in violation of Para (1A) of Rule 134 read with Schedule XI of the Aircraft Rules, 1937. M/s Go First has failed to comply with the provision specified in para 5.2 of ATC 02 of 2019," the statement said.
"As per the above-referred regulations, the concerned airline is responsible to ensure adequate arrangement for ground handling, preparation of load and trim sheet, flight dispatch and passenger/cargo handling and also ensure that all the ground handling staff engaged in passenger handling undergo periodic soft skill training for sensitization, courtesy, behaviour and procedures for assisting the passengers," it added.
The regulator noted that in this case "multiple mistakes" such as lack of proper communication, coordination, reconciliation, and confirmation resulted in a "highly avoidable situation".
DGCA gave the airline two weeks to submit its reply to the notice, and said further action will be taken based on that.
In a statement, Go First said: "We sincerely apologize for the inconvenience caused to the passengers due to an inadvertent oversight in the reconciliation of flight G8 116, from Bengaluru to Delhi. Passengers were accommodated on alternate airlines to Delhi and onward to other destinations."
Go First said it has also offered one free ticket to all the affected passengers.
"In line with our philosophy of customer centricity, the airline has decided to offer all affected passengers one free ticket for travel on any domestic sector in the next 12 months," it said. "The airline has initiated an inquiry into the incident and the matter is being investigated. All concerned staff off the roster till the inquiry is going on."