Digvijaya removed as Congress in-charge of Goa and Karnataka
Apr 30, 2017 08:12 AM IST
The move comes roughly a month after Digvijaya Singh was blamed for delaying government formation in Goa despite the Congress emerging as the largest party.
The Congress removed on Saturday Digvijaya Singh as its in-charge of poll-bound Karnataka as well as Goa, where the party failed to form government despite emerging as the largest party by votes.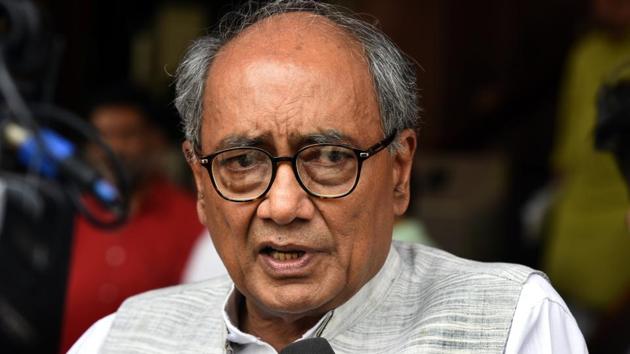 Lok Sabha member KC Venugopal was appointed as general secretary of the party and given the charge of Karnataka, where the Congress is hoping to retain power. Party secretary A Chella Kumar was given the charge of Goa.
"Congress President Sonia Gandhi has assigned the task of looking after Karnataka and Goa affairs to new AICC teams," a release by the party said.
Singh, in a series of tweets, said he was happy that the new team was picked by party vice-president Rahul Gandhi.
Elections are due in Karnataka assembly in the first half of next year.
Additionally, Madhusudan Mistry was removed from the post of general secretary and appointed to the Congress' central election authority that oversees internal polls.
A general secretary coordinates between a state unit and the party high command.
Mistry was in-charge of the central election committee (CEC) that was headed by Sonia Gandhi. The CEC selects candidates for elections to Lok Sabha and state assemblies.
The reshuffle comes roughly a month after Singh was blamed for delaying government formation in Goa, despite the Congress emerging as the largest party. The BJP succeeded in cobbling together a coalition and chief minister Manohar Parrikar even offered "special thanks" to Singh for "doing nothing" and enabling the saffron party-led government.
Singh continues to be party general secretary in-charge of Andhra Pradesh and Telangana.
In Karnataka, a rebellion had been brewing in the ruling Congress. Many state leaders and legislators complained to the high command about Singh's style of functioning and demanded his removal from the post.
On April 26, former Rajasthan chief minister Ashok Gehlot was appointed as general secretary in-charge of BJP-ruled Gujarat, where assembly elections are due in November-December this year.
Gehlot replaced party general secretary Gurudas Kamat, who had requested the party high command to relieve him of all responsibilities. The party is yet to find his replacement in Rajasthan.
Venugopal and his team of young leaders are considered close to Congress vice-president Rahul Gandhi.
Venugopal earlier headed a panel to shortlist candidates for the Goa elections.
The appointment of Mistry, also regarded close to Rahul, comes at a time when the party has to meet the election commission deadline of December 31 to complete its organisational polls.
Rahul is keen to hold internal elections and has asked all state leaders to strictly adhere to the schedule.
Mistry's detractors, however, see the move as a demotion given that he has been divested of all organisational responsibilities.
He had earlier been removed as in-charge of Uttar Pradesh when veteran Ghulam Nabi Azad replaced him.
Despite being in alliance with the Samajwadi Party, the Congress fared badly in the elections, winning just 7 seats, 21 less than its tally of 28 in the 2012 elections.
Venugopal will be assisted by new party secretaries Manickam Tagore, Madhu Goud Yaskhi (both former Lok Sabha MPs), former Kerala legislator PC Vishnunadh and former Andhra Pradesh minister Sake Sailjanath.
Amit Deshmukh, a legislator from Maharashtra and son of former chief minister Vilasrao Deshmukh, too has been made a party secretary and will help Chella Kumar in Goa.