Egypt Prez Sisi desires to take ties with India to higher level: MJ Akbar
Updated on Oct 22, 2017 11:41 AM IST
President Abdel Fattah el-Sisi has a sincere desire to take the Egypt-India ties to a higher level, Minister of State for External Affairs M J Akbar has said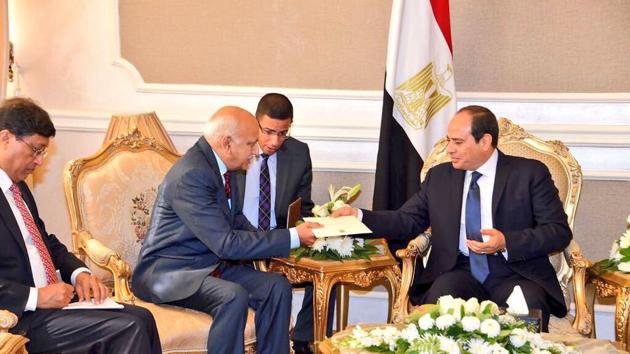 Press Trust of India, Cairo |
Press Trust of India
President Abdel Fattah el-Sisi has a sincere desire to take the Egypt-India ties to a higher level, Minister of State for External Affairs M J Akbar has said.
Akbar, who called on President Sisi here on Saturday, described his meeting with the Egyptian leader as "excellent".
"President Sisi's great desire for taking our relationship, which is already very good, to much higher level is very sincere and is a very powerful pillar of our bilateral relations and it gives us hope for great revival," he told PTI after the meeting.
During the meeting at Al Alamein, the two leaders discussed ways to further strengthen the bilateral ties as well as other regional and international issues.
Akbar said both countries always find new avenues for partnership and cooperation "not simply on government-to- government level but how to improve partnership on a people- to-people level".
He handed over President Sisi a letter from Prime Minister Narendra Modi. The letter was to thank Egypt for its support to the Indian candidate at the International Court of Justice, the minister said.
"This is a message of renewal relations and it also elaborate how we can work together both in multilateral and bilateral issues," he said, noting that India had supported the Egyptian candidate for the Secretary-General of UNESCO.
The minister also mentioned that President Sisi and Prime Minister Modi have met four times and they have developed a "very good warm friendship".
Sisi had visited India in September 2016.
Akbar also condemned the killing of Egyptian policemen in a gun battle with terrorists during a raid on a militant hideout in Giza governorate on Friday.
"It was also an occasion to reassert what our Prime Minister has been saying about terrorism and the message he is giving is 'There is no good terrorism, no bad terrorism. All terrorism is evil' and President Sisi endorsed that completely," he said.
Akbar also praised the vital role which Egypt plays in the Middle East.
"Egypt has always played a very important, even critical, role in shaping the Middle East. It is one of the countries which make the difference," he said.
During his short visit to Egypt, Akbar laid a wreath at Indian soldiers cemetery at Alamein and remembered their valiant sacrifices in the World War II.
Akbar's visit coincides with the 75th anniversary of the historic battle of El-Alamein.
The decisive battle - which began on October 23, 1942 - pitched the forces of British Field Marshal Bernard Montgomery's against the Afrika Korps of Germany's Erwin Rommel.
The battle was a major turning point in the war, halting the advance of the Axis in North Africa and paving the way for the final victory there the following year.