Manipur's Leisang becomes last village to get power, govt says India fully electrified
The rural electrification scheme to supply power to 18,452 census villages that have never seen power since Independence has been one of the pet schemes of PM Narendra Modi.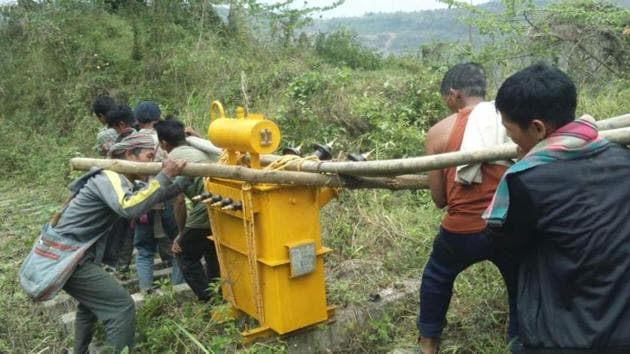 Updated on Apr 29, 2018 11:36 PM IST
Hindustan Times, New Delhi |
HT Correspondent
Union ministers on Sunday celebrated what they claimed as "powerful India" after the target to bring electricity to all villages was achieved ahead of its deadline.
On Saturday, Leisang in Manipur became the last village to be added to the national power grid. The rural electrification scheme — to supply power to 18,452 census villages that have never seen power since Independence — has been one of the pet schemes of PM Modi. This and the free LPG connection scheme has potential to improve his popularity in the rural sector ahead of elections.
"I salute the efforts of all those who worked tirelessly on the ground, including the team of officials, the technical staff and all others, to make this dream of a #PowerfulIndia a reality. Their efforts today will help generations of Indians in the coming years," he tweeted. In his 2015 Independence Day speech, Modi announced that his government would supply power to all the remaining villages in the next 1,000 days but fulfilled the target in 987 days.
BJP president Amit Shah saw an opportunity to take jibes at the Congress and tweeted: "Today, the entire nation is celebrating power for every single village while the Congress is mourning the loss of power for one family."
But critics took a cautious tone and said it is too small a target to be proud of. "Any infrastructural addition or benefits earn credit for the party in power. But in the rural electrification scheme, only the remaining 3% of villages have been provided power. Also, most of the remaining villages are not densely populated," said Himangshu, professor of economics at Jawaharlal Nehru University here.
The Congress hit back and its chief spokesperson Randeep Surjewala tweeted: "Dear Amit Shahji, India has 6,49,867 villages. Congress connected 97% with electricity. During UPA (2004-14), Congress electrified 1,07,600 villages. In 60 yrs, Congress average is electrifying 10,000 villages per year. Congress created #PowerfulIndia but didn't boast!"
But senior NDA ministers continued to focus on the completion. "After 70 years of independence, #Electricity now reached all Indian villages because of 4 years focused efforts of @narendramodi Government," tweeted Prakash Javadekar. Power minister Piyush Goyal wrote: "Under the decisive leadership of PM @NarendraModi India has finally been able to electrify all its villages before the set target date. With elimination of darkness from the lives of fellow Indian villagers, we commit ourselves to building a new and #PowerfulIndia."
According to a Bloomberg report, a village is considered electrified "if 10% of its households, as well as public places, are connected".
Close Story