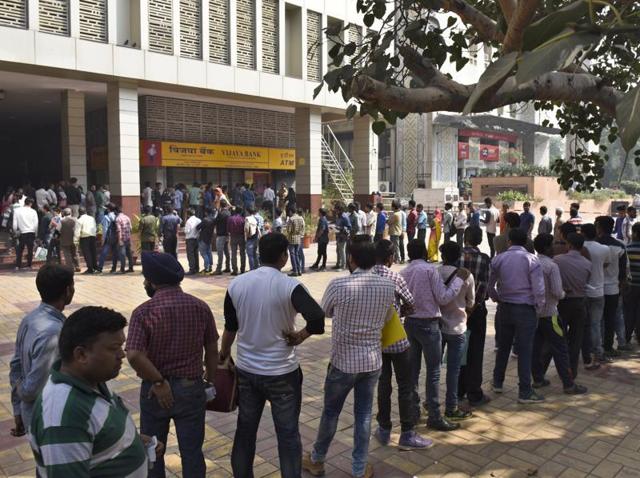 Withdrawal limits at banks, ATMs raised; new Rs 500 notes launched
The finance ministry revised caps on ATM and bank transactions on Sunday by about 30% less than a week after the government devalued 1000 and 500 rupee notes, leaving citizens in a tight spot across the country.
UPDATED ON NOV 14, 2016 08:29 AM IST
The finance ministry revised the cap on bank withdrawals on Sunday while advising similar changes to ATM withdrawals less than a week after the government's demonetisation of 1000 and 500 rupee notes left people in a tight spot.
As per the directive, the weekly withdrawal limit from banks has been increased to Rs 24,000 from Rs 20,000, while the daily limit of Rs 10,000 has been scrapped.
The ministry also advised banks to increase cash withdrawal limits in ATMs to Rs 2,500 per day in recalibrated ATMs. People were able to withdraw only upto Rs 2,000 so far.
As for exchange of demonetised banknotes, the ministry advised increasing the limit from Rs 4,000 to Rs 4,500.
The new currency notes of Rs 500 also finally hit the bank branches.
Sources said the Reserve Bank of India will mint more currency notes of the denomination in the coming days.
The move comes amid growing anger among citizens who, for the past week, have been stuck waiting for hours in long lines outside banks and ATMs. In a surprise move, Prime Minister Narendra Modi had announced that all existing 1,000 and 500 rupee were being made illegal tender from November 9 in a move to tackle black money. However, the sudden change left citizens scrambling to exchange their money for lower denominations and the newly introduced Rs 2,000 note. On Sunday, the new Rs 500 note was also brought into circulation.
Read | Give me 50 days over scrapped notes, punish me if problems persist: Modi
The ministry further advised banks to arrange mobile banking vans at major hospitals to facilitate emergency transactions for patients. To handle the swelling crowds, separate queues for cash-to-cash transactions and those through bank accounts have been proposed.
Read | Despite Rs 4000-cap on money exchange, loophole allows multiple transactions
In other measures, banks were asked to arrange separate queues for senior citizens and specially abled people.
A statement issued by the finance ministry late on Sunday said that they, with the RBI, were closely monitoring the distribution of new currency notes.
Chief secretaries of states have been asked to identify rural pockets where cash availability has been a problem. Apart from ensuring the distribution of small denomination notes, banks were also asked to provide support for last-mile distribution of money.
Within the first four days of the new measures, about Rs 3 lakh crores of demonetised bank notes were deposited across the country. In so far, about Rs 50,000 crore has been dispensed through withdrawals and exchanges.
Read | Currency demonetisation: Modi warns of more action against black money holders
The government had advised citizens to go cashless wherever possible, but has received reports of some businesses refusing cheques, demand drafts and online payment transfers.In such an instance, the ministry has asked customers to lodge a complaint with concerned district magistrates or administration.
On Saturday, finance minister Arun Jaitley said it would take about three weeks for the situation to normalise.
(With inputs from agencies)
Also read | No need to rush: 10 things finance minister Jaitley said about demonetisation
Close