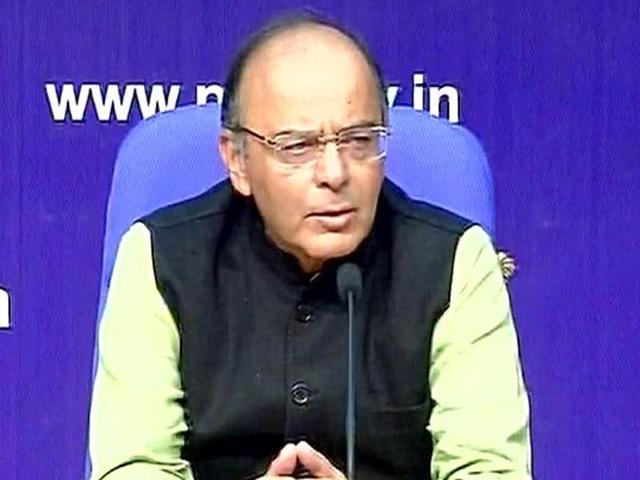 It's a massive operation; ATM recalibration will take 2-3 weeks, says Jaitley
Union finance minister Arun Jaitley appealed to Indians on Saturday to not rush to banks for withdrawal of new currency, saying any calibration of ATMs for new currency will need 2-3 weeks
UPDATED ON NOV 12, 2016 04:27 PM IST
Do not rush to banks for the withdrawal or exchange of high-value banknotes, Union finance minister Arun Jaitley appealed to Indians on Saturday, saying any calibration of ATMs for new currency will need 2-3 weeks.
Read: Weekend rush for cash jolts banks, ATMs; families out on streets together
Jaitley's comments came after two days of confusion and panic across the country following the government's abrupt move to pull Rs 500 and Rs 1,000 notes out of circulation. The Opposition has criticised the Centre for the move that resulted in serpentine queues and chaos at banks and ATMs.
Read: 21 ways to check if your new Rs 2000, Rs 500 notes are real
But Jaitley said the government couldn't have calibrated ATMs for the new Rs 2,000 and Rs 500 notes to maintain secrecy. "Any such move to recalibrate would need thousands of people and the secrecy would be compromised."
"It would have given the whole game away."
But he admitted that any change in ATM-related technology would need time. "It is a long-drawn process."
Read: Rs 500, Rs 1000 notes scrapped: 25 things RBI wants you to know
He asked the people to switch to more cashless modes of transaction. "It will keep life simple."
Jaitley said it was natural there was a rush at banks after a huge currency shake-up. He advised people to not go for exchanging currency in the first three to four days, saying the window for any such transaction was open till December 30.
Read: Notes ready, banks ready, but ATMs? Why the cash dash won't go away soon
He hit out at the Opposition – which had demanded a longer time period to implement the change – and said any exceptions had always proven to be a gateway for black money to return.
"We are monitoring Jan Dhan accounts that have seen overnight deposits."
The finance minister cited the transactions at India's largest lender, the State Bank of India, to show how the banking system had promptly responded to the change.

The SBI conducted 22.8 million transactions and Rs Rs 47, 868 crore deposited in bank branches until 12.15pm on Saturday.
Jaitley warned that the government will not tolerate any illegal transactions and that stock details had been sought from jewellers on reports of dealings in old currency.
Close