Godhra train burning: Gujarat HC commutes death sentence of 11 to life term
Oct 09, 2017 12:09 PM IST
The coach S-6 of the Ahmedabad-Varanasi Sabarmati Express was set ablaze at Gujarat's Godhra station on February 27, 2002, killing 59 people, most of whom were Hindu activists known as 'kar sevaks' returning from Ayodhya in Uttar Pradesh.
The Gujarat high court commuted the death sentence of 11 convicts in the 2002 Godhra train carnage case to life imprisonment on Monday.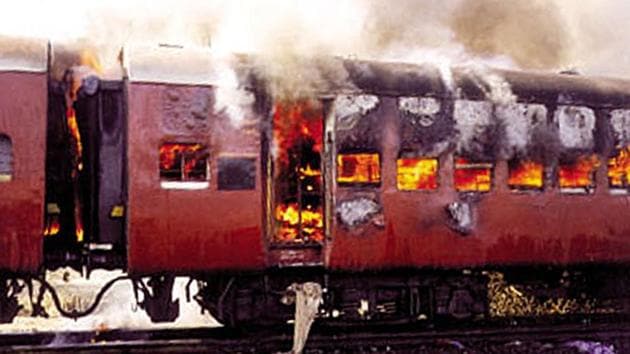 The high court also upheld the life sentence awarded by the special SIT court to 20 others in the case.
Fifty-nine 'karsevaks' were killed in the Godhra train burning incident of February 27, 2002, triggering the worst communal riots in the history of Gujarat.
A division bench of Justices Anant S Dave and G R Udhwani of the high court pronounced the judgement on appeals filed by the convicts as well as the prosecuting agency.
The special SIT court had on March 1, 2011 convicted 31 persons. The trial court sentenced 11 persons to death and 20 others to life imprisonment, while acquitting 63 others.
The high court also ordered the state government and the railways to pay a compensation of Rs 10 lakh to the kin of those killed in the train burning incident.