'Good opportunity for public welfare': Babul Supriyo after joining Trinamool
The sitting MP from West Bengal's Asansol constituency was miffed at the BJP for dropping him from his Cabinet role during the recent reshuffle.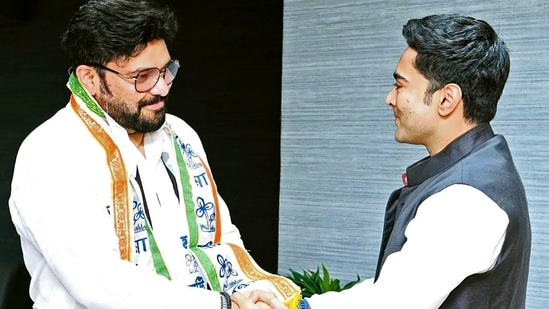 Published on Sep 19, 2021 05:29 PM IST
Former Union minister Babul Supriyo on Sunday thanked Trinamool Congress supremo Mamata Banerjee for giving him a chance in the "playing 11", a day after he left the Bharatiya Janata Party (BJP) for West Bengal's ruling party.
"I thank Mamata didi, Abhishek Banerjee and TMC for giving me a chance in the 'playing 11'," the singer-turned-politician said, a day after he was inducted into the Trinamool Congress by party general secretary Abhishek Banerjee and Rajya Sabha MP Derek O'Brien.
The former Union minister of state for environment, who was stripped off his portfolio during the recent Cabinet reshuffle at the Centre, had announced to "quit" politics in July. However, he later decided not to reliquish his membership of the Parliament.
The sitting MP from West Bengal's Asansol constituency was miffed at the BJP for dropping him as the Cabinet minister, months after his humiliating defeat in the assembly elections against Trinamool's Aroop Biswas for the Tollygunge seat.
At that time, the MP had taken to Facebook to unleash a rant on the people of the state for their voting choice – even saying that the citizens made a "historic mistake" by not giving the BJP a chance and bringing back "the cruel lady (Mamata Banerjee) to power." He, however, deleted the post later.
Talking about his decision to join the Trinamool Congress, of which he had been a vocal critic of, Babul Supriyo said he has been in politics for seven years now and felt it was a good opportunity for public welfare.
ALSO READ | 'Wait and watch': TMC says more leaders to join after Babul Supriyo's entry
Hours after Babul Supriyo joined the Trinamool Congress, the ministry of home affairs downgraded his paramilitary security cover from Z to Y category.
Babul Supriyo engaged in a verbal spat with his former party colleagues Swapan Dasgupta and Tathagata Roy after joining the Trinamool Congress.
Rajys Sabha MP Swapan Dasgupta earlier in the day tweeted, criticising the minister for "tearing hurry" while remarking that "he may end up damaging his own image."
Responding to the tweet, the Asansol MP reorted that the same must then be true of the 'outsiders' who joined the BJP and were given top posts earlier this year. He rued that the BJP sidelined its grassroots workers to make room for 'rivals' who defected to the party.
The turncoat MP also took a dig at former Bengal governor and BJP leader Tathagata Roy on Twitter for calling him a 'traitor'.
On Saturday, Roy posted on Twitter that "traitors have put the BJP at a precarious position in Bengal" but "Babul Supriyo is neither the first traitor nor the last one."
Close Story