Himachal Pradesh cabinet expansion: Vikramaditya Singh among 7 MLAs takes oath
Jan 08, 2023 10:59 AM IST
Besides Vikramaditya Singh, Dr Dhani Ram Shandil, Chander Kumar, Harshwardhan Chauhan, Jagat Singh Negi, Rohit Thakur and Anirudh Singh took oath as cabinet ministers.
A total of seven MLAs, including Vikramaditya Singh - son of former chief minister Virbhadhra Singh, took oath as cabinet ministers in Himachal Pradesh in the presence of chief minister Sukhvinder Singh Sukhu on Sunday.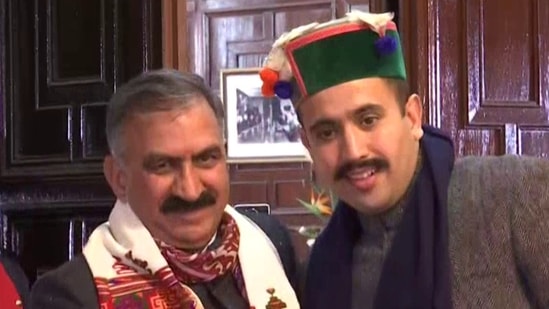 Besides Shimla rural legislator Vikramaditya Singh, Shillai legislator Harshwardhan Chauhan, Kinnaur MLA Jagat Singh Negi, former chief parliamentary secretary and Jubbal Kotkhai MLA Rohit Thakur, Solan MLA Dhani Ram Shandil, Jawali legislator Chandra Kumar and Anirudh Singh took oath as cabinet ministers.
Governor Rajendra Vishwanath Arlekar administered the oath to the newly inducted ministers at a ceremony at the Raj Bhawan.
Besides the post of deputy speaker, three berths are still vacant as the maximum number of ministers, including the chief minister, cannot exceed 12.
Sukhu and deputy chief minister Mukesh Agnihotri were sworn in on December 11.
Sukhu, who had flown out to New Delhi in the midst of the winter session, had been in deliberating with senior party leaders for the last three days. The consultations are said to have taken place with All India Congress Committee president Mallik Arjun Kharge, party charge of Himachal affairs Rajeev Shukla, general secretary of the organisation KC Venugopal and AICC general secretary Mukul Wasnik.
The delay in cabinet formation had turned out to be a major embarrassment for the ruling Congress, with criticism flying thick and fast from outside as well as within the party.
With infighting rampant, Sukhu was forced to walk the tightrope as there are only 10 vacancies to be filled up, against a cabinet strength of 12, which includes posts of the CM and deputy CM. The Congress has a total of 40 legislators in the 68-member House.
Sukhu who had the backing of more than 24 MLAs when he was chosen as the chief minister wants to have a larger share in the cabinet for his loyalists. Meanwhile, state party chief Pratibha Singh, who had also staked claim to the leadership, also wants fair representation in the government.
Sukhu has already appointed his loyalists in the government with cabinet rank.
(With inputs from Gaurav Bisht in Shimla)