'His certificate may be true': How South African man with Omicron left India in a week after testing positive
On November 20, the 66-year-old man tested positive upon arrival in Bengaluru. On November 27, he left for Dubai getting a negative certificate from a private lab where he got tested on November 23.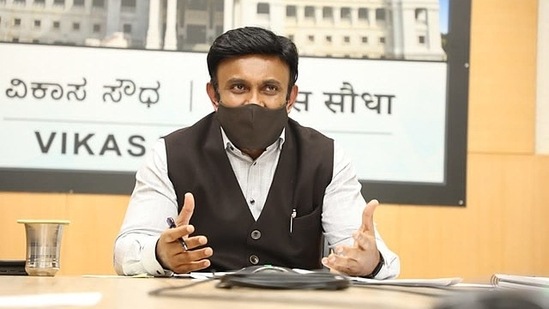 Published on Dec 03, 2021 07:39 AM IST
The 66-year-old South African man who became India's one of the first two confirmed cases of Omicron, the new variant of Covid, has already left India within a week of testing Covid positive. Karnataka health minister Dr K Sudhakar said the man presented a negative Covid certificate which he got from a private lab. The certificate may not be wrong as all his primary and secondary contacts were tested negative, the health minister said. "The 66-year-old, who has left for South Africa, via Dubai, had presented a negative certificate for the virus, from a private lab. His primary and secondary contacts were found negative. So it means to say that his certificate may be true," he said, as quoted by ANI.
The South African man reached Bengaluru on November 20, five days before South Africa confirmed the new variant. According to reports, he had a negative Covid certificate but his sample was taken as he was travelling from an 'at risk' country. His sample tested positive and a government doctor visited him at the hotel asking him to self-isolate. Reports said the man at that time revealed no symptoms. His samples were taken again on November 22 and sent for genome sequencing, the result of which came this week, after going through which the ministry on Thursday confirmed two Omicron cases in India.
What India's 2 Omicron cases reveal: How the variant spread, symptoms, CT value
According to reports, the man got tested again on November 23 at a private lab and on November 27, he flew to Dubai.
During his one-week stay in Bengaluru, he came into contact with 24 people, who are his primary contacts and there are 240 secondary contacts. All of them have tested negative.
The health ministry on Thursday confirmed the first two cases of the Omicron variant in India, one being this South African traveller, whose identity has not been revealed. The second case is that of a 46-year-old doctor. Both of them were vaccinated against Covid. None of the cases reported any severe symptoms, Karnataka officials said. Since there is no link between these two cases and the 46-year-old doctor has no travel history, the state government said there might be many more infections of Omicron.
Topics
Close Story
Personalise your news feed. Follow trending topics