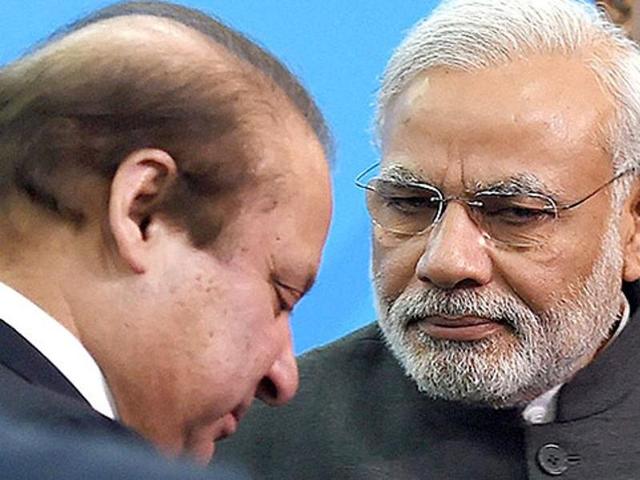 India willing to talk to Pak, but on cross-border terrorism in Kashmir
India on Wednesday turned down Pakistan's offer for talks on Kashmir and indicated it is open to holding a dialogue on issues affecting bilateral relations such as terrorism, official sources said.
Hindustan Times | By Rezaul H Laskar and Jayanth Jacob
UPDATED ON AUG 17, 2016 10:52 PM IST
India is willing to send foreign secretary S Jaishankar to Pakistan for talks provided they focus on cross-border terrorism and not the unrest in Kashmir, sources said on Wednesday.
The move comes after a spike in tensions between the two sides over weeks of protests in Kashmir following the killing of militant commander Burhan Wani by security forces. More than 60 people have died in the protests, which were followed by a spate of militant attacks.
India's position was conveyed by high commissioner Gautam Bambawale, who handed over the formal response to Pakistani foreign secretary Aizaz Chaudhry's letter inviting his Indian counterpart for talks on the Kashmir issue.
The Indian foreign secretary "conveyed his willingness to visit Islamabad", the sources said. "Since aspects related to cross-border terrorism are central to the current situation in Jammu and Kashmir, we have proposed that discussions between the foreign secretaries be focussed on them," a source said.
India made it clear it is not willing to back down on its stated position on Kashmir and rejected Pakistan's allegations about rights abuses and extrajudicial killings in the state.
"We have also conveyed that government of India rejects in their entirety the self-serving allegations regarding the situation in Jammu and Kashmir, which is an integral part of India where Pakistan has no locus standi," a source said.
The situation in Kashmir was the result of Pakistan's interference and backing of cross-border terrorism, the sources said.
Explaining the Indian response, sources said it was aimed at scuttling any move by Islamabad to create the impression that New Delhi would not take up the offer of talks at a time when Kashmir is on the boil. After responding to the offer, India will now take up issues it wants to be addressed, they said.
In an address at the Foreign Correspondents Club in the evening, foreign secretary Jaishankar said: "Problem is that the terrorism issue has become so central to the relationship that it makes the relationship difficult to grow."
He said though all Saarc nations had agreed on moving forward for regional development, Pakistan's support to terrorism had made the country a difficult regional partner. "We have one standout country in the region which has a different view of terrorism which makes it a difficult partner for all of us."
Read| 'Grateful to Balochistan, PoK for support': Modi rakes up Pak abuses
There was no official word on a date for the meeting between the foreign secretaries and sources said the "ball was now in Pakistan's court".
However, meetings between the foreign secretaries often go beyond the pre-determined script, with Pakistan invariably raising the Kashmir issue and India focussing on terror. The same pattern was in play when the foreign secretaries met in Delhi on the sidelines of a multilateral meet on Afghanistan in April.
Former diplomats warned India could be walking into a trap by taking up Pakistan's offer of talks.
"There was a hurried response to the Pakistani offer. Pakistan is focussed on Kashmir and it could give the world community the impression that bilateral relations are tied to Kashmir," said former ambassador Rajiv Dogra, an old Pakistan hand.
"Besides, if the focus is on terror, the Pakistanis could refer to the Prime Minister's remarks on Balochistan and raise their old allegations of India backing terrorism there," he told Hindustan Times.
Former envoy KC Singh, who once headed a bilateral anti-terror mechanism, said nothing had changed as both sides were sticking to their stated positions. "If anything, the situation has crystallised because of Pakistan's recent actions," he said.
India's response appeared to indicate a shift from an earlier decision made by Prime Ministers Narendra Modi and Nawaz Sharif during a meeting in the Russian city of Ufa in July last year that all issues related to terrorism would be discussed by the national security advisers.
Former Pakistani NSA Sartaj Aziz was set to visit India last August when proposed talks broke down over Pakistan's insistence that the dialogue should cover Kashmir, and not just terrorism. The two NSAs have not spoken since March.
The latest proposal for talks on Kashmir was unveiled by Aziz, now the advisor on foreign affairs to Sharif, during a media briefing in Islamabad on August 12.
Three days later, the Pakistani foreign secretary called in Bambawale and handed over the letter inviting Jaishankar to visit Pakistan for talks on the "Jammu and Kashmir dispute that has been the main bone of contention between India and Pakistan".
Even before the letter was handed over, India said on August 13 that dialogue should focus on "contemporary and relevant issues in India-Pakistan relations", including stopping support for cross-border terrorism and infiltration of terrorists.
Pakistan's letter came hours after Prime Minister Narendra Modi reaffirmed his stand on alleged rights violations in Balochistan, Gilgit-Baltistan and Pakistan-occupied Kashmir (PoK) during his Independence Day speech.
Modi said last week the time had come to expose Pakistan's "atrocities" in Balochistan and PoK, a tit-for-tat response to Islamabad's tirade over the unrest in Kashmir, which has claimed more than 60 people have died and left thousands injured.
Kashmir-based opposition parties on Wednesday asked the Centre to initiate a dialogue with all stakeholders, including Pakistan, to restore normalcy in the valley.
"Pakistan as a neighbour needs to be spoken with as the Prime Minister has done in the past, he has made unscheduled visits to the country,'' National Conference leader Omar Abdullah told the media.
(With inputs from Krittivas Mukherjee in Delhi)
Read| Arun Jaitley likely to skip Saarc meeting, Parrikar compares Pak to 'hell'
Close