Girl dies in Jammu and Kashmir landslide, over 700 people evacuated
Jammu/Srinagar |
Agencies
Nov 05, 2018 12:02 AM IST
The Jammu-Srinagar national highway was opened for one-way traffic Sunday, a day after being closed due to heavy snowfall and landslides.
A nine-year-old girl was killed and three members of a nomadic family were injured in a landslide in Rajouri district of Jammu and Kashmir while over 700 stranded commuters were rescued overnight from the snow-hit Jawahar tunnel area, officials familiar with the matter said.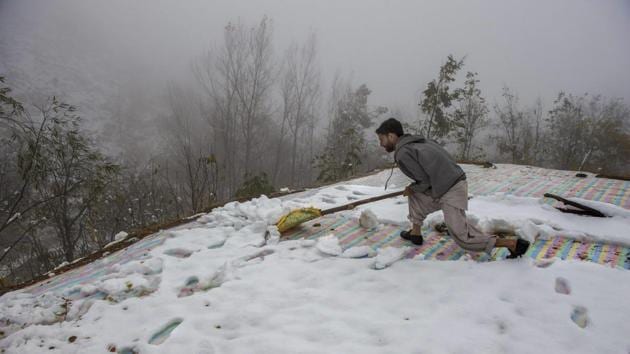 Heavy snowfall and rain has thrown life out of gear in the state with Jammu and Kashmir governor Satya Pal Malik ordering immediate restoration of essential services in the affected areas
A Bakarwal family had set up a 'dera' (tent accommodation) at Chatyar village near a shrine which came under a landslide triggered by incessant rains at around 11.30 pm Saturday, the police official said.
Shabina Kousar died on the spot, while three members of her family were critically injured and were taken to a hospital.
The Jammu-Srinagar national highway was opened for one-way traffic Sunday, a day after being closed due to heavy snowfall and landslides. The only all-weather road linking the Kashmir Valley with the rest of the country, was opened for traffic coming from Srinagar to Jammu after nine hours of clearance operations, officials familiar with the matter said.
In a major overnight rescue operation, over 700 stranded passengers were evacuated from both sides of the Jawahar tunnel, a police spokesman said.
According to , senior superintendent of police (SSP), Ramban, Anita Sharma the operation along the Jawahar tunnel, and Qazigund and Banihal-Ramban stretches was launched around 5 am on Sunday.
The SSP said they were Jammu-bound commuters and were rescued from the Kashmir-side of the tunnel and the Verinag Zing area, where more than one-feet of snow had accumulated. "In the night-long operation, police evacuated 700 stranded passengers from the Jawahar tunnel area. Passengers stranded at either side (of the tunnel) were evacuated," the spokesman said.
The evacuated people, including tourists, were accommodated in shelter sheds, religious places and sarais in Banihal's Nowgam and Gund areas, and in Qazigund, he said. In addition, 1,000 civilians, who were stuck in other parts of the highway, were also provided food and shelter in Banihal by police and the civil administration, the spokesman said. The SSP said stranded passengers who were evacuated from the Jawahar tunnel area and brought to Banihal late Saturday night, were allowed to move towards Jammu on Sunday.
Snow clearance operation are still underway at some areas of the highway, Sharma said.
Power supply was restored on Sunday to 90% of Srinagar city and most rural areas of the Kashmir after overnight heavy snowfall damaged transmission towers and snapped surface and air links with the rest of India.
After an unprecedented Valley-wide breakdown, electricity supply was restored in 90 % areas of Srinagar and in nearly 70% rural areas, officials said.
"Due to transmission failures, our supply was on Saturday cut down to just 80MW. On Sunday we are supplying around 1,000MW. We are facing problems in south Kashmir areas where some of our transmission towers have been damaged. This will take a day or two for complete restoration, " Hashmat Qazi, the Chief Engineer (Electric Maintenance) of Kashmir.