Janardhan Reddy's spending on daughter's wedding is as strategic as extravagant
Nov 16, 2016 06:51 PM IST
The wedding of Gali Janardhan Reddy's daughter, rumoured to cost around Rs 550 crore, could well be strategised as a launch pad to return to power to cleanse the humiliating stain of his jail conviction.
First, it was the wedding invitation that made news. Now it's slowly hitting everyone that the wedding invitation was a PR masterstroke to indicate that Gali Janardhan Reddy, one-third of the Bellary brothers, is back.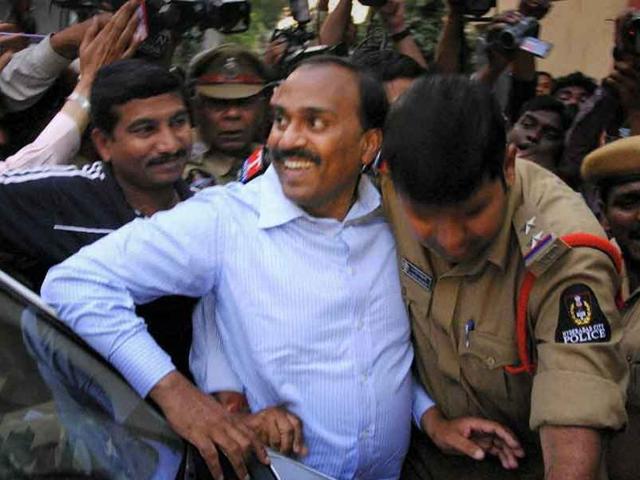 The wedding invitation arrived in a blue box with an LCD screen inside, playing a nearly three-minute video of Reddy, his family and prospective groom inviting you to the wedding, lip syncing to a Kannada song in the background. The bride's father may be just out on bail, but the video features costume changes, affecting dialogue between bride and her teen brother, showers of flowers and white horses. The invitation alone is said to have cost an estimated Rs 5 crore, and is currently the byword, ironic or not, of south Indian families preparing for the wedding season.
Reddy is supposed to have made Rs 5,000 crore (the CBI's conservative's estimate) through iron ore mining in Bellary. Despite the majority of his property being confiscated, despite 40 months in an Andhra Pradesh jail for illegal mining among other charges, this week he is spending an estimated Rs 550 crore on his daughter Brahmani's wedding.
Twenty one-year-old Brahmani, a BBM graduate, is getting married to 25-year-old Rajiv Reddy, son of Hyderabad-based businessman Vikram Deva Reddy. Vikram Reddy is a highly successful industrialist with businesses abroad as well, and Rajiv apparently works at his father's overseas operations (which remains opaque but is widely rumoured to be mining in Africa). The wedding is scheduled to take place at Bengaluru Palace Grounds, one of the premier wedding venues in the city. Fifty thousand guests are expected.
Questions over the total budget for the event seem something from a suspense novel. While some claim it is Rs 550 crore, other reports have estimated it at Rs 100-200 crore. Rumours abound that Hollywood artists have been advised to stay away and many celebrities are expected to give the wedding a miss to avoid any associated scandal. There has also been an informal directive within the BJP, amounting to a whip of sorts, that no central minister or state BJP member should attend the wedding.
Gali Janardhan Reddy, Karunakar Reddy, Sri Ramulu and Janardhan Reddy were, for the decade between 1999 and 2009, prominent players in bringing the BJP to power in Karnataka with their most valued economic muscle. They were said to be on speed-dial terms with the highest BJP leaders, especially Union minister Sushma Swaraj, among others. Reddy was an MLC, his brothers MLAs, and they went confidently head to head with the biggest political powers in Karnataka, even the Chief Minister. Arun Jaitley had to be flown down in 2009 to resolve a situation when the Reddy brothers threatened to bring down the first BJP government in Karnataka when it wasn't pandering to them. All this till Gali Janardhan Reddy was arrested under illegal mining charges twice over – once in 2011 and then again in 2015. Reddy was granted bail by the Supreme Court in January 2015.
So why would a jail-bound industrialist-politician, publicly convicted of massive corruption, attract so much attention to his lavish spending? There are two prevailing theories: that he is doing it because he can, because he'll get away with it without any further legal trouble. And more intriguingly, that this extravagant public expense is a show of strength in a long tradition of south Indian politics which will help relaunch Reddy's political career.
Busting the bank for a simple rural wedding
Reddy has rented about 36 acres of land at the sprawling Bengaluru Palace for this week's extravaganza. As filmi as the invitation card was, the wedding venue is expected to up the ante. A massive set has been erected to resemble a cinematic rural paradise filled with quaint villages, temples, markets and homes. In the fake village there will be space to play games such as tiger fight, hopscotch and, puzzlingly, throwball. People in rural costumes will also be placed around the venue to give it more authenticity.
Set designer and art director Shashidhar Adapa, known for his work in Kannada cinema, has been working on this set with his team for several weeks. "The whole focus is on making everything look aesthetic," he says. "There are no vulgar elements at display here. We are among a lot of other people who are working on giving finishing touches to the work we have erected here. This is tastefully done, and of course at a scale to match the wedding."
Adapa clarifies that they are not building just any old village on Palace Grounds – they are building the mega-site of Hampi, complete with a temple dedicated to Vitthala, Shiva and Ganesha. The main wedding ceremony will be held at an elaborate, seven-door set that is a replica of the famous Tirupati temple, to which Reddy donated a Rs 45 crore diamond-studded gold crown back in 2009. About eight priests from the actual temple will perform the wedding.
A replica of the Vijayanagar kingdom has also been erected over many acres, and Reddy has roped in an impressive lineup of top Bollywood, Tollywood and Kannada artistes, along with scores of musicians and dancers, to perform at the venue. Shah Rukh Khan, Katrina Kaif, Prabhu Deva and Tamannaah Bhatia are widely rumoured to be performing at the wedding, while some sources claim that only Sonu Nigam, and certainly not SRK, is coming.
Wedding festivities have already begun at the venue with an intra-family, multilingual game of antakshari in Hindi, Telugu and Kannada. The thought of Janardhan Reddy puzzling over antakshari beginnings at a Rs 550 crore wedding would be fascinating at any time, but it is particularly mind-boggling when the entire country is trying to solve the demonetisation puzzle on a daily basis.
A likely political comeback
Brijesh Kalappa, Supreme Court advocate and legal advisor to Karnataka state government, says that Janardhan Reddy is probably not worried about coming under the authorities' radar again due to this wedding. "The state government has no business taking wedding expenses into account," he says. "That's the job of the IT department, which is under the Central government. And you clearly know who's at the Centre, right? [BJP leader and former CM] Yeddyurappa was recently absolved of graft charges. The CBI will maintain a safe distance from this wedding."
Chartered planes are ferrying guests and invitees from different parts of the country. At the venue itself, guests are travelling on cushioned bullock carts, viewing the master craftsmen at work and checking out the model, traditional houses. If bored, they can instead visit a scaled replica of the school where Janardhan Reddy studied in his hometown.
Is all this not over the top? "Why would you think so?" asks a former media expert who was closely associated with the state BJP unit. "He is spending based on his prowess. It may look inappropriate, but it is not wrong."
And will this not attract the IT department's attention? Why risk it? There are already reports that the IT department is monitoring the source of funds for this wedding. The media expert replies, "I am sure he knows what he is doing. After having gone to prison, he wouldn't be foolish enough to spend the money that he has not accounted for. By now, I am sure the money is clean and the books are clean too. It may look vulgar to you, but not to someone like steel baron Lakshmi Mittal or some other politicians or industrialists who wait to spend their wealth on such events."
Reddy clearly shares this opinion. He has offered to take the reporters around the venue and has invited them to attend the wedding itself if they wish to attend. "I am accountable to the authorities, and I will present the complete balance sheet of the wedding expenses once the event is over," Reddy has told the media.
Inside sources say the majority of the vendors are being paid through cheques, so these expenses can be tracked. Political rumour is that the expenses will be accounted through his political confidante, loyal friend and Bellary MP, B Sriramulu.
Among political families in Karnataka, weddings are a place to forge bonds and show off their leader's influence on people. In 2015, BJP leader and former union minister Sadananda Gowda's son was married at a multi-crore, three-day wedding with 10,000 guests and a Rs 1.3 crore pandal. The fond father gifted his son with an Audi A6 car. When former BJP leader and CM Jagadish Shettar's son married the granddaughter of Congress leader, former minister and millionaire educationalist Shamanuru Shivashankarappa in 2014, thousands participated in the glittering events and it proved to be a cross-party festivity.
Thus, it is no surprise that speculation is rife that Congress chief minister Siddaramiah, who campaigned against the Reddy brothers about their mining scam, may also consider going to the wedding. Yeddyurappa and Jadagish Shettar have already confirmed to the media that he will attend. And the rumour that the central leadership has told the state BJP to stay away from the wedding has been worded as 'not a formal order', but rather just a suggestion.
"Those days of socialist values, where display of wealth put people off, seem to have become redundant," says P Thyagaraj, senior media expert and political analyst. "Anybody in the social space, irrespective of how big or small a politician, will conduct family events with considerable scale of grandeur. Every wedding in this venue (Palace Grounds) is at least 50 times more expensive than conducting it elsewhere. But people actually like to hear details about such events."
Reports have already suggested that the entire wedding has been carefully strategised as a launch pad to return to power and cleanse the humiliating stain of his jail conviction. Some speculate that Reddy has offered to bankroll the BJP's next election bid in the state. Senior Congress leader KC Kondaiah told News18, "They believe that all publicity is good publicity. Four years in jail does not seem to have ended his ego and ambition. By using his daughter's wedding, he is trying to stage a comeback. The BJP, which had distanced itself from him, is once again entertaining him. I fear that he will play a big role once again in the 2018 Assembly polls. It won't be good news for our state."
The idea that his daughter's wedding will put Reddy in the dock is totally false, concludes Thyagaraj. "Don't be surprised if he rejoins the BJP, gets a ticket and becomes a minister again."
(Published in arrangement with GRIST Media)