Jharkhand college teacher draws ire of right wing groups for proposing 'beef fest'
Updated on Jun 03, 2017 04:12 PM IST
Jeetrai Hansda in his Facebook post also supported the students of IIT-Madras for holding beef party last week.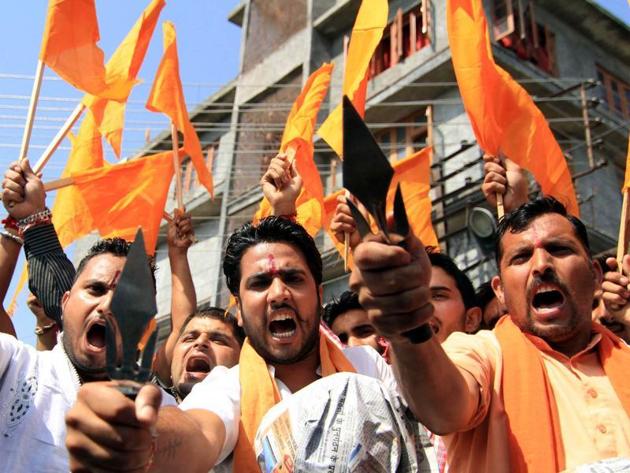 Hindustan Times, Jamshedpur |
Manoj Choudhary
A college teacher in Jharkhand earned the wrath of right-wing outfits for expressing his desire to hold a beef party in Jamshedpur in a Facebook post, prompting the university authority to initiate an inquiry against him.
Last week members of alleged right-wing organisations assaulted a PhD scholar at IIT-Madras for organising a 'beef fest' to protest against the Centre's decision to ban the sale of cattle for slaughter at animal markets.
The BJP-led NDA government's move had also generated strong response from politicians across the country.
Jeetrai Hansda, a B.Ed teacher with Graduate School College for Women (GSCW) in Jamshedpur, in his June 1 Facebook post supported the IIT students and raised objection against central government's decision.
He termed the decision an onslaught on tribal identity and culture wherein eating beef on special occasions is a customary practice.
"Priya Sathi, mujhe koi batayega ki Jamshedpur main beef kahan milega. Main beef party dena chahata hun (Dear friends, will anybody inform me where in Jamshedpur beef is available. I want to organise a beef party)," he wrote on his Facebook page.
Students affiliated to Akhil Bharatiya Vidyarthi Parishad (ABVP) and other right-wing organisations took serious exception to the comment and demanded of the college and university authorities to "immediately sack" Hansda, a former alumnus of the National School of Drama.
The ABVP is the student wing of the Rashtriya Swayamsevak Sangh (RSS), the ideological fountainhead of the ruling BJP.
Ashok Kumar Jha, the proctor of the Jharkhand's Kolhan University to which GSCW is affiliated with, directed the college authority to probe the matter and submit a report, based on which further action would be taken against the teacher.
"The college's professor-in-charge Usha Shukla has been asked to get a clarification from the concerned teacher. We will take appropriate action if the inquiry reveals that teacher's alleged objectionable remark has vitiated the peaceful academic atmosphere and created communal disturbance," Jha said.
Earlier on May 29, Hansda had posted: "Tribals do eat beef while performing last rites and during various festivals. Just because of a law banning cow slaughter, why should we stop our tradition of having beef and follow Hindu tradition.
"It will be an end to tribal existence and we would not accept this. We raise objection over such law by the government. I would like to inform that we also eat national bird of the country 'peacock'. If tribals too belong to India, the lawmakers should stop making such law to save tribal tradition and identity…."
Kolhan University's convenor of ABVP Sonu Thakur said they would go for mass agitation, including college bandh, if the teacher was not dismissed within a couple of days.
College union secretary Mousami Jena said they would not like to be taught by a teacher who has "objectionable" views towards a particular religion.
Apart from removing the objectionable comments from the site, the teacher should apologise for creating nuisance in the society, she added.
Countering the student's reaction, Hansda said, "My job in college has nothing to do with my personal remarks on beef. It was my personal opinion and I stand by it".
"The government is trying to impose Hinduism on all and we will not tolerate this. I am ready to remove my comments from Facebook if a section of the society is hurt by it. But I will take the fight further over the issue no matter if a couple of student leaders demand my dismissal for their vested political interest," he added.
East Singhbhum superintendent of police (City) Prashant Anand said a couple of student leaders have submitted a complaint against the teacher.
The police will take appropriate action after properly investigating the matter.
Personalise your news feed. Follow trending topics