Kerala rains highlights: Death toll at 114; PM Modi to visit state on Friday
Rain continued to lash Kerala on Thursday as public transport system collapsed in many parts with the Southern Railways and Kochi Metro suspending their operations due to floods. The total death toll in Kerala floods rose to 88 on Thursday. A red alert was sounded all 14 districts following heavy rainfall and opening of shutters of 35 dams while more people were shifted to relief camps including 23,000 in Ernakulam. All educational institutions across the state were ordered closed on Thursday.Here are the LIVE updates on Kerala rains: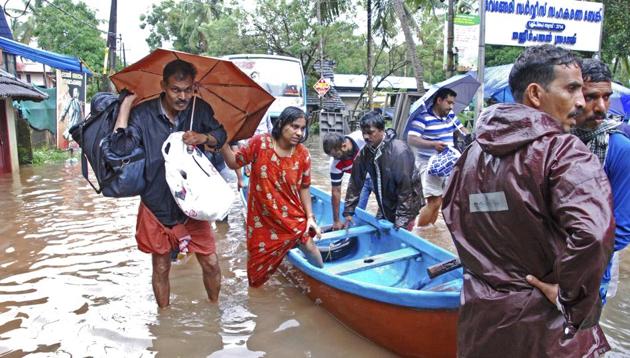 Updated on Aug 17, 2018 03:07 AM IST
12:50am IST
Military team arrives in Thiruvalla
A team of military ETF has arrived in Thiruvalla for rescue operations, tweets Kerala CM.
12:40am IST
Railway Recruitment Board exam postponed
Railway Recruitment Board exam scheduled to be conducted today in Kerala has been postponed.
10:55pm IST
Kerala hikes liquor excise to collect revenue for flood relief
Finance Minister Thomas Issac on Thursday announced a hike in excise duty on liquor to raise additional funds for relief and rehabilitation of the affected.
"Yes, there is a financial resource crunch. We shall overcome. As additional resource mobilisation to the Chief Ministers Disaster Relief Management Fund, the excise duty on liquor increased by 0.5 to 3.5 per cent for 100 days. Rs 230 crore expected as additional revenue," Issac tweeted.
10:47pm IST
23 helicopters, 200 boats to join rescue ops tomorrow: CM
"23 more helicopters will join rescue operations tomorrow. 200 more boats will also be part of it. Those who are stranded will be relocated to safer zones from tomorrow morning," tweets Kerala CMO.
10:05pm IST
PM to visit Kerala on Friday, says minister Alphons Kannanthanam
PM Modi will visit Kerala on Friday, says Union minister Alphons Kannanthanam.
He will conduct an aerial survey of the flood-affected areas on Saturday.
9:56pm IST
Kerala has to reconstruct from scratch, says CM
Kerala will have to reconstruct from scratch, says CM Pinarayi Vijayan at media briefing.
9:45pm IST
Death toll touches 114
Death toll in the Kerala floods has risen to 114, says news agency IANS.
9:37pm IST
Jio, BSNL, Airtel announce free services for Kerala customers
Reliance Jio has announced free services for seven days while BSNL is offering unlimited free calls within its network and data services along with 100 SMS per day for a week to customers.
Bharti Airtel has offered Rs 30 talk-time credit and free 1GB data for pre-paid customers for seven days. Airtel also extended bill payment dates for its postpaid and home broadband customers to ensure they have uninterrupted access to services.
BSNL is offering 20 minutes free call everyday on other network for seven days in the areas that are effected by flood, company's Chairman and Managing Director Anupam Shrivastava said.
9:25pm IST
Rumours about cracks in Mullaperiyar dam baseless: Govt
The Kerala government described as "completely baseless" rumours being spread in social media sites like WhatsApp and Facebook that the Mullaperiyar dam has developed some cracks.
These rumours are creating unnecessary panic among people living in downstream in the Periyar catchment," Water Resources secretary Tinku Biswal said.
In a letter to DGP Loknath Behara, she wanted the Cyber cell to trace the source of the rumours and take immediate action against them
9:14pm IST
Evacuation a big challenge: CM
Evacuation a big challenge. Three choppers each pressed into service for each of the affected districts, says Cm Pinarayi Vijayan. A total of 23 helicopters and 500 boats have been deployed.
9:09pm IST
CM asks local bodies to help people in relief camps
CM Pinarayi Vijayan's media briefing begins. Local bodies asked to help people in relief camps. The state government will later foot their bills.
9:03pm IST
Supreme Court Bar Association donates Rs 30 lakh to Kerala relief fund
The Supreme Court Bar Association has donated Rs 30 lakh to the relief fund for Kerala flood victims. In a circular issued by the SCBA, it also called up on its members to contribute "generously" towards 'SCBA Calamity Relief Fund' that has been set up for this purpose.
8:57pm IST
Over 25 trains cancelled, rescheduled in Kerala
More than 25 trains were cancelled or rescheduled in Kerala. Railway officials were closely monitoring the impact of flood on railway tracks, bridges and premises and in various sensitive locations, trains were being run at restricted speeds ranging from 10 kmph to 45 kmph, Southern Railway said in a release here.
The long distance trains cancelled included Train No 12202 Kochuveli Lokmanya Tilak Terminus (Garib Rath Express), Train No 12617 Ernakulam Harzrath Nizamuddin (Mangala Lakshadweep SF Express).
8:45pm IST
Newborns, patients evacuated from private hospitals in Aluva
Newborn babies and patients in intensive care units of private hospitals in Aluva town of Ernakulam district were evacuated and shifted to facilities elsewhere. According to some reports, around 200 patients were stranded at a hospital in Muvattupuzha after rain water swamped the building.
8:36pm IST
1,65,538 people are in 1155 relief camps
Forty-one people have been injured. 1,65,538 people are in 1155 relief camps. 2857 houses have been damaged and there has been 3393 hectares of crop loss, reports news agency ANI.
8:29pm IST
Ernakulam district under water, Periyar river in spate
Ernakulam district under water. Periyar river water level has surged dangerously. CM will meet the press at 8:45pm.
8:14pm IST
Rising water levels likely to impact rubber, tea, pepper plantations
Torrential rains in Kerala have destroyed crops, with rubber and other plantations likely to be impacted.
Rubber output in India, the world's sixth biggest producer and second largest consumer, is likely to fall 13.5 percent from a year ago to 600,000 tonnes in the fiscal year to March 2019, according to N Radhakrishnan, a dealer and former president of Cochin Rubber Merchants Association.
Production of other key plantation crops such as tea, coffee and black pepper in Kerala have also been severely hit, with Kerala having received about 30 percent more rain than it typically gets since the start of the monsoon season in late May.
8:01pm IST
NDRF teams evacuated 707 people today
NDRF teams have evacuated a total of 707 persons from Pathanamthitta (172), Ernakulam (151), Kozhikode (99), Alapuzha (202) and Thrissur (83) till the last report came, a spokesperson said. "Evacuation operation is still in progress at these locations," he said.
The 18 operational teams are deployed in the districts of Thrissur and Pathanamthitta (3 teams each), Ernakulum, Alappuzha, Wayanad and Kozhikode (2 teams each) and Idukki (4 teams).
One NDRF team has about 35 personnel.
7:49pm IST
Educational institutions closed till Aug 29
Educational institutions across Kerala will be closed till August 29.
7:45pm IST
Death toll at 102
Death toll in the Kerala rains has hit 102. Seventy-eight lives lost in two days.
7:34pm IST
Rainfall intensity likely to reduce across Kerala tomorrow
Rainfall intensity is likely to reduce across Kerala on Friday, according to the Indian Meteorological Department, but isolated pockets are still expected to get heavy rains till Saturday.
7:23pm IST
Cochin Naval air base to be opened for commercial operations
The Central government has agreed to open the Cochin Naval air base for commercial operations, officials said. Kerala CM Pinarayi Vijayan had sought permission for this on Wednesday.
According to PTI's government sources, the Centre has accepted the state government's request to allow flights to arrive at the Naval air base. Being a small airport, flights like Boeing 737 can be handled at the base and CIAL authorities are having discussions with the airline authorities on this.
7:19pm IST
Kochi airport's solar power plant submerged
Kochi airport's Rs 60-crore solar power plant, one of the biggest in an airport spread over 45 acres, was submerged in the flood waters.
7:11pm IST
100 people rescued near Kozhikode
#Update#KeralaFloods2018. Column of DSC Centre rescued approximately 100 civilians from the flooded area of Kakkodi, Kiralur and Oorkadavu near Kozhikode town. Another 100 civilians are being rescued in the ongoing operation at Parambil Palli Makkam area. #OpMadad @PIB_India pic.twitter.com/ChxuT2f6WJ

— ADG PI - INDIAN ARMY (@adgpi) August 16, 2018
7:01pm IST
Coast Guard rescues people stranded in Ernakulam, Aluva
The Coast Guard has rescued 60 stranded people, including women and children, from Puthenvelikkara and Thonal Palam in Ernakulam district and moved them to safety at Kadavu station.
Hundred people, including senior citizens from an old age home,have been rescued from Companypady in Aluva and shifted to shelters at safer places.
6:47pm IST
Nirmala Sitharaman chairs meeting to review rescue efforts
Smt @nsitharaman chairs meeting to review the rescue efforts in flood affected areas of Kerala with the Defence Secretary, Chief of Integrated Defence Staff, Vice Chiefs of three services @adgpi @IAF_MCC @indiannavy , DG @IndiaCoastGuard and Senior MoD officials..
1/2 #OpMadad pic.twitter.com/eAH8OBxuN3

— Raksha Mantri (@DefenceMinIndia) August 16, 2018
6:21pm IST
35 NDRF teams sent to Kerala as operations scaled up
The Centre decided to send 35 more NDRF teams comprising nearly 1,000 personnel to shore up relief and rescue operations. After the meeting of the National Crisis Management Committee early in the day, the government initially directed sending 12 fresh teams of the federal disaster contingency force to the state and later decided to airlift 23 more teams in order to scale up the operations.
"The first 12 teams will reach Kerala by this evening. The rest 23 teams are being sent gradually. The teams have been equipped for assisting the state government authorities in launching quick relief, rescue, medical aid and food distribution tasks in both day time and at night," NDRF Director General Sanjay Kumar told PTI.
6:05pm IST
Kochi Airport closed till 2pm on August 26
Operations at Kochi Airport have been suspended till 2pm of August 26. One of the busiest airports of the country, it handles 1460 flights a week.
5:55pm IST
Kochi Metro resumes operations
Kochi Metro resumed its operations at 4 pm. "All of Kochi Metro's resources will be used to assist rescue missions and hence the services will be free of charge for the day," it tweeted.
5:45pm IST
Konkan Railway cancels 5 trains from Kerala
Konkan Railway on Thursday cancelled five trains from Kerala, a spokesperson said.
The cancelled trains are train no. 12202 KCVL-LTT Garib Rath, train no.16346 TVC-LTT Netravati Express, train no.12617 ERS-LTT Mangala Express, train no. 19424 TEN-GIMB Humsafar Express and train no. 22114 KCVL-LTT Express for August 16.
5:41pm IST
23 more NDRF teams to be sent to Kerala
23 more NDRF teams to be sent to flood-hit Kerala: Officials
5:37pm IST
Share rainfall data on real-time basis, Palaniswami tells Pinarayi
Tamil Nadu CM Palaniswami alleges that his state officials were not being permitted to gauge the rainfall in the catchment area of Mullaperiyar dam in Kerala and urged the neighbouring state to share rainfall data on a real-time basis.
In his letter to Kerala CM Pinarayi Vijayan, Palaniswami said that the Tamil Nadu Water Resources Department is managing and regulating water releases from the Mullaperiyar dam as per the inflow rate.
He assured Vijayan that the dam is safe -- hydrologically, seismically and structurally.
5:33pm IST
District rescue helpline numbers
CMO tweets, "Abstain from spreading misinformation on Whatsapp and social media networks. Many rumours and fake news are surfacing. Listen for official announcements. Follow the CMO handles in Twitter and FB; FB pages of Ministers, District Collectors, Kerala Police and Fire force."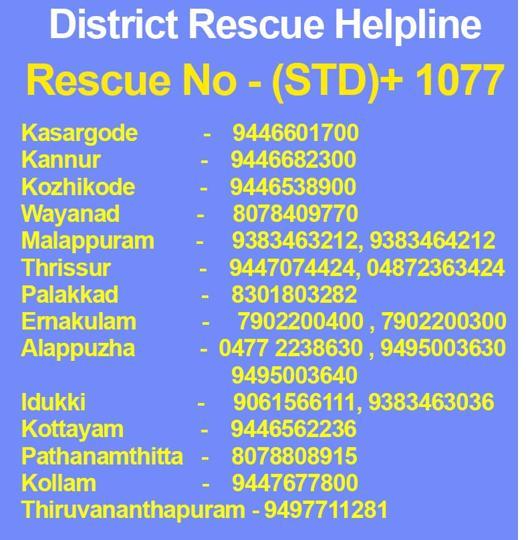 5:26pm IST
Latest visuals of Cochin Airport
Kerala: Latest visuals of Cochin International Airport as rain continues to lash the state. #KeralaFloods pic.twitter.com/w6yf7i3MMV

— ANI (@ANI) August 16, 2018
5:24pm IST
Alert for people living along Chalakudy river
Alert: the water-level in both Periyar and Chalakudy rivers will rise. People in 1km radius of Chalakudy, and those inside ½ km of radius of Aluva, must evacuate the place immediately. #KeralaFloods2018

— CMO Kerala (@CMOKerala) August 16, 2018
5:20pm IST
Death toll rises to 88
Thousands of flood-affected people in Kerala -- mostly in Pathanamthitta and parts of Ernakulam and Thrissur -- have been stranded as rescuers battle heavy rains to reach out to them even as the death toll in the unprecedented floods rose to 88.
Rahul R. Nair, Ernakulam Rural Superintendent of Police, said hundreds of people need help. "Shortage of boats is the biggest problem," said Nair.
5:16pm IST
Thousands await rescue on roofs of their houses in Pathanamthitta
Reports said hundreds of people are perched on the roofs of their houses in Pathanamthitta district, where attempts to airlift the marooned families have failed.
CPI-M legislator from Chengannur Saji Cherian said: "Hundreds of people are eagerly waiting to be evacuated and the only way out is airlifting. Unless things move fast, this could turn out to be very serious."
TV channels in the state are showing live pictures of people crying for help.
5:01pm IST
Defence ministry on rescue and relief efforts
Under Operation Madad, the Navy has deployed 24 teams, the Air Force has deployed additional teams along with disaster response teams of Indian Coast Guard, the defence ministry says.
Earlier in the morning, Smt @nsitharaman assured @CMOKerala that there shall be no delay from @DefenceMinIndia in rescue and relief effort for #KeralaFloods2018. Additional @IAF_MCC helicopters being deployed as requested by the state government. #OpMadad pic.twitter.com/VRtQ8q2N1G

— Raksha Mantri (@DefenceMinIndia) August 16, 2018
4:39pm IST
SC directs reducing water level at Mullaperiyar dam by 3 ft
The Supreme Court directed the Disaster Management sub-committee of Mullaperiyar Dam to consider reducing water level up to 139 feet from the present 142 feet, considering the "grave" flood situation in all the 14 districts of Kerala.
A bench of Chief Justice Dipak Misra and Justice Indu Malhotra said, "An effort has to be made to bring down the water level of the Mullaperiyar dam to 139 ft so that the people living downstream should not live in constant fear."
However, Tamil Nadu government opposed the plea, saying that the inflow of water presently is over 12,000 cusec in contrast to the outflow of 5,000 cusec.
4:29pm IST
Navy's rescue effort in Aluva
The Indian Navy is carrying out an airlift operation on Trichur, Aluva, and Muvattupuzha area to rescue stranded persons.Thirty-six people have been rescued so far and are being sheltered in the naval base. The Navy will also drop food and water.
#OpMadad #KeralaFloodRelief #keralafloods Flight Diver Amit rescues a small child from Aluva. Pilot in Command Cdr Vijay Verma @SpokespersonMoD @DefenceMinIndia @DG_PIB pic.twitter.com/UQmf5rYu27

— SpokespersonNavy (@indiannavy) August 16, 2018
4:16pm IST
NCMC decides to scale up relief, rescue operations in Kerala
Cabinet Secretary PK Sinha chaired a meeting of the National Crisis Management Committee which took stock of the prevailing situation in Kerala, a home ministry spokesperson said. The meeting was held following a directive of the prime minister.
Sinha pressed into service Army, Air Force, Navy, Coast Guard, National Disaster Response Force and other central armed police forces (CAPFs) and directed that all possible assistance be provided to Kerala for relief and rescue operations. The cabinet secretary also directed that relief material including supply of drinking water, dry food packets and powdered milk should also be made available to Kerala, the spokesperson said.
For proper reservoir management in Mullaperiyar Dam, the NCMC constituted a committee chaired by Chairman of Central Water Commission and engineers-in-chief of Tamil Nadu and Kerala.
4:11pm IST
Surya, Karthik donate Rs 25 lakh to CM's relief fund
Tamil actors Surya and Karthik have contributed Rs 25 lakh to the Kerala chief minister's relief fund.
4:07pm IST
SC fixes hearing on Mullaperiyar dam for tomorrow
The Supreme Court directs Tamil Nadu and Kerala to implement decisions of the Mullaperiyar dam sub-committee. The Court has fixed the matter for hearing tomorrow.
The sub-committee on Mullaperiyar Dam will consult chief secretaries of Kerala and Tamil Nadu to bring down water level there, reports news agency PTI.
4:01pm IST
Chennithala writes to PM Modi
Kerala opposition leader Ramesh Chennithala writes to PM Modi urging him to visit flood-hit areas of the state.
3:56pm IST
132 people rescued by Coast Guard helicopters today
132 people have been rescued from Thrissur, Aluva and Perumbavoor by Coast Guard helicopters today.
#WATCH: Rescue operations held by Coast Guard helicopters over Ernakulam, earlier today. 132 people have been rescued from Thrissur, Aluva & Perumbavoor by Coast Guard helicopters today. #KeralaFloods pic.twitter.com/JqJ0dsbSPs

— ANI (@ANI) August 16, 2018
3:50pm IST
45 people rescued from Machilipatnam in Andhra
Forty-five people who were stranded in Andhra Pradesh's Machilipatnam due to incessant rains have been rescued by three teams of Indian Navy deployed at Perumbavoor in Kerala's Ernakulam district on Wednesday.
3:40pm IST
SC asks high-power committee to convene meeting
Supreme Court asks the high power committee to convene a meeting by tomorrow morning in connection with the rising water level in Mullaperiyar Dam in Kerala.
3:14pm IST
TN chief minister says Mullaperiyar dam safe
Tamil Nadu chief minister tells Kerala counterpart that Mullaperiyar dam is safe and the water can be stored up to its full capacity of 142 feet.
2:58pm IST
Death toll reaches 87
The number of deaths have increased to 87 while the Centre has deployed all three wings of the armed forces in a massive rescue operation that is currently underway: IANS.
2:53pm IST
Odisha CM announces Rs 5 crore for Kerala flood victims
Odisha chief minister Naveen Patnaik announced a Rs 5 crore assistance for the flood victims of Kerala. Patnaik spoke with Kerala Chief Minister Pinarayi Vijayan over telephone and assured to provide relief and assistance to the people of Kerala affected by the flood.
2:00pm IST
12 more teams of NDRF to reach Kerala
Twelve fresh teams of the National Disaster Response Force (NDRF) have been rushed by the Centre to rain-battered Kerala. Six teams each are being airlifted from Delhi and Gandhinagar (Gujarat) and they will be dropped at Thiruvananthapuram today, a force spokesperson said.
Four teams of the federal disaster contingency force were sent to Kerala on Wednesday and with their addition the total number of NDRG teams operating in the state had gone up to 18. The teams had been deployed in the flood affected areas of Idukki, Ernakulam, Palakkad, Alaphuza, Kozhikode, Wayanad, Thrissur and Pathanamthitta, the spokesperson said.

A single NDRF team has about 45 personnel.
12:43pm IST
Have asked PM to give special financial assistance for Kerala: Rahul Gandhi
"Kerala is in great pain. I spoke to PM and requested him to massively increase deployment of the Army and Navy. I also said it is critical that he give the state special financial assistance as this is a tragedy without parallel in Kerala's history," tweets Congress president Rahul Gandhi.
12:25pm IST
Very serious situation in state: Kerala CM
"Very serious situation is prevailing in the state as nearly all villages are flood affected. I had a telephonic conversation with PM, home minister and defence minister, they have offered all support. More helicopters to be deployed soon" says Kerala chief minister Pinarayi Vijayan: ANI.
"Air force will send 10 more choppers and the Navy will send two more. Four more battalions of NDRF will also be deployed," he adds.
12:11pm IST
Control room in Delhi monitors flight issues
A Control Room has been set up at DGCA headquarters in New Delhi, which is being manned since Wednesday night to address the issues after suspension of flight operations to and from Cochin airport.
12:04pm IST
Two children die in wall collapse in Oorkadavu
Two children die in wall collapse in Oorkadavu as heavy rain continues in Kozhikode district.
11:55am IST
8 missing after landslide in Thrissur
Eight people go missing after landslide in Koorancherry, Thrissur.
11:42am IST
Air Force rescues man in Pathanamthitta
10:55am IST
Crisis Management Group Committee meet underway
Under the leadership of Cabinet Secretary PK Sinha, Crisis Management Group Committee meeting is underway at home ministry over Kerala floods.
10:48am IST
NDRF evacuates 926 people
National Disaster Response Force has evacuated 926 people to safer places at Pathamithitta, Kozzhikode, Ernakulam, Thrissur and Alappuzha.
Union tourism minister and former Kerala MLA Alphons Kannanthanam met the Prime Minister, home minister, defence minister and finance minister on Wednesday to discuss floods in the state. He would be travelling to Trivandrum today and will meet all concerned for any coordination.
10:24am IST
Centre rushing additional NDRF teams to Kerala: Rajnath Singh
Home minister Rajnath Singh says: "Had a telephonic conversation with Kerala chief minister Pinarayi Vijayan regarding the prevailing flood situation in the state. The Centre is rushing additional NDRF teams to Kerala. We are providing all possible assistance. I am in constant touch with Kerala chief minister."
10:20am IST
82 tourists stranded inside bus in Munnar
82 tourists stranded inside a bus in Munnar. All routes are either flooded, or blocked due to mudslides, reports news agency ANI.
10:15am IST
Pathanamthitta district worst affected
Pathanamthitta district in central Kerala has been the worst affected in the last 24 hours as thousands of people -- students among others -- were trapped in their homes in Ranni, Aranmula and Kozhencherry.
Fishing boats from Kollam reached the flooded areas as the rescue operation with the aid of defence personnel continued. Various media Whats App groups, including Chief Minister Pinarayi Vijayan's have been flooded with SOS messages from Pathanamthitta crying for help.
Parts of Ernakulam and Thrissur have been facing tough times with the dam waters from Idukki districts reaching Periyar, and its tributaries late.
10:12am IST
Authorities fear epidemic outbreak
Many areas have been without power and drinking water after heavy rains in Kerala. Authorities are fearing an epidemic outbreak due to floods.
10:10am IST
CM chairs high-level meet
Kerala chief minister Pinarayi Vijayan is chairing a high-level meeting to review flood situation
9:50am IST
Army rescues 100 people from Malampuzha
#Kerala: Army built a 35 feet long bridge and rescued 100 people (approx) including children and senior citizens from Malampuzha's Valiyakadu village #KeralaFloods pic.twitter.com/PvY1EHRnZT

— ANI (@ANI) August 16, 2018
9:35am IST
Modi asks defence ministry to step up rescue, relief ops
"Spoke to Kerala CM Shri Pinarayi Vijayan again this morning. We discussed the flood situation in the state. Have asked Defence Ministry to further step up the rescue and relief operations across the state. Praying for the safety and well-being of the people of Kerala," tweets Modi.
9:15am IST
Water logging in Chengannur
Kerala: Visuals of waterlogging from Chengannur following heavy and incessant rain. #KeralaFloods pic.twitter.com/5kqcu4LPk6

— ANI (@ANI) August 16, 2018
8:45am IST
Death toll rises to 80
Flood situation worsened in Kerala with 80 deaths being reported after eight people died in landslides. Army will press into service C-17 transport aircraft for rescue operations while the Indian Navy will deploy more forces in Pathanamthitta.
8:30am IST
Southern Naval Command to support flood relief ops
Southern Naval Command suspends all training activities to support in the flood relief operations as requested by Kerala State Disaster Management Authority (KSDMA). All resources are being mobilised for rescue and relief efforts in Ernakulam and Trichur.
8:25am IST
Water level in Mullaperiyar Dam reaches 142 feet
#Kerala: Water level in Mullaperiyar Dam at 142 feet as rain continues to lash the state. #KeralaFloods pic.twitter.com/cX51ahkcON

— ANI (@ANI) August 16, 2018
8:20am IST
Southern Railways, Kochi Metro suspend ops
The floods have affected the transport system to the Kochi city: PTI. "Due to rise in water level at Bridge No 176 on Downline between Angamali and Aluva, The services on this bridge is suspended," a Southern railway spokesman said in a statement today.
The Kochi Metro Rail Limited (KMRL) also suspended its operations this morning after its yard in Muttom near Aluva submerged in the flood waters. "Kochi Metro train operation is suspended as the water level rises in Muttom yard area," a KMRL statement said.
The service will be resumed once the water comes down and the systems are back in good condition, its spokesperson said.
8:17am IST
Bus services to Kochi, Ooty disrupted
Bus services to Kochi were affected after National Highways connecting the city submerged in Kalamassery area, officials said: PTI.
Due to heavy rain, Karnataka State Road Transport Corporation bus services stopped from Chamarajanagar district for Tamil Nadu's Ooty.
8:15am IST
Heavy rainfall in Alappuzha district
Rain continues to lash #Kerala; Visuals from Alappuzha district's Mavelikara. Till now 67 people have lost their lives caused by flooding due to heavy and incessant rains in the state. #KeralaFloods pic.twitter.com/iLzaNlNsko

— ANI (@ANI) August 16, 2018
8:00am IST
Water level in Achankoil river rises
Water level in Achankoil river at Alappuzha's Kollakadavu rises as heavy rainfall continues to lash the state.
Close Story
Personalise your news feed. Follow trending topics