As it happened: Modi's address to US Congress
Updated on Jun 08, 2016 10:59 PM IST
Prime Minister Narendra Modi, who is in the United States on a three-day visit, arrived at the Capitol Hill ahead of his address to a joint session of the US Congress on Wednesday.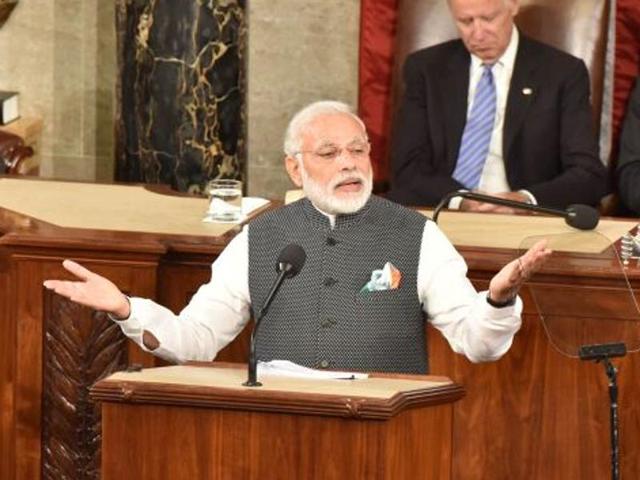 Prime Minister Narendra Modi called for a closer security relationship between his country and the United States on Wednesday, in an address to the US Congress stressing the importance of the warm relationship between the two countries.
"The fight against terrorism has to be fought at many levels. And the traditional tools of military, intelligence or diplomacy alone would not be able to win this fight," Modi told a rare joint meeting of the Senate and House of Representatives.
Read: Full text of PM Modi's speech
Here are highlights of Modi's speech:
On April 28, Ryan had announced that he formally invited Modi to address a joint meeting of the US Congress on June 8. Ryan received Modi at Capitol Hill on Wednesday.
Modi is the fifth Indian prime minister to address the US Congress after Rajiv Gandhi (1985), PV Narasimha Rao (1994), Atal Bihari Vajpayee (2000) and Manmohan Singh (2005).
Read: Modi, Obama flip the switch on nuclear power, welcome pact on building reactors
In 1949, the then prime minister Jawaharlal Nehru had addressed only the House of Representatives but not a joint session or a joint meeting of the Congress.
Modi met US President Barack Obama at the White House on Tuesday. Later in the day, he met business leaders in the US and addressed the US-India Business Council also.
Read: Is the Modi-Obama equation a true friendship or smart politics?
After his address to the US Congress on the final day of his three-day visit, the prime minister will head to Mexico City.
With inputs from agencies