Mayawati against interference in Muslim personal law, slams BJP
Updated on Nov 03, 2016 01:54 PM IST
BSP chief Mayawati says Muslim women are aware of their rights and can fight for them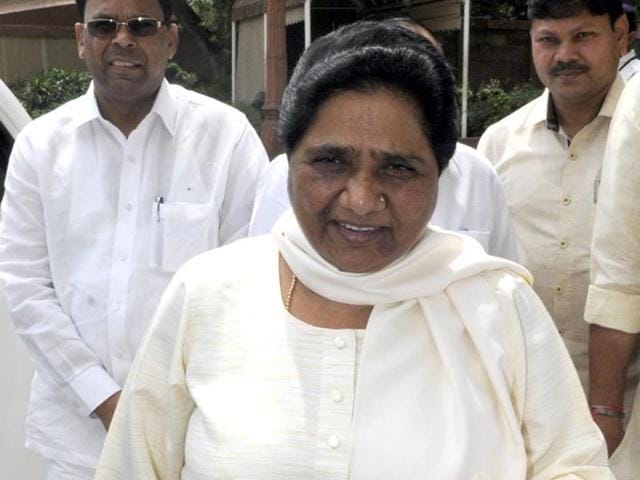 Hindustan Times |
, New Delhi
DK Singh
Bahujan Samaj Party chief Mayawati has opposed "interference" in Muslim personal laws, including triple talaq, saying the women from the minority community were aware of their rights and capable of fighting their own battles.
The practice of triple talaq, which allows a Muslim man to divorce his wife by pronouncing the word talaq thrice, faces multiple legal challenges and has triggered a huge debate.
"Matters of religion should be left to those practising it. People of one religion should not interfere in another religion. There is a need for consensus. Muslim mahilayen swayam bhi jagaruk hain. Wah apni baat swayam hi rakh sakati hain (Muslim women are well-informed and capable of articulating their views)," Mayawati said in an interview to HT.
Triple talaq is expected to generate heat in the five state elections due early next year, including in Uttar Pradesh where Muslims can influence the outcome in 100 of the 403 assembly segments.
The BJP, the 60-year-old leader said, was resorting to "purana raag (old tune)" on triple talaq and the Ram temple in Ayodhya as elections were drawing close. Both Hindus and Muslims were aware of the ploy and could see through their "chunawi hathkanda (poll gimmicks)", Mayawati told HT at her 3, Tyagaraja Marg residence in Delhi.
The Modi government has opposed triple talaq in the Supreme Court. Prime Minister Narendra Modi and several of his BJP colleagues have criticised the practice, saying it is against gender justice and violated Constitution.
The BJP is one of the two main challengers facing Mayawati who is looking to topple the Samajwadi Party to make a comeback in Uttar Pradesh.
The split in the SP chief Mulayam Singh Yadav's family would work to BSP's advantage, Mayawati said. "Akhilesh and Mulayam have different groups. It was Mulayam who made him the chief minister, aur ab woh apne baap ko bhi kuchh nahin samajhata (Akhilesh doesn't thinks much of his father)," she said.
"If Akhilesh forms a separate party, it will send a message to Muslims and they will not repeat the mistake of voting for the Samajwadi Party. Muslims will vote for whichever party can defeat the BJP and that is the BSP," the four-time Uttar Pradesh CM said.
Her remarks are in sync with Uttar Pradesh watchers, who are of the view that a divided SP may push Muslims to go with the BSP.
Brushing aside Akhilesh' claims of development, Mayawati spelt out her plans for the people of Uttar Pradesh -- cash not kind. "Whatever assistance has to be given to the poor, it will be direct financial help and not things like laptops. People want permanent jobs, not unemployment allowance," she said, referring to the two programmes launched by the state government.
Mayawati was also dismissive of Mulayam's attempt to stitch up a grand alliance with the Congress, Rashtriya Janata Dal, Janata Dal (United) and the Rashtriya Lok Dal. "Why a need for this? Because they have become weak. They have conceded defeat."
The BSP would go it alone. "Ours is an ideology based party. There will be no understanding with any other party," she said.
Coming back to the BJP, Mayawati said the party was trying to gain political mileage from the surgical strikes carried out by the army. "People are losing faith in them (the BJP) because of all this. People know what patriotism actually is," she said.