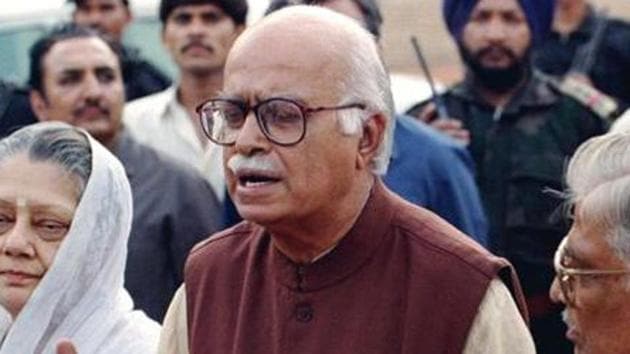 Feel like resigning, says Advani after another day of Parliament disruption
LK Advani rues the continued disruption in Lok Sabha, says he feels like resigning as almost the entire winter session may be lost to pandemonium over recall of high-value banknotes.
UPDATED ON DEC 15, 2016 04:31 PM IST
BJP veteran LK Advani rued the continued disruption of Parliament by protesting members on Thursday, so much so that he told a group of lawmakers that he felt like resigning.
Almost all of the month-long winter session has been lost to pandemonium in both Houses, primarily over the government's recall of high-value banknotes on November 8. Thursday was no exception.
So agitated was Advani that he kept sitting in the Lok Sabha for nearly 15 minutes even after it had been adjourned for the day.
"I feel like resigning... (Former Prime Minister) Atal Ji would have been very upset seeing this," Advani told a group of MPs who walked up to him after spotting him sitting alone. Among them was Idris Ali, a Trinamool MP with whom Advani was upset for shouting slogan.
When the House was adjourned, Advani was seen instructing to textiles minister Smriti Irani, who in turn nudged home minister Rajnath Singh to listen to him.
Advani told Rajnath to convey to the Lok Sabha speaker that she should immediately call a meeting of all leaders and discuss how to end the logjam.
"Tell her that I want that leaders should be called and the issue be discussed. Call one leader from the Congress," Advani said.
Rajnath nodded and left, so did the other ministers. Advani kept sitting. For the next few minutes he sat alone.
Later, BJP MPs - Sunil Singh and Ravindra Rai - came forward. Ali also moved closer and took the seat next to Advani and started interacting.
"The only thing I want is that Parliament should run. This sends out a poor message. A complete washout is something we should not allow," Advani said.
He remarked that the House should at least function normally for a day before it is adjourned sine die.
He said there can be agreement and disagreement over the demonetisation issues, but parliamentarians should have patience to listen to each other and debate the matter, instead of indulging in an ego battle.
"Whosoever wins this battle, Parliament will be the loser," he said.
At this point, Ali inquired about the health of Vajpayee to which Advani said he was not too well and that he would not have been pleased to see the situation.
Last week too, Advani had expressed his ire over the repeated disruptions in Parliament, holding both the ruling dispensation as well as the opposition responsible for the deadlock.
Close