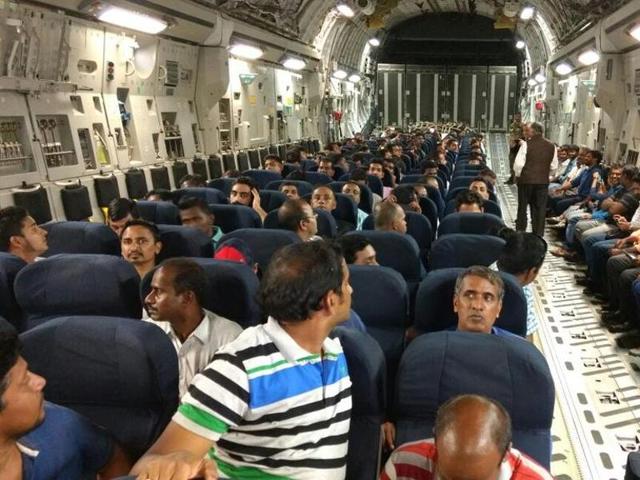 Op Sankat Mochan: Indians rescued from South Sudan to reach Delhi today
Minister of State for External Affairs VK Singh on Thursday left for South Sudan leading the government's 'Operation Sankat Mochan' to evacuate Indians from the African country which has been hit by violence that has claimed hundreds of lives.
Hindustan Times | By HT Correspondent
, New Delhi
UPDATED ON JUL 14, 2016 11:58 PM IST
External affairs minister Sushma Swaraj said the two flights sent to evacuate Indians from South Sudan, where a fragile ceasefire holds amid civil war, had cleared the conflict zone late on Thursday.
In a series of tweets on the micro-blogging site, the minister gave updates on Sankat Mochan — the evacuation operation — stating both flights had left Kampala and would reach Delhi at around 10 am on Friday. The flights will, however, first reach Thiruvananthapuram at around 5 am.
"Indian railways and Air India will facilitate their onward journey," the minister added on Twitter.
The foreign ministry earlier announced that more than 140 Indians had been airlifted from South Sudan, the world's youngest nation where more than 150 people were killed in the last week amid fighting between rival political factions.
Minister of state for external affairs, VK Singh, flew to South Sudan early on Thursday morning with an Indian Air Force contingent in two C-17 Globemasters to ferry Indians to safety.
Clashes broke out in South Sudan last week between troops loyal to President Salva Kiir and vice-president Riek Machar after reports on social media suggested that Machar had been detained at the presidential palace. Several days of fighting passed before Kiir called a ceasefire on Monday and asked his troops to respect the truce.
The two have been locked in a power struggle since 2013, a struggle that has killed more than 50,000 people since.
As the violence boiled over, several countries, including the US, Germany and Sudan, arranged to have their nationals evacuated from the country.
By the Thursday afternoon, 143 Indians, including 10 women and three infants, flew out of South Sudan's capital Juba in one of the Globemasters. Singh interacted with the Indians on the aircraft, which made a technical halt at Entebbe in Uganda before resuming the flight to India.
The ministry is yet to ascertain the number of Indians on the second flight.
Swaraj had in the past few days urged Indians to leave the war-torn country, cautioning that evacuating them later could be impossible. "Pls move out of South Sudan. We hv sent two aircrafts. If situation deteriorates, we will not be able to evacuate u," she tweeted.
There are an estimated 600 Indians in South Sudan, including 450 in the capital Juba. About 300 registered to be evacuated from the country, officials said.
Indian nationals with valid travel documents were allowed to board the aircraft with a maximum five kilograms of cabin baggage, officials said.
Indian peacekeepers posted with the UN mission in South Sudan were helping with the evacuation, external affairs ministry spokesman Vikas Swarup had tweeted.
Read| Precarious calm in South Sudan's capital Juba as foreigners flee
Singh, a former army chief, had overseen the evacuation of nearly 4,000 Indians from conflict-ridden Yemen last year.
Here is a list of some other major evacuations organised by the Indian government in the past quarter century.
1990: GULF WAR: More than 100,000 Indians were evacuated from Amman to Mumbai by Air India in association with Indian Airlines. More than 170,000 Indians were also evacuated from Kuwait in 488 flights.
2006: LEBANON WAR: The government evacuated 2,280 people, including 1,764 Indians, (others included Nepalese and Sri Lankans) during this war. Called Operation Sukoon, it was undertaken by the Indian Navy.
2011: LIBYAN CIVIL WAR: The government ordered the evacuation of 17,927 Indians trapped in Libya during the civil war. The Indian Navy, with help from Air India and some private airlines launched Operation Homecoming to bring back more than 15,000 Indians.
2011: EGYPT CRISIS: India evacuated 750 citizens from Egypt.
2011: Yemen: The government evacuated 846 citizens from Yemen.
2012: SYRIAN CIVIL WAR: India evacuated about 100 citizens, mostly families of its diplomatic staff, when the civil war intensified.
2014: UKRAINE CONFLICT: The government made arrangements to bring back 1,000 nationals, mostly students, from conflict-torn eastern Ukraine.
2014: IRAQ CRISIS: India evacuated 7,000 citizens from Iraq.
2015: YEMEN CRISIS: India evacuated 4,741 of its nationals and 1,947 people from 48 countries from war-torn Yemen.
Read| A look at South Sudan, a young country divided by civil war
Close