Tamil Nadu govt orders closure of Sterlite Copper plant in Thoothukudi
Updated on May 28, 2018 09:59 PM IST
The state government has also asked the Pollution Control Board to seal the copper plant.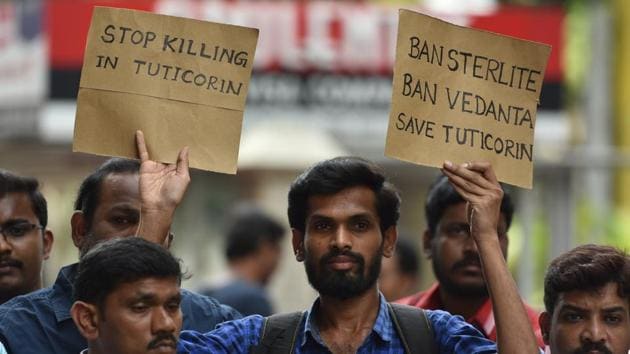 The Tamil Nadu government on Monday directed the state's environment regulatory body to seal the Vedanta group's copper plant and close it down "permanently" following last week's violent protests during which 13 people were killed in police firing.
The Government Order (GO) said it endorsed the recent closure direction of the Tamil Nadu Pollution Control Board, and also asked the Tamil Nadu Pollution Control Board (TNPCB) to "seal the unit and close the plant permanently".
The document cited the Constitution's directive principles of state policy (Article 48-A) enjoining protection of environment and provisions of the Water Act, 1974, to order the permanent closure of the copper factory "in the larger public interest".
It referred to the TNPCB order of April 9 refusing to renew its consent to allow Vedanta's copper smelter plant at Tuticorin to operate.
The order recalled how on May 23 the TNPCB had issued directions for closure of the unit and disconnection of power supply to it. The power supply was disconnected a day later.
Chief Minister K Palaniswami said the government has issued the GO in deference to the sentiments of the people.
The locals were protesting for the closure of the factory for 99 days. Protesters turned violent on May 22, the 100th day of their stir, and 13 people were killed in police action against them last Tuesday and Wednesday.
Deputy chief minister O Panneerselvam visited the hospital in Thoothukudi and inquired about the health of those injured in the police firing on Monday. The deputy CM spoke to reporters in Thoothukudi and said that compensation to the injured were being paid.
Normalcy was slowly returning to Thoothukudi, with shops and other establishments opening their doors for customers.
Internet connectivity has also resumed on Sunday after it was suspended on May 23.
"Shops are open now. Normalcy is returning. But till the copper smelter plant is permanently closed, there will not be total peace in the city," S Raja of Thoothukudi Traders Association told IANS.
Raja also said murder charge should be registered against the police officials who shot the protestors.
According to Raja, post mortem has been done on seven bodies out of the 13 who were killed in the police firing. However, the relatives have not claimed the bodies yet.
Personalise your news feed. Follow trending topics