'No shortage of essential items in J&K, curbs saved lives': Guv Malik
Jammu and Kashmir Governor Satya Pal Malik also said there has been no shortage of medicines and essential commodities anywhere in Jammu and Kashmir and enough stocks were available for the people to buy.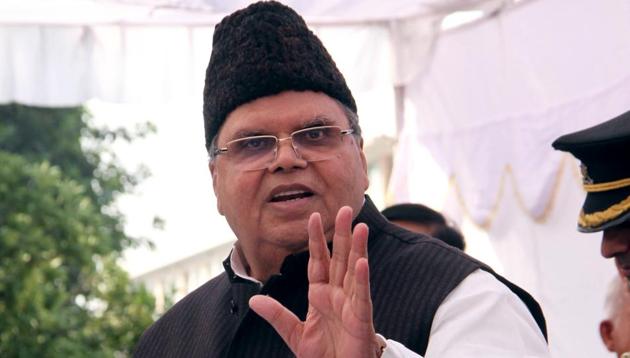 Updated on Jun 21, 2020 09:11 AM IST
Hindustan Times, New Delhi |
HT Correspondent
Jammu and Kashmir governor Satya Pal Malik on Sunday denied there was any shortage of medicines and essential supplies in the region, and said the restrictions on communication services in the Valley after the revocation of special status to the state had helped save lives.
Malik said that the curbs -- imposed after the Centre on August 5 moved to effectively revoke Article 370, which gave special status to J&K, and bifurcate the state into two Union Territories -- will be phased out soon.
The governor's remarks came even as former Congress president Rahul Gandhi on Sunday accused the Narendra Modi-led central government of "curtailing freedom and civil liberties" of the people of Kashmir through "brute force".
The governor said there were no casualties due to violence in Jammu and Kashmir in the last 10 days, and added: "If blockade of communication helps saves lives, what is the harm?"
Watch: J&K Governor defends Kashmir lockdown
"Our attitude is that there should be no loss of human life. If there is no phone connection for 10 days, so be it. But we will restore everything soon," he told reporters when asked about how long the restrictions will continue in the Valley.
The governor, who was in the national capital to pay tributes to former Union finance minister Arun Jaitley, said there was adequate supply of essential commodities and medicines in the state. "In fact, we delivered meat, vegetables and eggs to people's doorsteps on Eid... your opinion will change in 10-15 days," he said.
The Valley has 7,630 retail chemist shops and 4,331 wholesale shops, a statement by the state administration said, adding that around 65% shops remained open.
On Sunday, opposition leaders criticised the BJP-led National Democratic Alliance (NDA) government for not allowing a delegation of opposition leaders to visit Srinagar a day before.
Rahul Gandhi, who led the delegation that was turned back from Srinagar by the state administration after a brief detention at the airport, wrote on Twitter: "It's been 20 days since the people of Jammu & Kashmir had their freedom & civil liberties curtailed. Leaders of the Opposition & the Press got a taste of the draconian administration & brute force unleashed on the people of J&K when we tried to visit Srinagar yesterday."
Congress general secretary Priyanka Gandhi Vadra also hit out at the Centre earlier in the day, saying there is nothing more "anti-national" than clamping down on democratic rights of the people of the Valley.
Communist Party of India general secretary D Raja, who was part of the 11-member Opposition delegation that intended to assess the ground situation in J&K, said the situation in Kashmir was not normal.
Separatist leader and Hurriyat Conference chairperson Syed Ali Shah Geelani, in a statement dated August 23, urged the people of Kashmir to "resist at this critical juncture" the government's move to nullify Article 370 with peaceful protests and demonstrations.
The state administration has previously said the situation is gradually returning to normal and that restrictions would eventually be lifted.
(With inputs from agencies)
Close Story
Personalise your news feed. Follow trending topics