PM Modi hits out at Congress during Rajasthan rally, calls party 'bail gaadi'
Jul 08, 2018 12:27 AM IST
PM Modi was apparently referring to Congress leader Shashi Tharoor, who got bail in the death case of his wife Sunanda Pushkar. Earlier this year, former finance minister P Chidambaram's son, Karti Chidambaram had gotten bail in the INX media corruption case.
Prime Minister Narendra Modi on Saturday launched a scathing attack on the Congress while promising to bring development to rural Rajasthan under various schemes of the Center and the state.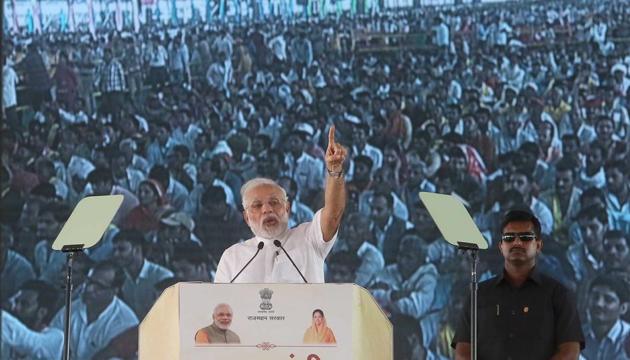 He was addressing more than 2.5 lakh beneficiaries of 12 welfare schemes.
Stay tuned with breaking news on HT Channel on Facebook.
Join Now
Taking a dig at the Congress, Modi said that the people were calling it 'bail gaadi' (bail cart) these days, punning on the phrase in Hindi which means bullock cart.
"Some people are calling Congress 'bail gaadi,' not bullock cart, because some of its top leaders and former ministers are on bail," he said.
Recently Congress leader Shashi Tharoor had got bail in the death case of his wife Sunanda Pushkar.
Earlier this year, former finance minister P Chidambaram's son, Karti Chidambaram had got bail in the INX media case.
Modi said that Bharatiya Janata Party (BJP) has focused on empowerment of poor and results are there to see.
In India, over the past few years, about 5 crore people have come out of extreme poverty and the reason was the BJP government's policy of 'Saaf Niyat and Sahi Vikas', he said.
Rajasthan Pradesh Congress Committee president Sachin Pilot hit back at the Bharatiya Janata Party for using the government's programme as political platform.
"It is quite unfortunate that on the name of dialogue with beneficiaries, Prime Minister as usual criticised Congress which proved that he attacked the Congress, which is getting stronger day by day in Rajasthan," he said.
Sachin Pilot said apart from this, approximately ₹50 crore has been spent for boarding and lodging of these people and on tent and other arrangements and if administrative expenses are also included then this amount would touch ₹1500 crore.
Modi said facilities will be extended to 1500 villages in Rajasthan under Rashtriya Gram Swaraj Abhiyan. He said every villager will have bank account, LPG connection, electricity connection, and enjoy the benefits of vaccination.
Modi said the union government will take a positive decision on the Rajasthan government's request to declare the eastern Rajasthan canal river linking project that will bring the Chambal water to 13 districts of the state and benefit 40% of its population.
Modi praised the state government's water projects that he said have provided drinking water to 12,500 villages.
He also praised Rajasthan government for its achievement on Beti Bachao Beti Padao scheme.
He said that the government's focus was on health, nutrition and education.
Apart from 2.5 lakh beneficiaries of 12 schemes run by the Bharatiya Janata Party government at the Centre, farmers in large numbers turned up at the venue 'Amroodon ka bagh.
Talking about work done in the field of agriculture, Modi said as on date, about 14.50 crore soil health card have been distributed across India and nearly 90 lakh have been distributed in Rajasthan.
Prime Minister Narendra Modi also laid foundation stone of infrastructure development projects worth ₹2100 crore across Rajasthan.
Earlier, the Prime Minister arrived in a special aircraft at the Jaipur airport. He was welcomed by Rajasthan governor Kalyan Singh and chief minister Vasundhara Raje.