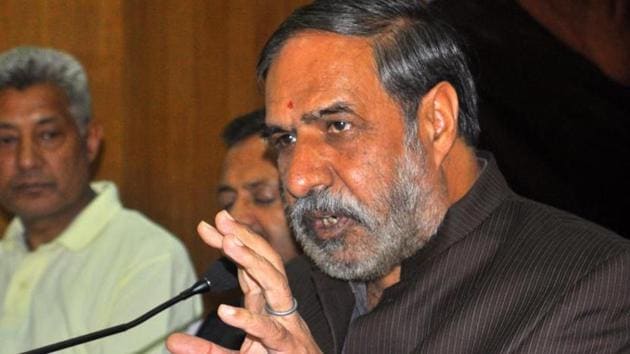 Rahul never disrespected Deve Gowda, says Congress after Modi's attack
Addressing an election rally in Karnataka on Tuesday, PM Narendra Modi had lashed out at Rahul Gandhi for "insulting" JD(S) chief Gowda, saying it showed his "arrogance".
UPDATED ON MAY 03, 2018 12:29 PM IST
Congress president Rahul Gandhi has not shown any disrespect towards JD(S) supremo HD Deve Gowda as claimed by Prime Minister Narendra Modi, the party said.
Hitting back, the Congress said it was Modi who "disrespected" his two predecessors — Manmohan Singh and Gowda — and sought an apology from him for it.
"There was no disrespect ever towards Deve Gowda by Rahul Gandhi... it is not the Congress' culture to insult," deputy leader of opposition in Rajya Sabha Anand Sharma told reporters in Bengaluru on Wednesday.
Modi, addressing an election rally on Tuesday, had lashed out at Gandhi for "insulting" Gowda, saying it showed his "arrogance".
Accusing the prime minister of assaulting the dignity of his office with his expressions and language, the Congress leader said Modi had said things during his campaign speeches that were not true.
"This government's very foundations are on false promises, lies, deceit, propaganda and boastful claims," Sharma alleged and said Modi and his government were in the "departure lounge".
"When Deve Gowda ji was prime minister, his government had full support of the Congress party. Rahul Gandhi has not said anything derogatory about Shri Deve Gowda," he said.
Sharma alleged that Modi and BJP chief Amit Shah had created an "opportunistic understanding and unholy nexus" with the JD(S), and that was the reason a criticism was levelled.
Sharma insisted that Modi apologise for repeatedly insulting former prime minister Manmohan Singh, whom he described as one of the respected elders, leaders and statesmen.
The country had seen how "insulting and disrespectful" Modi had been towards Singh in Parliament itself. "So let him apologise," the senior Congress leader said.
He recalled Gowda had in the run-up to 2014 elections said he would take 'political sanyas' if Modi became the prime minister. Modi had also said he would send Gowda to an "old age home," Sharma alleged.
"Let him also apologise to Deve Gowda ji... Let the people of Karnataka know this prime minister has a forked tongue and basically he is a master in the art of duplicity and hypocrisy," he added.
Attacking the government on a host of issues including women's safety, farmer issues, bank fraud and Rafale deal, Sharma said Modi should know the time has come and the countdown for BJP will start from Karnataka.
"...he is in the departure lounge; his government is in the departure lounge. People of India are not disappointed but fed up of untruth, lies, false promises and false claims, insulting the wisdom of the people and they are waiting to send them off," he charged.
Charging that the announcement on creation of 15 million jobs in the country had been made with an eye on Karnataka polls, he said "this is yet another lie".
Close