Gay sex now a legal right: All you need to know about Section 377
Updated on Sep 06, 2018 04:29 PM IST
The Supreme Court on Thursday pronounced its much-awaited verdict on a clutch of petitions challenging the constitutional validity of section 377 of the IPC which criminalises consensual gay sex.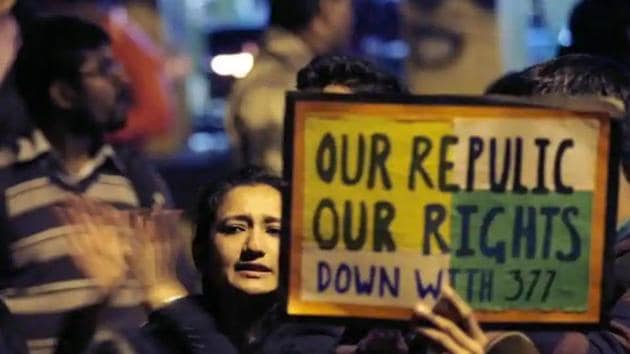 The Supreme Court on Thursday said gay sex among consenting adults is not an offence after hearing a batch of petitions challenging the Constitutional validity of Section 377 of the Indian Penal Code that criminalises homosexuality.
The five-judge constitution bench of Chief Justice Dipak Misra, Justice Rohinton Fali Nariman, Justice AM Khanwilkar, Justice DY Chandrachud and Justice Indu Malhotra had reserved the verdict on July 17 on the conclusion of arguments.
The verdict assumes significance as in the earlier round of litigation in 2013 the Supreme Court had reversed the Delhi high court ruling decriminalising homosexuality or same sex relationship,
The law
Section 377 of IPC – which came into force in 1862 – defines unnatural offences. It says, "Whoever voluntarily has carnal inter­course against the order of nature with any man, woman or animal, shall be punished with imprisonment for life, or with imprisonment of either description for a term which may extend to 10 years, and shall also be liable to fine."
Delhi HC legalises homosexuality
The Delhi high court had in July 2009 de-criminalised consensual homosexual acts in private by declaring as unconstitutional a part of Section 377 of IPC that criminalises unnatural sex, saying "the section denies a gay person a right to full personhood…"
SC re-criminalises homosexuality
The Supreme Court chose to reverse the verdict in December 2013. Upholding the constitutional validity of Section 377 IPC, an SC bench headed by Justice GS Singhvi (since retired), put the ball in the Parliament's court, saying it was for the legislature to take a call on the desirability of the controversial provision.
Homosexuality a taboo
Homosexuality is considered a taboo in a largely conservative Indian society which appears to be divided on the controversial issue. Freedom loving people (not necessarily belonging to Lesbian, Gay, Bisexual and Transgender or LGBT community) want homosexuality de-criminalised but many still consider it a "deviant behaviour" and not merely a question of one's sexual orientation or preference.
Implications for heterosexuals
The case has implications for heterosexuals also, as consensual sexual acts of adults such as oral and anal sex in private are currently treated as unnatural and punishable under Section 377 IPC.
Emerging political consensus
Successive governments have defended the archaic Section 377 IPC which is based on 19th century Victorian morality. But the intense debate in the society and the media appears to have forced the political class to change its stance.
After eluding it for years, political consensus is building on the issue. The BJP which had supported the Supreme Court's verdict upholding Section 377 IPC now appears to support the Delhi high court de-criminalising consensual homosexual acts in private.
"When millions of people world over are having alternative sexual preferences, it is too late in the day to propound a view that they should be jailed. The Delhi high court's view appears more acceptable," senior BJP leader and finance minister Arun Jaitley had said in November last year, expressing his personal opinion.
Jaitley's view was supported by senior Congress leader P Chidambaram. Even otherwise, Congress has openly supported legalising homosexuality. Aam Admi Party and Communist Party of India-Marxist are also said to be in support of declaring Section 377 unconstitutional.
SC verdict on transgenders
In its landmark April 2014 verdict, hailed by gender rights activists, the top court directed the government to declare transgenders a 'third gender' and include them in the OBC quota. Underlining the need to bring them into the mainstream, it said they should have all rights under law, including marriage, adoption, divorce, succession and inheritance.
PM Narendra Modi on transgenders
In November 2015, Prime Minister Narendra Modi had regretted the deplorable condition of transgenders in Indian society and said governments needed to change their outlook.? "We need to amend and make new laws for transgenders," he had said at the foundation day celebration of National Legal Services Authority (NALSA). The NDA government has prepared a draft law recognising the rights of transgenders with a view to ensure they are not discriminated against. All these developments allude to the change in the mindset of the top court and the government.
International developments
There have been many positive developments in favour of LGBT community on the international front. In May 2015, Ireland legalised same-sex marriage. The country which had decriminalized homosexuality in 1993 became the first country to allow same sex marriage a national level by popular vote.
In June 2015, the US Supreme Court ruled that same sex marriages were legal. Near home, Nepal legalised homosexuality in 2007 and the new Constitution of the country too gives many rights to the LGBT community.
France, UK, Canada, United States, Australia and Brazil have de-criminalised homosexuality. Other countries like Belgium, Brazil, Canada,France, Iceland, Ireland, Luxembourg, Norway, Portugal,South Africa, Spain, Sweden and Uruguay allow either same sex marriage or a civil union.
India currently stands with a host of countries such as Nigeria, Ghana, Iran, Saudi Arabia, Afghanistan, Mauritania, Qatar and Pakistan which criminalises homosexuality.
Child abuse and Section 377
Many child rights activists had criticised the Delhi HC verdict de-criminalising homosexuality on the ground that Section 377 was needed to be on the statute book to tackle cases of child abuse. However, the enactment of the Protection of Children from Sexual Offences (POCSO) Act 2012 has removed the need to use Section 377 in child sexual abuse cases. POCSO is more child-friendly and much more stringent.
Law and morality
Those against legalising gay sex argue that it is against the moral values of the society. However, activists arguing for it say what is forbidden in religion need not be prohibited in law. They argue that morality cannot be a ground to restrict the fundamental rights of citizens. A legal wrong is necessarily a moral wrong but vice versa is not correct. A moral wrong becomes a legal wrong only when its consequences are for society and not just the person/s committing it.
Personalise your news feed. Follow trending topics