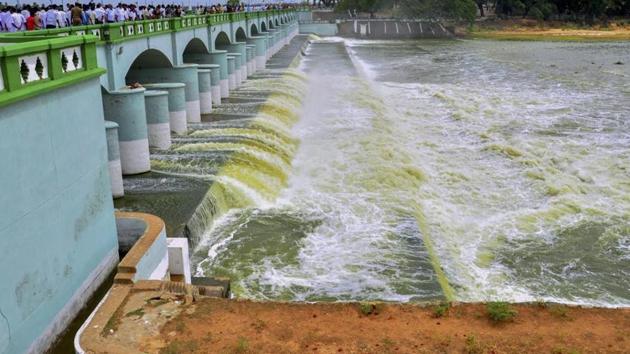 SC to hear Tamil Nadu's plea against Centre on Cauvery Management Board
Tamil Nadu had sought contempt action against the Centre for "failure" to frame the scheme for constitution of the Cauvery Management Board and the Cauvery Water Regulation Committee within six weeks.
Hindustan Times, New Delhi | By HT Correspondent
UPDATED ON APR 02, 2018 11:00 PM IST
The Supreme Court has agreed to hear the Tamil Nadu government's contempt petition against the Centre for not setting up the Cauvery Management Board (CMB), which it said was "in violation" of the top court's February 16 judgment.
The court had set a six-week deadline for the Centre to frame the scheme constituting the board and the Cauvery Water Regulation Committee. The deadline ended on March 29.
"We understand Tamil Nadu's difficulty of not getting water. We will resolve the issue. List the matter for April 9," the bench, comprising Chief Justice Dipak Misra and Justices A M Khanwilkar and D Y Chandrachud, told the counsel for the state when an early hearing for the petition was sought.
Tamil Nadu contended that the central government was "bound to give effect to the judgment by framing a scheme so that the authorities under the Scheme are put in place within six weeks and the decision of the Tribunal as modified by this Court is implemented".
The top court by its February 16 verdict had reduced the Tamil Nadu's share of Cauvery water from 177.25 thousand million cubic feet (TMC), which was less than 192 TMC allocated by a tribunal in 2007. On the other hand, Karnataka's share of water was increased by 14.75 TMC.
Karnataka has, however, in a letter to the Centre, objected to the board's constitution, contending that the SC's directive spoke of only formulating a mechanism.
At the same time, the Centre, too, has filed a clarification petition in the SC, asking for three months to implement its judgment in view of the May assembly elections in Karnataka. The Centre had said that due to divergent views expressed by the four governments (Karnataka, Tamil Nadu, Kerala and Puducherry) on the "framing of the scheme", it is felt that if any scheme was framed by the Centre, the states may again approach the court.
The Centre has asked the SC whether it has any flexibility in modifying the composition of the board to "a mixture of administrative and technical body" and "not purely a technical body".
Close