Sheila Dikshit, three-time chief minister of Delhi, dies at 81
Jun 03, 2020 09:51 PM IST
Sheila Dikshit, who is survived by her son, politician Sandip, and daughter Latika, was admitted to Delhi's Fortis Escorts Heart Institute on Saturday morning in a "critical condition with cardiac arrest", a statement by the hospital said.
Congress veteran Sheila Dikshit, credited with transforming Delhi into a modern, contemporary city during her three terms as its chief minister, died on Saturday after a cardiac arrest. Dikshit, who was 81 years old, had been ailing for sometime and her death was mourned by politicians cutting across party lines.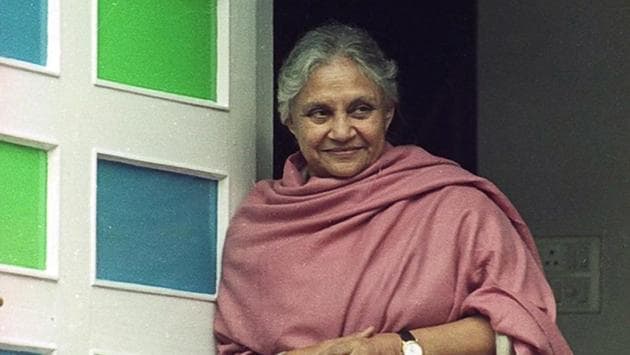 Dikshit, who is survived by her son, politician Sandip, and daughter Latika, was admitted to Delhi's Fortis Escorts Heart Institute on Saturday morning in a "critical condition with cardiac arrest", a statement by the hospital said.
"A multi-disciplinary team of doctors, led by Dr Ashok Seth, Chairman, Fortis Escorts Heart Institute, carried out advanced resuscitative measures. Her condition stabilised temporarily. However, she had another cardiac arrest and despite all the resuscitative efforts, passed away at 3:55pm on July 20, 2019," said the statement.
The Delhi government declared two days of mourning in the national capital in homage to Dikshit,the longest-serving chief minister of the city-state. She will be accorded a state funeral on Sunday, deputy chief minister Manish Sisodia said.
President Ram Nath Kovind, vice president M Venkaiah Naidu, Prime Minister Narendra Modi, Congress leader Rahul Gandhi, his sister and Congress general secretary Priyanka Gandhi Vadra, former prime minister Manmohan Singh and Delhi chief minster Arvind Kejriwal were among the many who condoled the death of Dikshit, known as an affable politician with a reputation as an able administrator from her uninterrupted reign as Delhi's chief minister from 1998 to 2013.
The who's who of Delhi visited the East Nizamuddin residence of Dikshit, where her body was brought at 5.30pm amid chants of "Sheila Dikshit Amar Rahe" (Long Live Sheila Dikshit). The Delhi Congress said her body will be taken from her residence to the Congress headquarters on Akbar Road at 11.30am on Sunday after which the last rites would be performed at the Nigambodh Ghat at 2.30pm.
Many political figures recalled her contribution to Delhi, where she is credited for bringing the metro railway network and turning it into the city's lifeline, the flyovers and underpasses that came with it, her efforts to make power supply more efficient by reforming the distribution network and the achievement of turning the capital's fleet of fuel-guzzling, smoke-emitting buses and auto rickshaws into CNG vehicles that made the capital's air cleaner, at least for a few years.
"Deeply saddened by the demise of Sheila Dikshit Ji. Blessed with a warm and affable personality, she made a noteworthy contribution to Delhi's development," Modi tweeted.
WATCH: Delhi's longest-serving CM Sheila Dikshit passes away, tributes pour in
Rahul Gandhi said he was devastated by news of her death. "A beloved daughter of the Congress Party, with whom I shared a close personal bond. My condolences to her family & the citizens of Delhi, whom she served selflessly as a three-term chief minister, in this time of great grief," he wrote.
"Sheila ji will always be remembered for her years of exemplary governance and immense contribution to the development of Delhi," Priyanka Gandhi wrote. "I will miss her wise counsel, her sweet smile and the warmth with which she would hug me whenever we met."
"An able administrator, she made immense contribution to the development of Delhi. Apart from many other achievements in her long career in public life, Sheila-ji will be remembered as a fine human being," senior BJP leader LK Advani said.
Chief minister Arvind Kejriwal, who has been at odds with Dikshit many times, wrote in a Twitter post: "Just now got to know about extremely terrible news about the passing away of Sheila Dikshit ji. It's a huge loss for Delhi and her contribution will always be remembered. My heartfelt condolences to her family members. May her soul rest in peace."
Recalling his last meeting with his predecessor, Kejriwal said, "The news of the sudden demise of Mrs Sheila Dikshit ji has shocked me. Only last month I had met her for nearly an hour when she came with her party's delegation to submit a memorandum on several issues, at the end of the meeting I wished her good health, not knowing that this would be my last meeting with her."
It was Kejriwal's Aam Aadmi Party (AAP) that contributed to ending Dikshit's resign as chief minister in 2013, when her Congress government fell under the weight of anti-incumbency against the United Progressive Alliance (UPA) government at the Centre and her own administration amid a raft of corruption allegations, including in the organisation of the 2010 Commonwealth Games.
Although the Congress suffered a humiliating defeat, winning just eight out of the 70 assembly seats, it struck an alliance with AAP to form a coalition government that lasted just 47 days. In the subsequent assembly elections in 2015, the Congress, led by Ajay Maken, failed to open its account. AAP won 67 seats and the Bharatiya Janata Party (BJP) the remaining three.
Ahead of the 2019 Lok Sabha elections, Dikshit was named the Delhi Congress president, a post she held until her death.
During her tenure as the Delhi unit chief, Dikshit had frequent run-ins with All India Congress Committee (AICC) in-charge PC Chacko – first over a proposed alliance with AAP for the Lok Sabha elections and over some organisational appointments.
Dikshit vehemently opposed any tie-up with the AAP and the central leadership of the Congress went by her opinion; neither party won a single seat in Delhi, which elects seven members of Parliament. She unsuccessfully fought the Lok Sabha elections from the North-East Delhi constituency.
In July 2016, she was named the Congress party's chief ministerial candidate for the 2017 Uttar Pradesh assembly elections, in which the Bharatiya Janata Party won a landslide. Dikshit served as the Kerala governor from March 5, 2014 to August 26, 2014.
In the last election she contested, she was defeated by Manoj Tiwari of the BJP who, like everyone else, had good things to say about Dikshit.
"Though we were political rivals and our views were opposite on many issues, I found Mrs Dikshit to be warm and an affectionate person whenever we met," Tiwari said.
(With inputs from agencies)