Shivpal names murder accused Aman Mani as SP candidate, Akhilesh fumes
Updated on Oct 03, 2016 04:43 PM IST
This is the third time Akhilesh have disagreed with Shivpal giving ticket to a criminal-turned-politician.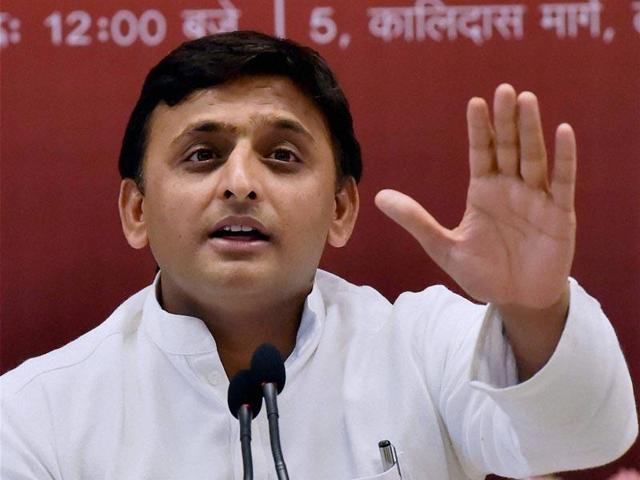 Samajwadi Party state president Shivpal Yadav named on Monday a murder accused as a party candidate for next year's assembly elections in Uttar Pradesh, a move that could potentially increase friction with his nephew Akhilesh.
Chief minister Akhilesh Yadav, who was locked in a bruising turf war with Shivpal till recently, reacted with visible anger when asked about the candidature to Aman Mani Tripathi, accused of murdering his wife Sara last year.
Tripathi's father, four-time legislator Amar Mani Tripathi, is serving a life term for murdering a poetess, Madhumita Shukla, in 2003.
"I did not get any email informing about the ticket (to Aman Mani). You people (journalists) got the mail (from Shivpal)," the chief minister said on the sidelines of a public event shortly after the names of eight candidates were announced.
This is the third time Akhilesh have disagreed with Shivpal giving ticket to a criminal-turned-politician.
The first confrontation was in the run-up to the 2012 assembly polls when Shivpal was in favour of giving candidature to strongman DP Yadav, whose son Vikas and nephew Vishal Yadav are in jail in the Nitish Kataria murder. Akhilesh had then put his foot down saying DP Yadav will not find a place in SP.
Earlier this year, Akhilesh had reacted with anger after Shivpal Yadav allowed the merger Quami Ekta Dal with SP. The QED, floated by jailed don Mukhtar Ansari, had to exit SP.
The QED fiasco had intensified the Yadav family's infighting which finally broke out in public last month when party patriarch Mulayam Singh Yadav replaced his chief minister-son as the state SP president with Shivpal.
An angry Akhilesh retaliated by divesting Shivpal of key portfolios.
Though Mulayam managed to broker an uneasy truce in the state's ruling family, Aman Mani's candidature could lead to more rumblings within the party just ahead of the polls.
Akhilesh have been demanding a say in ticket selection ever since his spat with Shivpal became public.
Shivpal named nine candidates on Monday including Aman Mani from Nautanwa in Maharajganj, an earlier stronghold of his father.
Aman Mani is an accused in the murder of his wife Sara, who allegedly died in a road accident near Firozabad on July 9, 2015, when the couple was on way from Lucknow to Delhi for a holiday.
Aman Mani was driving the vehicle.
Seema Singh, the mother of Sara had debunked the accident theory and filed a murder case against Aman Mani and campaigned for a probe by the CBI, which later took up the case. Aman is also an accused in a kidnapping case in Lucknow.
Sara's mother questioned the ticket to Aman Mani.
"If Mulayam Singh Yadav has courage, then he should give a reply to the educated and wise public of Uttar Pradesh. Why, against the public sentiments, he (Aman Mani) was given the ticket," Seema Singh said.
Close Story
Personalise your news feed. Follow trending topics