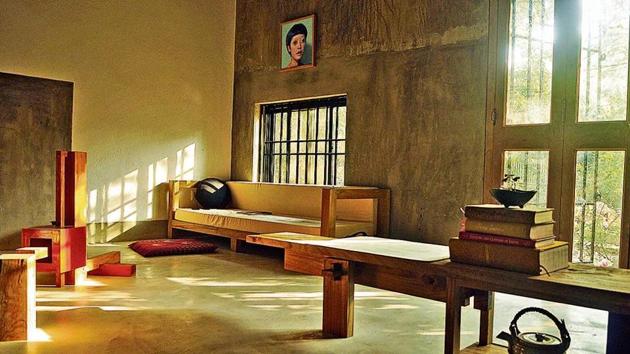 Tagore's dream Japanese house taking shape in Santiniketan
Poet-curator Nilanjan Bandyopadhyay has embarked on the cross-cultural creative experiment in 2016, the centenary year of the Nobel laureate's first Japan visit.
UPDATED ON JAN 17, 2018 11:02 AM IST
Poet Rabindranath Tagore was so impressed with Japanese arts, architecture and gardens that he had once written, had it been possible he would take an entire Japanese house, decked up with its furniture, to Bengal.
Over a century after the bard's first of his five visits to Japan in 1916, his dream is getting materialised in Santiniketan in Birbhum district of West Bengal.
Christened Kokoro – the Japanese word for heart – the cross-cultural creative experiment is the brainchild of poet-curator- calligrapher Nilanjan Bandyopadhyay, who himself is an ardent admirer of Japanese culture and people.
"My venture is inspired by Tagore's dream," said Bandyopadhyay, who started building the traditional Japanese house-cum studio on a 3,240 sq ft plot in 2016, the centenary year of the Nobel laureate's first Japan visit.
A six-member Japanese team are combining traditional elements to create the feel of a contemporary Japanese home.
The team led by an architect Kengo Sato, who got in touch with Bandyopadhyay on Facebook, arrived in the university town in December to build the piece of Japan.
Other members of the team are: Kazuhiro Aoshima (carpenter), Miku Watanabe (fashion designer), Nobuhiko Kawahara (doll maker), Shigeru Sebe (painter) and Sayuri Hashimoto (mending designer).
They plan to stay till the end of January to complete the work.
"I am fascinated by the project. The entire team has come from Japan and we are not charging anything for our works here. We want the project to succeed," said Sato.
Bandyopadhyay, who is also an employee of the Visva-Bharati, the university founded by Tagore in Santiniketan, is funding the project himself.
"I have taken a bank loan of Rs 15 lakh for the project. I have no plan of earning from it," he said.
The unique concept is already getting attention. It won the first prize in annual exhibition of Space and Design Review in Tokyo in September.
"It's an important addition to the cross-cultural creative experiment between India and Japan. It will be remembered," said eminent painter and Rajya Sabha MP Jogen Chowdhury.
Minimalism, which is central to Japanese aesthetics, lies at the core of the experiment. "There is nothing that violates the essential spirit of humbleness and sacrifice," said Sato.
Stepping into the house transports one to a different culture.
The highlight of the interiors is a tokonoma, a Japanese reception room, where works of art are displayed. The concept originated in the 15th-16th century.
Keeping insects as pets is quite common in Japan, and Sato's team members have made a moth by partially burning paper. It will be 'caged' in a wooden cubic structure made with sticks. It will be displayed on the tokonoma.
Near the tokonoma is a low square table with a sunken hearth. As charcoal burns in the hearth, a black iron kettle placed on top keeps the tea – so central to Japanese life – warm. In a traditional Japanese house, members assemble for meals here.
On the first floor, a triangular hanging tea room juts out above the garden. In Japanese culture, the importance of tea ceremony that owes its origin to Zen Buddhism can hardly be overemphasised. Sato and his team often clean the floor of the house using waste of Japanese green tea.
A kotatsu, a low square table with a foot warmer is placed adjacent to a book rack. It will primarily serve as a reading and writing table.
All the tables are designed for sitting on the floor and wooden fixtures, instead of nails, have been used to make them.
A central column creates the feeling of separate spaces, and the use of walls is minimal. Everything is a matt finish. Not a single surface, or furniture, is glossy. There are low sliding windows that allow the sunlight to penetrate the room and bounce off the floor and form interplay of light and shadow throughout the day.
"There is no stereotype, no copying from a model. Every item is planned to suit this house and most of the items are made from locally available materials. It's collaborative architecture," said Sato.
Bandyopadhyay has also got a local potter to make a typical Japanese vessel (donabe) with clay for the kitchen.
"Sato was impressed by mud architecture, samples of which are available in Santiniketan. It has prompted him to leave the exterior walls straight carrying a grey colour," said Milon Dutta, an architect who did the structural design.
The house has a few hundred books on Japanese language, art, culture history and calligraphy that Bandyopadhyay has collected during his numerous visits to the country.
Bandyopadhyay's love for Japan deepened after his first visit in 1999. He enrolled at Reicaku University there to learn Japanese. Down the years, he developed deep relations with Japanese artists, calligraphers and scholars.
After work on the interiors is finished, Bandyopadhyay is planning to invite a gardener from Japan. He has already brought rocks and created the basic environment with micro water bodies and planting six types of bamboo that are typical of Japan.
The garden has a small memorial of Japanese Indologist and Tagore researcher Kazuo Azuma. A part of the ashes of his mortal remains will be kept there.
"The consul general of Japan in Kolkata, Masayuki Taga, recently paid a visit. He was happy to see the experiment," said Bandyopadhyay.
Close