'There is a hate campaign against me': Mamata Banerjee takes a dig at BJP
Apr 19, 2017 06:15 PM IST
Mamata Banerjee blamed "one section of religious group, belonging to a political party ruling at the Centre and also their sister organizations" but did not name any party, or body.
West Bengal chief minister Mamata Banerjee on Wednesday launched an oblique attack on the Bharatiya Janata Party, saying "one section of a religious group" and the "sister organisations" of the ruling party at the Centre have engineered a hate campaign against her.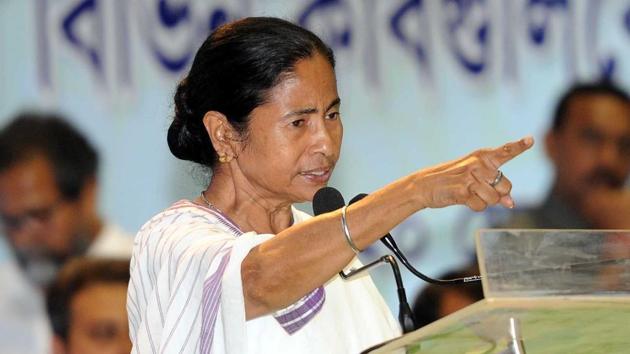 The chief minister, however, did not name the BJP in a long post on Facebook.
"... In the recent past and also in the recent days, one section of religious group, belonging to a political party ruling at the Centre and also in the name of their sister organizations and others (either in their real names or fictitious names are distorting my views, opinions, sayings and thus misleading people with my photos through some fake accounts. I strongly condemn such scandalous activities by the so-called #Hindu zealots," she wrote.
Her blistering attack on the BJP has come days after the Central Bureau of Investigation (CBI) filed an FIR against 12 Trinamool leaders in the Narada sting case and slapped sections of the Prevention of Corruption Act (POCA).
Banerjee even tweeted the links to the fake Facebook accounts.
"This type of communal forces, with their political vendetta, is maligning people. The members of minority communities, SC, ST, OBC, backward communities, general class, and women are not being spared. I am sorry to say that the current situation is a horrifying signal of dark future of our country in their hands," she added.
The chief minister also spoke against the premier probe agency's action against the leaders of her party in Puri in Odisha and described the investigation into the Narada case as a political conspiracy.
"We are against the ideology of BJP. They are also against us. The Narada case is a conspiracy as we don't subscribe to BJP's ideology," she told reporters in the beach town.
Banerjee's outburst also comes in the midst of an overheated political atmosphere in the state over the saffron camp's aggressive push over their Hindutva agenda.
The Trinamool leader has been targeted on social media in profane language over her stand on various issues. Some have even portrayed her in a hijab and addressed her as "Mumtaj Begum" in an obvious dig to her controversial policy of "minority appeasement".
"We do not need to take lessons on Hinduism from them ... Hindu religion is not the monopoly of the so-called Hindus," she wrote on Facebook.
She also appealed people to not to "believe in rumours or gossips." "My official Facebook and Twitter are already available, and whenever I need to convey anything, I meet the Press also," she said.
Her visit to Puri was marred after a servitor of Puri's Jagannath Temple opposed her entry to the temple on the ground that she is not a proper Hindu as advocates the consumption of beef.
West Bengal – where Banerjee returned to power with a thumping majority last year – has seen mounting clashes between state forces and right-wing elements, who say the Trinamool is biased towards Muslims and is anti-Hindu.
Banerjee has picked on the BJP on several issues, including that of cow slaughter and consumption of beef. She said in public meetings on a number of occasions that she will not tolerate cow politics in the state.
The chief minister has repeatedly said that whatever people eat is entirely a matter of personal choice.