Tiger poached in Kanha Tiger Reserve, 23rd death in Madhya Pradesh this year
The carcass of a tiger was found at the Kanha Tiger Reserve in Madhya Pradesh, the second tiger death in this month.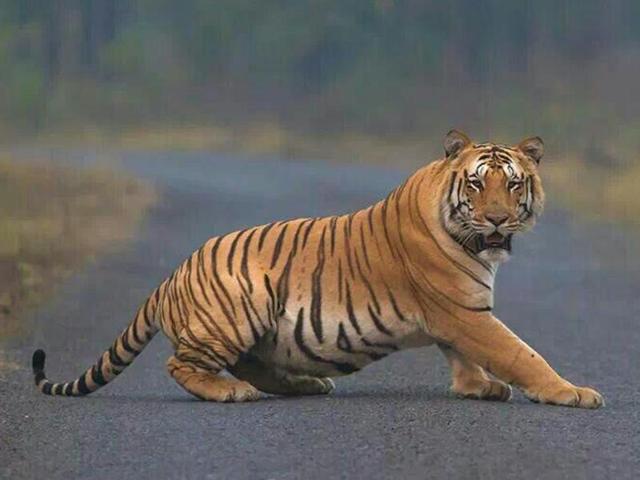 Updated on Oct 23, 2016 10:27 AM IST
The carcass of a tiger with its paws missing was found at the Kanha Reserve on Saturday, taking the number of big cat deaths to 23 in Madhya Pradesh this year, an alarming number for conversationists.
Read | In MP's Pench reserve, one tiger killed every 10 days this year
Found within three kilometers from the core of the reserve, the carcass was at least two-to-three days old.
"Some of its body parts are missing. The four paws have been cut and taken away by the poachers. We have not disturbed the body from its current position as a dog squad will reach the spot in the morning and investigate. It is not clear yet whether the body is that of male or a female tiger," Kanha park superintendent, PK Verma told Hindustan Times.
Read | India loses 83 tigers in eight months: Conservation body
A formal investigation by the park administration would be launched on Sunday morning, Verma added.
This is the second tiger death in the state this month, though the first was of a tigress which died from starvation -- the year-old animal had poor hunting skills.
So far eight tigers have died in Kanha since January, a troubling incidence as it raises the number of deaths in the state to 23 for this year alone.
According to the tiger census, in January 2015, the big cat's population had increased to 308 from 257 in 2010 in Madhya Pradesh. However since then, 34 tigers have died in the state.
India has the highest population of tigers in the wild, accounting for 2,226 of the estimated 3,890 tigers worldwide.
Added to the deaths in itself, the pattern of deaths indicate a shift from Pench, a.k.a 'Mowgli Land', to the Kanha Tiger reserve.
From January to the first week of April this year, eight tigers died in Pench, following which tiger deaths picked up in the Kanha reserve area, where eight tigers died, four in April alone. Later, two more tigers died in Pench, taking the toll there to 10.
The first tiger death in Kanha was on March 9, when an adult over 14-years-old died. Officials claimed it was a natural death. Some of these deaths have been from sickness, starvation or territorial fights with other tigers.
Read | Two tigers found dead in Kanha reserve, toll in MP reaches 14
However, forest officials do not seem to be very worried; according to their numbers, Kanha has witnessed a surge in its tiger population. In 2010, the camera trap photographs indicated there were 37 adult tigers and two cubs. Based on this data, a projection was made for the entire Kanha tiger habitat, which revealed roughly about 60 tigers.
Right now, based on the new tiger counting method, there are a minimum of 80 tigers and 25 cubs in Kanha -- which means there are over 105 tigers in the reserve.
But, poachers remain a concern.
India seized the highest numbers of tigers and tiger products between 2000 and 2015, indicating that the country's national animal is the most vulnerable to poaching for international trade. Most seizures were reported from Madhya Pradesh and surrounding areas and along the border with Nepal in Uttar Pradesh.
Also read | Tigers vulnerable to poaching: 30% of illegal trade export from India
Close Story