Won't back off: New turn to India's caste conflicts
Dalits are being attacked across India for asserting their strides in education, jobs, income, through the way they live, dress, marry and party. Unlike earlier, they are refusing to back off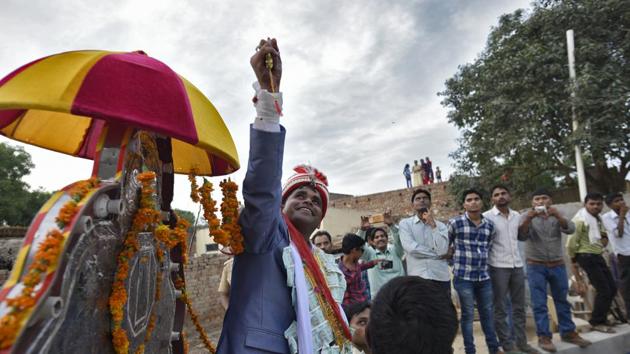 Updated on Aug 13, 2018 06:48 PM IST
Hindustan Times |
Dhrubo Jyoti and Snigdha Poonam
Sanjay's wedding became grander as the day loomed closer, from the number of cars in his baraat (finally fixed at 100) to the number of VIPs in his guest list. "Minister, MLA, DM, SP, ADG, DIG...," Jatav, 27, screamed into his phone every few seconds. Circled by a fawning crowd, the law graduate from Basai village in Uttar Pradesh ratcheted up the scale of his marriage a notch every time he spoke.
He hadn't always planned on a spectacle. All he wanted, after he was matched with a girl in the adjoining district, was to lead his wedding procession through her village before arriving at her house for the rituals. The Thakurs of Nizampur village wouldn't hear of it, though. No Dalit man had ever crossed a Thakur home on the way to his wedding; no exception would be made to the rule. In a village where the Thakurs outnumber Dalits by 9:1, their word was law. Not this time, though. "The Jatavs of Basai do what they say. And Sanjay Jatav is one of them," said Jatav, his T Shirt collar turned up and his eyes spitting fire. Launching with a petition to the local police station in February, Jatav's fight for an equal wedding became as important for Nizampur as for the nation at a time when caste conflicts seem to have turned on their axis.
Moving up, beaten down
Aided by affirmative action, India's most marginalised communities, the scheduled castes, are slowly but steadily breaking out of a centuries-old cycle of penury and oppression. The scheduled castes aren't only registering one win after the other -- they outpaced the rest of India in growth of literacy rate according to last census -- but also broadcasting them on WhatsApp and Facebook.
In India's rural hinterland, where about two-thirds of the country still lives, this display is inverting power structures and triggering backlash from dominant and upper-caste communities who recoil with disgust at the rise of the men and women they have never considered equals.
This year alone, several states have reported incidents of upper-castes attacking people for owning a horse, taking out a wedding procession, giving haircuts, sporting a moustache, adding a suffix to their name, asking for a raise, attending a traditional dance, and for swimming in a well. But unlike earlier, Dalits have struck back, using either collective force or law-and-order mechanism to assert their democratic rights.
"Reservations have helped Dalits gain a measure of economic stability. When you feel economically uplifted, you feel at par with the rest, your social status is not at the mercy of the dominant communities anymore; you refuse to accept oppression," explains Amit Thorat, an assistant professor at Delhi's Jawaharlal Nehru University.
"Moreover, the young, post-liberalisation generation of Dalits feels connected through social and traditional media. They know they are like anyone else, and therefore are angry when discriminated against."
In the past few years, Dalit families have increasingly moved away from villages and traditional occupations, thereby loosening the grip of upper-castes on their economic status. A 2016 paper by Amrita Dutta showed that in Bihar, which reported numerous mass killings of Dalits throughout the nineties and early 2000s, remittances had the highest share in incomes of SC/ST communities, which also reported the largest increase in the share of households with at least one migrant.
The first signs of the turning tide was shown in a 2006 paper by Debashis Chakraborty, D. Shyam Babu and Manashi Chakravorty that spanned 334 districts and found Dalits got more attacked in areas they were upwardly mobile in.
In the following decade, the trend deepened, with caste practices doggedly persistent among upper-castes -- Thorat and Omkar Joshi found in 2015 that 27% of the country practised untouchability, including 30% in rural areas. Increasingly assertive Dalits are no longer willing to bend in front of their erstwhile oppressors. In a 2016 analysis in Mint, Roshan Kishore found that in most cases, states where Dalit asset ownership was closer to the average also reported higher crimes against them -- a trend that held in Rajasthan, which reported the highest crimes against Dalits that year, and Gujarat, where the maximum number of flare-ups have occured this year.
So, what does it take for Dalits to assert their right to live, dress and marry the way they like? More importantly, what is the price they pay for such rebellion in a country where caste still has a vice-like grip on law-and-order and political power is still concentrated in the hands of upper castes?
The baraat battle
Jatav's wedding etched a landmark because he refused to back down in a scenario that has frequently triggered boycotts or bloodshed in the region.
On 21 June 1990, a Jatav rode into a Jat-dominated village 100 kilometers away from Nizampur on an elephant, his entry announced by the percussion beats of a provincial armed constabulary band specially hired for protection. By the end of the next day, eleven Dalits had been killed, dozens of Dalit houses burnt, and all but four Dalit families evicted from the village. "The Jats were shouting 'Chamaron, saalo bhaago' at the baraat," said Bharat Singh Kardam, the bride's brother who was 18 at that time. "We appealed to the administration for support. The DM and SP came, they called for a panchayat to negotiate with Jats but they refused to let the baraat pass their houses." Flaring out to surrounding villages, the clashes continued in spite of a curfew and the deployment of local police and subsequently a battalion of the army, ending up as one of the worst cases of anti-Dalit riots that decade.
Back in Nizampur now, a village of about a hundred households flanked by fields, the bride Sheetal Kumari's family was on tenterhooks. Since April, when Jatav won the baraat battle, the family had received a bouquet of threats and ominous signals from the Thakurs. The water supply to the field from a common tubewell remains snapped since April. "We have been told that the price of this baraat will be heavy. We have to live in the village. We hope nothing bad happens. The Thakurs are not happy," said the bride's brother, Beetu Kumar Jatav. The wedding had also to be postponed once because Kumari hadn't yet turned 18.
In the centre of the village stands an imposing three-storey yellow mansion belonging to one of the prominent Thakur families, and the remaining cluster around it. The Dalit families are located in a clot of households preceding the fields on the outskirts. "We are feeling afraid. Who knows what the price of this assertion will be," said Kalu Jatav, a neighbour of the bride's family. But at the same time, the 28-year-old exuded pride. "We are feeling happy. We had often wondered how nice it would be to celebrate our wedding with some pomp. After all, they [Thakurs] do it. It is nice to see one of us do it."
The road to this day was rocky.
First, Jatav appealed to the police station officer in charge of Nizampur village. "He told me that Dalits are not allowed to lead their wedding procession across an upper-caste dominated village according to a Supreme Court order," said Jatav. Indeed, the letter the station house officer, Rajkumar Singh, wrote to Kasganj's SP makes a note of this mysterious apex court ruling of which no evidence exists. The letter also reveals the findings from a "secret investigation" of the matter: "It turns out that never before has anyone from the applicant's community led a wedding procession across this village. The possibility of disruption of peace can't therefore be denied."
Jatav was given the same reason by everyone in the district's administrative hierarchy, from district magistrate to circle officer, as they turned down his appeals. Looking back at his reluctance, Kasganj's disrict magistrate, RP Singh, said Jatav's request had clashed with the "tradition" and "geography" of the village. The tradition allows the Thakurs to roam the length and breadth of the village on decorated ghodis and limits the Dalits' wedding procession between the entrance of the village and the bride's house. The geography enables the tradition by placing Dalit houses on the peripheries of the villages.
Then, Jatav made an appeal to Yogi Adityanath, by posting his complaint to the "integrated grievance redressal system", aimed to cut out bureaucratic prejudice, on the chief minister's personal website. He never heard back from the CM. "He said we are all Hindus. Why am only I facing this situation?" Jatav wondered. He appealed to the Allahabad high court to be allowed to wed "in full dignity, as other people in the village Nizampur." The court dismissed his petition and suggested to Jatav that he seek the support of the district's authorities. The district magistrate saw Jatav's demand to wed like upper castes as "badmashi (attempt to make trouble)". The circle officer, Gavendra Pal Gautam, continues to deny that any caste tensions exist in the villages in his jurisdiction. "People peacefully live with each other. "
Jatav was left with few options. He wrote a letter to the prime minister. He also announced his decision to move the Supreme Court. An active member of the Bahujan Samaj Party at the block level, he also mobilised political support for his cause. By this time, a series of Dalit BJP leaders from UP had already complained to the PM about the atrocities against the community in the state, and things began to move. In March, Kasganj's district administration called for a negotiation between the Thakurs and Dalits in April. The Thakurs refused to give in to Jatav's demand to ride a horse around the village. So, the officials drew up an alternate route for the baraat that cut halfway through Nizampur. Everyone agreed to it, at last.
Jatav's battle for equality is inextricably tied to his association with the Bahujan Samaj Party, an outfit helmed by four-time Uttar Pradesh chief minister Mayawati. Born out of a churning in Indian politics in the early 1980s and led by Kanshi Ram, the BSP went on to galvanise a generation of Dalit people, ranging from government officers to small-time clerks, teachers, labourers and farmers.
To young Dalits, especially Jatavs -- the largest Dalit sub-caste, and one to which Mayawati belongs -- the BSP gives not only a sense of a collective but it also enables them to strike at traditional power structures in villages and ensure that their side is heard in police stations and village panchayats.
Every young member of the BSP is taken through an orientation programme at a camp, explained Kasganj district party president Raj Kumar Jatav. They are taught not just about the party's ideology but also the history of the Dalit community, its leaders and the importance of politics. For a community whose history and culture is systematically erased from the mainstream consciousness, the impact is profound. "We teach them about BR Ambedkar, and what he said about joining politics. We teach them to feel pride in themselves," Raj Kumar added.
A distant cousin of Sanjay Jatav, Prem Kumar has just begun his foray in village-level politics. He said people were already taking him more seriously. "We don't get much but we get social recognition, we get the respect that no human being can live without," he said, tidying his white shirt for the baraat.
The wedding day
Rupendra Chauhan stuck out his arm from the rooftop of his two-storey house and swept it in a wide circle. He was tracing back the route his brother-in-law's baraat took to his house the night of his sister's wedding. "All Thakur baraats make the same rounds," said Chauhan, fixing his gaze on the lane leading to Sheetal's house, as eager to witness the arrival of the wedding procession as the bride's family.
Jatav was going to take his sweet time travelling to his destination, though.
Dressed in a powder-blue suit tailored in Aligarh, Jatav sat in an pristine white car followed by an armed bodyguard and holding a filigreed dagger in his hands. The bridegroom grew more and more excited as his vehicle approached Nizampur, jostling in the front seat with his personal gunner, even sitting on his lap at one point. One moment he declared that he looked as lavish "as a Thakur"; the next moment he said he felt like a "cabinet minister."
Waiting for electricity to come back so she could be dressed and made up, Sheetal switched between reminding herself of the right path ("India is a free country and the Constitution gives everyone equal rights") and worrying about her family's future after the wedding.
As Jatav's convoy entered the village, greeted by a phalanx of press, senior police and administration officers and political leaders cutting across party lines, the Thakur families left everything they were doing and rushed to their rooftops to witness the breach of the village "tradition". Chauhan scowled as Jatav's horse-drawn buggy passed his lane followed by a DJ cart and surrounded by hundreds of baraatis clamouring to click selfies with the bridegroom. Unsatisfied with the income from his family's fields, Chauhan, who has two young children, recently moved to Delhi to work in building construction. His city life isn't always guided by caste rules, but he sticks to "tradition" in the village. Counting the vehicles in Jatav's baraat, his sister, Rajni, repeated the sentiment: "All humans are equal but we have to follow the rules of the caste system. No Thakur in this village will attend their wedding."
Out in the fields, a group of Thakur men had got into a huddle by then to discuss their next step. One of them, an old man, looked visibly disgruntled at the effervescence of the Dalit celebration. "You should never shake a tree so much that the branch breaks. This is too much, I didn't think such a day would also come." The other men nodded in agreement. The group decided to lie low for a week, until the media and the police left. "Then we shall see what is fit to do done; we will show them we are still the thakurs of the village," said their leader before walking off in a huff.
Status update
On May 9, Maulik Jadhav, a resident of Dholka in Gujarat, received a phone call from a young man informing he had been threatened by local men of the Darbar caste, a Kshatriya sub-caste, for adding "Sinh" (lion) to his name. Many Dalit men in the villages in Dholka, which has the highest Dalit population in the state, say they have added the suffix to their names for at least three generations, but this was the first time trouble flared up. Jadhav helped the young man to lodge a police complaint and gathered about a hundred people for a protest that played out live on Facebook.
The 22-year-old's personal battle, however, had begun years ago.
His "carefree life" was punctured when he passed the Class 10 board exams. A resident of Dholka, Jadhav moved to a bigger school in the hope of better prospects and pursuing his passion for long-distance running.
Instead, what he got was a volley of caste slurs the moment his classmates realised he was Dalit. "I was young, I didn't know what slur, bias, discrimination meant. I went home and asked why is our surname different, why are they calling us low? That day, I understood they are upper, we are lower," he says.
A few months later, he started reading Ambedkar, aided by an uncle who was in the Air Force, but had come back to his home district after retirement to rouse young Dalit men into action. That was also the year Jadhav made an account on Facebook and installed WhatsApp.
In 2016, a group of Dalit men in Una were flogged by cow protection vigilantes on the suspicion of smuggling cattle, the violence caught live on phone cameras and beamed across the country. The attackers had intended to brag but the videos galvanised Dalit communities across the state instead, sweeping up hundreds of young men like Jadhav into the movement."Our voices used to be muted. We worked in their fields and feared we would be given no work. But now some of us have moved to cities, and realised what they do is wrong. We won't tolerate,"said Maulik.
On May 10, after a night of protest, he woke up inundated with messages of support and warning. Reports started pouring in of other Dalit men being intimidated for using the Sinh suffix. Maulik changed his first name to Mauliksinh on Facebook, inspiring hundreds of young men to do the same. His house was attacked soon after, and on May 22, a group of bike-borne men brandishing guns and other weapons cornered him off a highway. Jadhav fled, but returned to the local police station with a group of 5,000 men and a clear message that they won't back off. Clashes broke out throughout the state, but the Dalit men refused to change their Facebook profile names.
"Many people asked, what is the need to do this? But where is it written that we cannot do this? How long will we live in fear?" he said.
Jadhav told his comrades not to take on frontal attacks but organise on social media and involve the police. He is a member of 300 WhatsApp groups himself and more than 40 Facebook groups. In addition, he tutors kids in political awareness. "In my village, even if you ask a 10-year-old Dalit boy where Dr Ambedkar was born, he will know. I teach them about the world, and how we have to fight and get out of here."
Such assertions are novel for Gujarat, where scheduled caste communities make up about 7% of the state's population and have had little impact on the state's politics. This is a state where BR Ambedkar was shown black flags and greeted with slogans of "Go Back" when he first visited Ahmedabad in 1931.
But resistance come at a price. Last October, groups of Dalit men changed their Facebook profile photos to sport moustaches after a series of attacks on young Dalits but the movement soon unraveled, with one of the young men at the helm claiming that he orchestrated the attack on himself. But Subodh Parmar, a lawyer and activist, said this happened under threats and coercion, and that in many other cases of atrocities, Dalits are forced to back off and withdraw complaints."The pressure of compromise is too much. Many times, once court proceedings start, people start feeling vulnerable. They don't know too much law, and cases drag on for years. They think they have to return to the village, and so they compromise."
Leading the fight
Often the heaviest price is paid by Dalit women who don't just bear the brunt of caste atrocities, but also find themselves erased from the annals of resistance, which is seen as the prerogative of the men. In Gujarat, for example, despite the increased focus, countless cases of crimes against Dalit women have been brushed under the carpet -- Dalit women in Junagarh whose arms were broken in a land struggle 20 years ago, a 15-year-old girl who burnt herself to death after being raped, a minor girl raped in Bhavnagar by the man in whose fields she worked, and another minor who drank acid because of prolonged sexual abuse at the hands of upper-caste men.
"Women rape survivors are thrown out of houses, and even her family, or the Dalit community doesn't stand with her," said Manjula Pradeep, a scholar and activist who has worked in Gujarat since 1992.
"What comes out is the man's assertion against caste, as leadership is seen as masculine. But often, Dalit women lead the fight. They face a double burden of caste and gender, and their stories are never documented," she added.
Ranjanben knows this well, having faced a social boycott for almost a year. Last year, the resident of Rantej village in Gujarat's Mehsana district gave up manual scavenging and picking up animal carcasses. Breaking out of the exploitative profession her family has been locked in for generations, she persuaded them to do the same. The retribution was swift: the Dalit family was cut out of local employment opportunities, denied services in the village market and forced to travel to nearby villages even for basic amenities.
Ranjanben remains undeterred. She said she cannot condemn her children, who study in Classes 4 and 5, to the same fate. "Scavenging is a hereditary fate. I wanted to study and go to school but my father said, 'come pick up carcasses.' We didn't have anything to eat, so I couldn't refuse him. It strips your dignity; even if I starve I won't go back."
Topics
Close Story
Personalise your news feed. Follow trending topics