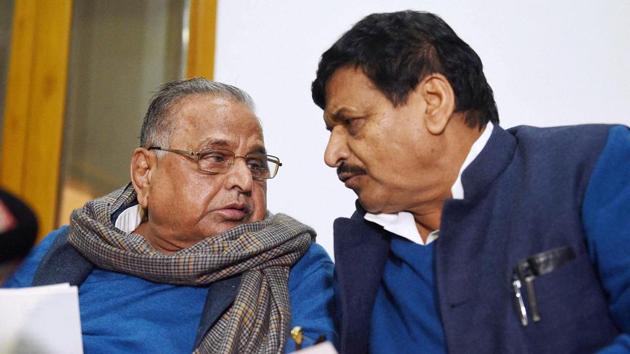 Yadavs part ways 8 months after pari-war broke out, all eyes on Mulayam
Former ruling party of Uttar Pradesh, the Samajwadi Party has been caught in a bitter feud between former chief minister Akhilesh Yadav and his uncle Shivpal Yadav over control of the party, with Mulayam Singh Yadav hitting out at his son in the past for making wrong organisational calls.
UPDATED ON MAY 05, 2017 03:41 PM IST
Former Uttar Pradesh minister Shivpal Yadav announced on Friday he was breaking away from the Samajwadi Party and forming a new political outfit, Samajwadi Secular Morcha.
It all began in September last year when then chief minister Akhilesh Yadav sacked two senior ministers considered close to Shivpal. A day later, the nephew booted the uncle out of the state cabinet, and a full-blown war broke out in the Samajwadi Party – a battle that appeared to have damaged the party and contributed to its drubbing in the assembly elections.
HT recalls how the fight within the SP's first family engulfed the party, and eventually split it:
September 12, 2016: Akhilesh sacks 2 tainted ministers Gayatri Prajapati and Rajkishore Singh, who were facing allegations of corruption
September 13: Mulayam removes Akhilesh from the post of state president and names Shivpal to the post. Akhilesh retaliates by stripping Shivpal of all key ministerial posts
September 16: Mulayam rejects Shivpal's resignation and says as long as he is alive SP will not split. Shivpal says he will abide by his instructions
September 20: As state chief, Shivpal expels 7 Akhilesh supporters, including 3 MLCs and chiefs of SP's 3 youth wings
October 23: Akhilesh sacks Shivpal and 3 others from the cabinet
December 7: Mulayam upgrades Amar Singh's position in the party as a parliamentary board member
December 30: Mulayam expels Akhilesh and his brother Ramgopal Yadav for 6 years from the party. Before this, Ramgopal announces 'extraordinary emergency national convention' of the party for January 1.
December 31: Mulayam revokes the expulsion of Akhilesh and Ramgopal. Despite, revocation of the expulsions, Ramgopal reiterates the holding of the convention for January 1.
January 1, 2017: Ramgopal calls 'extraordinary emergency national convention' at Janeshwar Mishra Park. Minutes before the convention begins, Mulayam declares it illegal. The convention elects Akhilesh as SP's national president. He expels Amar Singh and sacks Shivpal from the party's state presidentship
January 16: The Election Commission gives the SP's 'bicycle' poll symbol to the faction led by Akhilesh
January 31: While filing his nomination, Shivpal said he would form a new party after the election results are declared. However, he later said he had no such plans
Feb-March: SP contests polls under Akhilesh's leadership but suffers a humiliating defeat at the hands of the BJP. The party wins only 47 seats in the 403-member assembly, its lowest tally since 1992 when it was formed.
March 16: Akhilesh and Shivpal are seen together after a gap of over 100 days at the meeting of the newly elected party legislators in Lucknow
March 25: Mulayam and Shivpal skip party's executive meet in Lucknow
March 27: Party veteran and former minister Ram Govind Choudhary is appointed as the party's leader in the assembly
March 28: Akhilesh is unanimously elected as Leader of the SP Legislature Party in both the Houses of the Uttar Pradesh Legislature
April 2: Mulayam says Prime Minister Narendra Modi was right about Akhilesh that his insults led to SP's loss in elections
April 4: Shivpal meets chief minister Yogi Adityanath fuelling speculation of joining the BJP which he later denies
April 24: Shivpal reiterates his demand that Akhilesh should take moral responsibility for the SP's defeat in assembly elections and step down as party president
April 30: Ramgopal says Shivpal does not have any knowledge of party's constitution and advises him to work for the party and not "talk nonsense"
May 3: Shivpal threatens to form a new secular front if Akhilesh does not hand over SP's reins to Mulayam.
Close