David Warner breaks the India bogey in grand style in 100th ODI
Updated on Sep 28, 2017 10:26 PM IST
David Warner, who had a poor record in international cricket in India as compared to his exploits in the Indian Premier League, broke the hoodoo in grand style by scoring a century in his 100th ODI.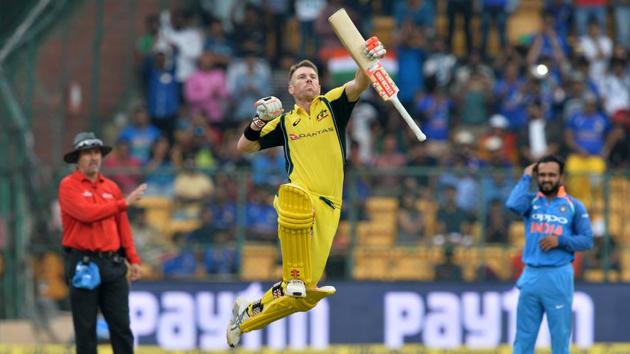 Before the start of the Indore ODI, David Warner was asked about his poor returns in India. At that time, the left-hander replied: "When you keep coming back, there are no excuses. You should know the conditions as a senior player." (India vs Australia 4th ODI blog | Scores)
The comment was interpreted as a kind of self-criticism. Warner, with over 4,000 runs in the Indian Premier League, has not translated his IPL success in international games against India. In eight Tests, he averaged just 24 while in three ODIs, his returns were modest.
READ | Ben Stokes and Alex Hales suspended indefinitely by England
Ahead of the Bangalore ODI, which was his 100th for Australia, there were mixed emotions. Although he became one of the select few to reach that landmark, the 30-year-old had scores of 25, 1, 42 in the three previous ODIs while Australia's losing streak away in ODIs was being prolonged.
At the M Chinnaswamy Stadium, buoyed by his 100th ODI for Australia, he ended the India jinx in grand style.
Aggression personified
On a flat deck, Warner started off in aggressive fashion by slamming Mohammed Shami and Umesh Yadav for a couple of boundaries. In Indore, he had to bide his time against the discipline of Jasprit Bumrah and Bhuvneshwar Kumar but in Bangalore, he capitalised on some rusty and sometimes wayward bowling of Umesh and Shami.
READ | Kedar Jadhav gritty fifty keeps India in the hunt against Australia
When he slammed Axar Patel for a six and reached his 50 off 45 balls, Warner had laid a platform and decided to change gears in grand style. After reaching fifty, his confidence in tackling spin grew and he unfurled the sweep to hit sixes, mostly to counter Yuzvendra Chahal.
Warner reached his landmark by cutting Kedar Jadhav to the boundary, the celebrations summed up how much he wanted to end his run of poor scores. His 124 off 119 balls and his 231-run stand with Aaron Finch (94) helped Australia reach 334/5.
READ | Harbhajan Singh's apathy towards GST gets overwhelming support
In 2013, the left-hander was at the crossroads of his career when he was sent home from the Champions Trophy after his altercation with Joe Root.
However, he came back in grand style by slamming a hundred at the Gabba in the Ashes. In 2017, questions were raised about his ability in Indian conditions. In Bangalore, he answered them in style on his 100th ODI.