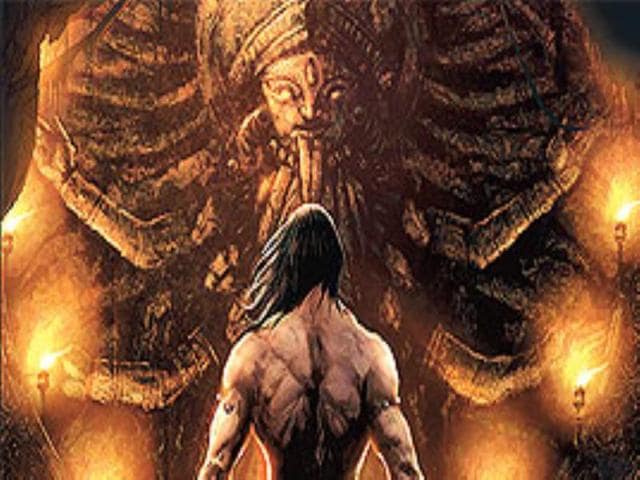 Comical engineering
Terrorists have replaced demons and goddesses flaunt envious curves. But the only ones who aren't getting to read the new crop of Indian comics are fans in the country, writes Riddhi Shah.
Hindustan Times | By Riddhi Shah
UPDATED ON JUL 22, 2007 01:28 AM IST
The chatrooms of the Indian comic cyber-verse have never been noisier. "It is time for Indian comic books to get their act together. Virgin comics are going to knock the socks off our comics," reads one post on the Raj comics (of super heroes Nagraj and Super Commando Dhruva fame) website. "Don't you know, Raj is already at number 2?" reads another. Amidst angry replies, further discussion ensues about how Raj has already started improving upon the quality of its comics.
That both the fans and the creators of Indian comics have begun to take notice of a variety of new comic books that have begun trickling into the market is clear. Our story begins in January 2006, when
Virgin comics — a joint venture between Deepak Chopra, Shekhar
Kapur and Richard Branson— announced the setting up of a high-tech comic and animation studio in Bangalore. They promised "new Indian comic gods derived from the vast ocean of Indian mythology", and spoke of the 550 million Indian teens that have been deprived of "comics they can relate to". Propelled by a swift and sophisticated PR machinery, Virgin and its dreams of the "brave new world of entertainment" received press coverage in a way that Chacha Chaudhary and his sidekick Sabu never had.
And so nine months later, the first batch of Virgin's comics, Devi, Snakewoman and The Sadhu, arrived amidst a Gotham Chopra-authored blog, slick packaging and glossy artwork. In the west there was talk of The Sadhu being turned into a film with Nicholas Cage; back in India though, the comics were nowhere to be found. As I write this story, the comics are in their 9th series in the US, yet both Oxford and Crosswords in Mumbai have not so much as heard of Virgin. "We're having distribution problems in India," says Sharad Devarajan, CEO and founding partner of Virgin comics — hollow words in a country that now hosts three major bookstore chains.
"It's pretty disappointing that they're treating India in a step-motherly manner. They've not even released the fourth comic, Ramayana 3392 AD in India," says Mihir Joshi, RJ and founder of the yahoo group for Mumbai comic fans. They've translated the comics into regional European languages but are still to come out with a Hindi version. Other fans insist that Snakewoman has been inspired by Raj Comics' popular Nagraj character. With big Hollywood names like John Woo and Guy Ritchie (who have practically no fan base in India) being associated with each of the comics, it doesn't take a genius to understand that Virgin's primary market is western. "Even though the comics are written and produced in India, the people heading the operation have only an American experience of comics," says Samit Basu, a freelance writer for Virgin.
The pretty blatant exoticisation of India's myths and stories is even more obvious in the plots. "There is very little Indian about them….For instance, in The Sadhu, we're told that…India was a land exploited by zamindars, which adds in parenthesis that the word means landlords…in Devi, Apsaras…are referred to as "heaven's assassins." If the aim is to use Indian mythology, is it that hard to do it right?" asks Leo Mirani in a review published in Time Out.
But this is a trend that isn't just limited to Virgin. Illustrated Orchids, a Delhi-based company with a studio in Mumbai, also published three new comics last year — Santa Banta and Trendy, Bollywood and Mythology — all mired in Indian folklore and culture. This time the intended audience is Malaysia and Singapore. Its Chief Editor, Sudhir Sehgal is a little more candid. "We send small quantities to India since people here often have problems with interpretations of mythology," he says.
A LAUGHING MATTER
And yet, there is a flipside. Suffering from a long list of ills – the onslaught of television, low production values and uninteresting stories – the comics industry in India had almost completely stopped being relevant. Circulation for Amar Chitra Katha, that doyen of children's comics, had dropped from 1 lakh to 40,000 copies per month in 2004. The arrival of Virgin and a slew of graphic novels then, has at least injected fresh blood into a dying industry. "The urban reader was beginning to feel left out. These new companies might help recreate interest in illustrated storytelling," says Anand Gurnani, Editor of Animation Express.
The results are showing already – Raj has begun introducing new characters, more complicated storylines and more detailed artwork, albeit for a semi-urban audience. "When you're the only player in the market, you tend to become monotonous," says Sanjay Gupta, Editor-in-Chief of Raj Comics. While Chacha Chaudhary still wears his ubiquitous red turban, the plots now include computers, mobile phones and terrorists, and Tinkle's sales have gone up to 80,000.
But if you browse through the pages of Virgin's Devi or Snakewoman, you'll be in for a bit of culture shock. The new set of comics aren't appealing to the child in you (remember the educational Anu Club in every Tinkle?), in fact, the large-bosomed ladies are out to seduce the hormonal adolescent in you. "As long as comics are thought of as children's things, they'll never become truly popular," says Gurnani.
Whether a more sustained distribution effort will run the old-timers out of business remains to be seen. In the meanwhile, the last words still belong to Pran and Uncle Pai, easily the founders of Indian comics. "Before children used to read Enid Blyton – she was literature. Now kids read Harry Potter – he has marketing and money. It's the same thing with us," says Pran. "Anything new always has the charm of novelty. It takes time to wear off," agrees Uncle Pai with a twinkle in his eye.
Close