Facebook trouble: 10 cases of arrests under Sec 66A of IT Act
Mar 24, 2015 12:30 PM IST
The contentious section 66A of the Information Technology Act has been in the eye of storm for a while now with many instances of people arrested under it and the vociferous opposition to it. Here are some cases of arrests under Section 66(A) that made the news over the past three years.
The contentious section 66A of the Information Technology Act has been in the eye of storm over the last few years with many instances of people arrested under it and the vociferous opposition to it.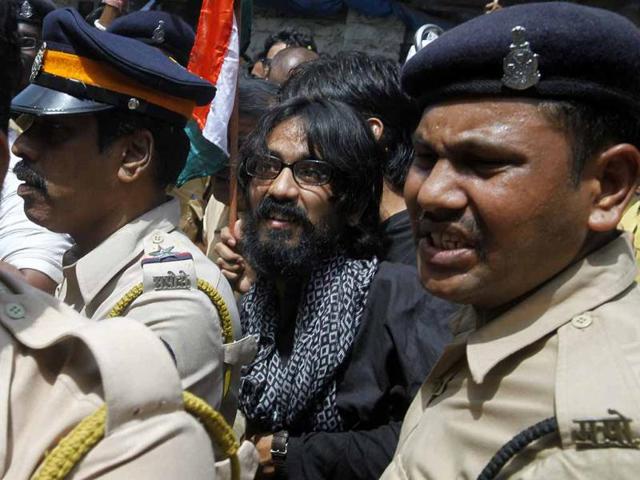 Supreme Court's likely verdict on the constitutional validity of the act on Tuesday, has again focussed attention on the police and authorities using the act to book people despite several directives from the Supreme Court about the potential abuse of the provision.
Section 66 (A), which prohibits the sending of information of a "grossly offensive" or "menacing" nature through computers and communication devices, has been used by several states to arrest people over posts on social media that officials claimed were "seditious"," communally sensitive" or abusive.

Most of these arrests were for posting controversial remarks or photos, while some were for sharing, commenting on or liking such posts. In one case in Jammu and Kashmir, a person was arrested merely for being tagged to a post on social media.

Here are some cases of arrests under Section 66(A) that made the news over the past three years:
1. Aseem Trivedi, Mumbai, September 2012: Free speech campaigner Trivedi was arrested by Mumbai police for displaying cartoons on his website and Facebook page that mocked parliament and corruption in high places. The caricatures were shared on other social media.

Trivedi's cartoons purportedly depicted the parliament as a giant commode and showed the national emblem with wolves instead of lions.

He was charged with sedition under section 124 A of the Indian Penal Code, the Prevention of Insults to National Honour Act and section 66(A) of the IT Act.

2. Palghar girls, Mumbai, November 2012: Two young girls from Palghar, Shaheen Dhada and Renu Srinivasan, were arrested when one of them posted a question on her Facebook page questioning why the city was shut down for Shiv Sena leader Bal Thackeray's funeral.

One of them commented that the shutdown was out of fear, not respect. The second girl, her friend, was arrested for liking the post.

They were arrested for "hurting religious sentiments" under section 295(a) of the IPC and section 66(a) of the IT Act. All charges were later quashed by a court.
3. Ambikesh Mahapatra and Subrata Sengupta, Jadavpur, April 2012: Jadavpur university professor Ambikesh Mahapatra and his neighbour Subrata Sengupta were arrested for allegedly circulating a cartoon that lampooned West Bengal chief minister Mamta Banerjee. They were accused of emailing the cartoon based on a scene from Satyajit Ray's popular movie Sonar Kella.

The cartoon, which was widely circulated on the internet, was based on a scene in the film in which a boy is duped by two criminals into believing that they caused someone to vanish. In the cartoon, the vanishing man was a reference to former railways minister Dinesh Trivedi, who was forced out of office by Mamta Banerjee.

At the time, Banerjee had said, "If one commits an offence, one has to face arrest. Conspiracies won't be tolerated." She even claimed the cartoon contained a coded message to kill her.
The police had submitted a 93-page charge sheet against the two men.

But Mahapatra, who has been teaching at the university for 17 years, had said he did not repent his actions.
In March this year, the Calcutta high court directed the West Bengal government to pay Rs 50,000 to the duo were arrested and harassed three years ago for circulating a cartoon that lampooned chief minister Mamata Banerjee.

4. Air India employees, Mumbai, May 2012: Air India cabin crew members Mayank Mohan Sharma and K V J Rao were arrested by the cyber crime cell of Mumbai police for allegedly posting indecent jokes about the Prime Minister and other politicians and for insulting the national flag.

Both of them said they had merely shared information that was easily available on the internet. They spent 12 days in jail and were suspended till the charges against them were dropped some months later.

5. Kishtwar youngsters, Jammu and Kashmir, October 2012: Three youngsters from Kishtwar district were arrested and sent to jail for 40 days after they were tagged in an allegedly blasphemous video posted on Facebook. One of them had commented on the post.

Kishori Sharma, Bansi Lal and Moti Lal Sharma were charged with desecrating religious symbols and inciting communal hatred by using information technology. Police did not have any evidence that they had uploaded the video.
6.Ravi Srinivasan, October, 2012: A Puducherry businessman Ravi Srinivasan was arrested for allegedly posting 'offensive' messages on Twitter about Congress leader P Chidambaram's son Karti Chidambaram.

7. Kanwal Bharti, Uttar Pradesh, August 2013: Poet and writer Kanwal Bharti was arrested by police for posting a message on Facebook that criticised the Uttar Pradesh government for suspending IAS officer Durga Shakti Nagpal, who had cracked down on the sand mafia.

Bharti's post on Facebook questioned why Nagpal had been suspended for ordering the demolition of a wall intended to be part of a mosque while no officer in Rampur was dismissed when an old madrassa was pulled down. He said the reason was because the town was controlled by Samajwadi Party leader Azam Khan.

The poet was dragged out of his house in his pajamas and a vest as police did not even give him time to change his clothes at the time of the arrest.

8. Rajeesh Kumar, Kerala, Aug 2014: Police arrested CPI-M worker Rajeesh Kumar for posting "abusive" comments and photos on Facebook about Prime Minister Narendra Modi.

Police said in one of the posts, Modi was depicted in a picture shown with an imprint of a shoe on his face. They claimed the posts had abusive comments against Modi and a comment in one post could have sparked communal tensions.

9. Devu Chodankar, Goa, May 2014: Ship-building professional Chodankar was booked for posting a comment against Modi on Facebook.

Police filed an FIR against him under sections 153(A) and 295(A) of the IPC and section 125 of the Representation of the People's Act and 66(A) of the IT Act.

Police described Chodankar's comment as part of a "larger game plan to promote communal and social disharmony in the state", but opposition parties saw it as an attempt to muzzle criticism of Modi.
10. Class XI student, Rampur, March 2015: A teenage student of Class 11 was arrested and sent to jail for allegedly posting on Facebook "objectionable" comments attributed to Uttar Pradesh minister Azam Khan, kicking off a fresh controversy over the booking of people under a contentious provision of the Information Technology Act.
The youth was later released on bail and the SC sought explanation from UP Police on the circumstances leading to the arrest.