Rain continues to batter Tamil Nadu, disaster response teams deployed
Nov 16, 2015 03:05 PM IST
Steady rain in most parts of coastal Tamil Nadu due to a depression over Bay of Bengal put normal life out of gear on Monday. Floods have so far claimed 70 lives in the state.
Tamil Nadu shut down educational institutions on Monday in 15 districts as heavy rain battered large parts of the state for the third consecutive day in one of the worst winter deluge that has left more than 70 dead.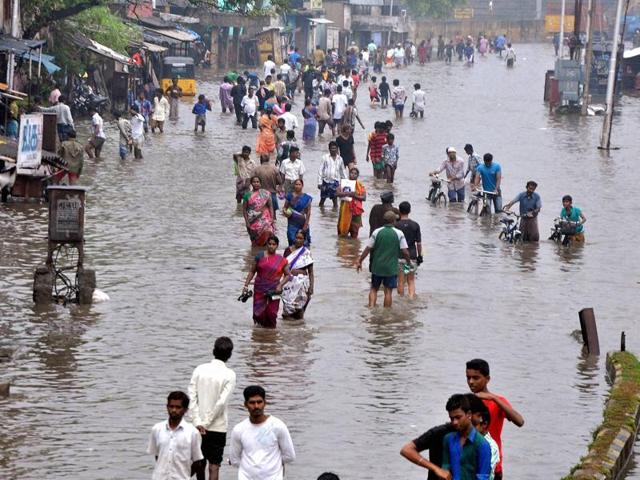 Authorities in all rain-affected districts also braced for more agony with the India Meteorological Department (IMD) issuing warning for heavy rains in the next three days in Tamil Nadu, Puducherry and coastal Andhra Pradesh.
The government deputed senior IAS officials to monitor the situation while teams of the National Disaster Response Force (NDRF) have been rushed from Andhra Pradesh as a precautionary measure.
Capital Chennai – the biggest city in the coastal state – bore the brunt of the north-east monsoon with office-goers struggling to wade through waist-deep water and local trains running late due flooding of the tracks.
Official sources said besides educational institutions, many private organisations also declared a holiday for the day in view of the situation.
The situation was aggravated after the sluice gates of the Chembarambakkam lake -- which supplies water to the city – was opened as the water level had crossed the peak level.
Though the sun broke free of the clouds briefly in the morning, hopes of an early end to the showers were dashed as the drizzle returned soon after. The city has been experiencing continuous rains since Saturday night.
Stuck indoors, many Chennai residents took to social media to post pictures and videos of their neighbourhoods.
In Nagapattinam district, vast swathes of land with standing paddy crop have been inundated due to the continuous rain, officials said.
More than 10,000 fishermen did not venture into the sea for the fourth consecutive day due to the rough conditions.
One of the teams was stationed in rain-battered Chennai to take up relief and rescue works.
The officials added that thousands of people were evacuated from low-lying areas and housed in 70 relief camps in Cuddalore district where more than 70,000 food packets were distributed.
The weather department has forecast heavy to very heavy rains over Tamil Nadu and neighbouring Puducherry till Tuesday.
(With agency inputs)