I am Umar Khalid and I'm not a terrorist: JNU student returns to campus
Updated on Feb 22, 2016 02:09 PM IST
Umar Khalid and four other JNU students facing charges of sedition returned to the campus on Sunday night, saying they wanted to be part of the "struggle" against branding the university anti-national.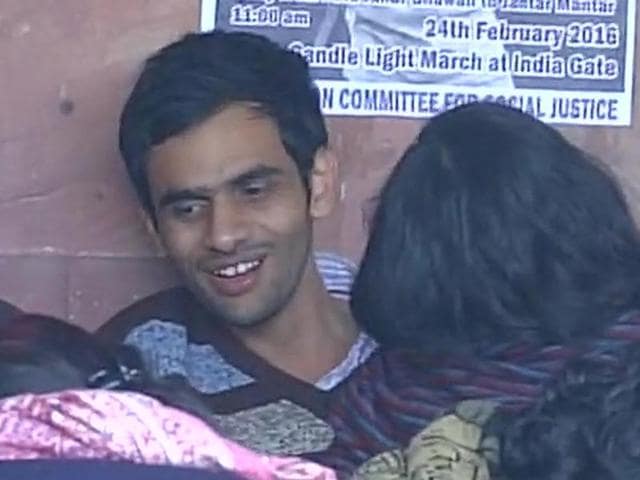 The JNU campus came alive on Sunday night when five students accused of raising anti-national slogans, returned to the university. The spotlight was on Umar Khalid, one of the two names that had came up prominently in the controversy. The other one being JNU students' union president Kanhaiya Kumar, who is in Tihar now.
A large number of students had gathered outside the administrative block and shouted slogans in support for Umar Khalid, Anant Prakash Narayan, Ashutosh Kumar, Rama Naga and Anirban Bhattacharya.
"In the last seven years in campus I never felt I was a Muslim and in last 10 days I was made to feel, I was a Muslim. I am Umar Khalid and I'm not a terrorist," said Khalid, who fled the campus after the incident. He also condemned the media trial that branded him a terrorist.
Read | Umar Khalid, 4 others charged with sedition spotted at JNU
"The attack (on the university) is not because of the programme which was organised on February 9, but because the government needs an excuse to attack us," Khalid said, addressing students in front of the admin block at the campus.
Watch | Umar Khalid's full speech after returning to JNU campus
Slogans of "Kanhaiya Kumar ko reha karo", "sedition charges wapas karo", "long live JNU" resonated in the campus.
"The media, all this while, presented a lot of things about me. The media trial, this propaganda... I know what my family is going through," Khalid said.
He also refuted claims that he made 800 calls to 'Gulf or Kashmir' a few days before the programme was organised.
"We are glad that our friends are back," said Shehla Rashid Shora, JNUSU vice-president.
She said that if the police come to the campus, the "activist students" will surrender. "We want the mediapersons to record whatever event unfolds here and request them to not doctor the tapes," said Rashid, referring to allegations that the tapes on the basis of which FIR in the matter was registered had been doctored.
Though police was not seen on the campus, students claimed they were "moving about in plain clothes".
Read
Umar Khalid not a terrorist but has poor judgement: Swara Bhaskar
Close Story
Personalise your news feed. Follow trending topics