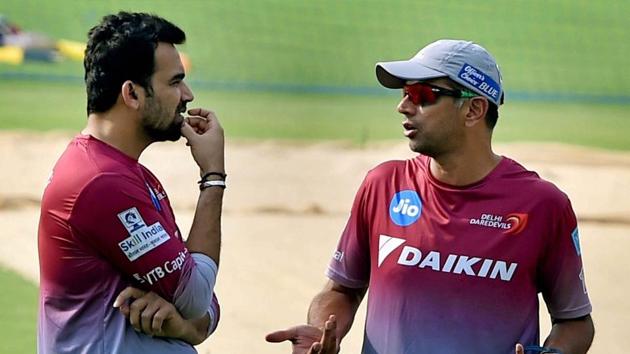 How good is Indian Premier League for cricket | Opinion
IPL is a mixed bag of the good and not so good, according to Indian cricket's thoughtful senior statesman Rahul Dravid. The critical point of all cricket, he always stresses, is to strengthen Indian cricket and develop players to take it forward.
By Amrit Mathur
UPDATED ON MAY 04, 2017 11:54 AM IST
For a moment, set aside peripherals (the excessive focus on cash, contracts and paycheques, ignore the chamak-dhamak of cheerleaders and celebrities), and mute the noise of naach-gaana. Focus instead on the core of IPL -- quality players playing cricket that is competitive and compelling -- and ask if the IPL is good for Indian cricket. If so, how good?
A word of caution. Everything has a context, by that score IPL is one element in BCCI's overall vision to develop Indian cricket. If the BCCI's mission is to be the best cricket nation in the world (and that's a safe assumption!) is the IPL aligned to that idea?
Read | IPL 2017: Latest points tally, run-rates - RPS rise to 3rd, KKR remain 2nd
A likely answer from Rahul Dravid, Indian cricket's thoughtful senior statesman, is that the IPL is a mixed bag of the good and not so good. In his view, the larger picture is more important than highlighting what is nearest. The critical point of all cricket, he always stresses, is to strengthen Indian cricket and develop players to take it forward.
Most would agree the IPL passes the Dravid test of advancing Indian cricket. The glamorous IPL is also a coaching institute and finishing school for players, a conveyor belt that fast tracks young talent and readies it for the higher level.
Read | Indian Premier League: Full schedule of 2017 IPL T20 matches, results, points table
Others dispute this claim by pointing out that IPL's 20-over, 210-minute format is tuned to mediocrity, not excellence. It allows players with limited skills to succeed but the same players get caught out when challenged in tougher Test situations. Like students who ace objective (yes /no) exams but are stumped when asked for analytical answers. Plus, if Test cricket is everyone's pinnacle, the IPL is not the best preparation for climbing the summit.
Another criticism of T20/IPL is that it hurts cricket and inhibits a player's growth. When the ECB recently announced its T20 league, counties worried that the new tournament would hijack fans and sponsors away from traditional cricket. Franchise cricket defenders say this is unfair criticism.
Balancing the three different formats is a challenge for administrators who must ensure the formats coexist and remain in their allocated place. Achieving this balance is a tough ask. Cricket's economics has clearly declared that T20 franchise cricket enjoys overwhelming support of stakeholders, players/ fans/ sponsors. Even if cricket purists consider Tests as the apex, the popular landslide mandate favours the IPL.
In this ongoing debate, there is a general acceptance that the supply of T20 needs control. The ICC has already capped bilateral T20 games but this has not prevented England and SA from launching ambitious domestic tournaments. With T20 events springing up like monsoon weeds, the BCCI fortunately has abandoned its plans for a Grade 2 mini IPL in Tier Two cities.
Had that happened, two consequences were certain. One, a complete takeover of domestic cricket by T20 cricket, with the undermining and devaluing of first-class cricket. Second, a clear signal to players that limited skills were good enough for achieving success. That would have enriched players but in the long run impoverished Indian cricket. And Dravid would have asked: why should any youngster do the hard yards?
Note: Amrit Mathur is a cricket writer and sports administrator. The views expressed in this article are his personal.
Close