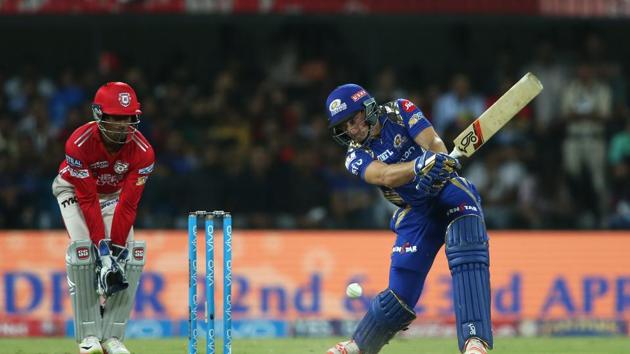 Kings XI Punjab v Mumbai Indians: Buttler's 77 overshadows Amla's ton as MI thrash KXIP by 8 wickets
Hashim Amla's maiden century went in vain as Jos Buttler's 37-ball 77 and Nitish Rana's third fifty helped Mumbai Indians thrash Kings XI Punjab by eight wickets to register their fifth straight win in IPL 2017. Get full cricket score of Kings XI Punjab vs Mumbai Indians here
UPDATED ON APR 20, 2017 11:48 PM IST
Mumbai Indians beat Kings XI Punjab by eight wicket to go to top of IPL 2017 standings. Chasing a massive target of 199, the visitors rode on Jos Buttler's maiden fifty and Nitish Rana's unbeaten 34-ball 62 to seal the deal with 27 balls to spare. This was MI's fifth consecutive win, while chasing, this season. Earlier, Hashim Amla's 104* and Glenn Maxwell's fiery 40 propelled KXIP to 198/4. Get full cricket score of Kings XI Punjab vs Mumbai Indians here. (SCORECARD | STREAMING INFO)
23:30 hrs IST: That's it. Thank you for joining us. Until next time, it's goodbye. Cheers!
Buttler (Man of the Match): "Found really good touch in the tournament, been desperate to kick on, nice to put in a contribution. Striking the ball well, it's a small ground and a fantastic wicket. Luckily we won the toss, you'd think 200 was a really good score. [360 degree batsman?] I think today, chasing that kind of total was great for me because I could go from ball one without thinking. I've put a lot of pressure on myself, trying too hard to score the runs. Today, when you're chasing a big score, you can relax and play your shots. Keep a still base and do the rest."
Rohit: "Incredible game to be part of. Something which reminded me of 2014, when we chsed 190 against Royals in 14 overs. To be able to chase this target in 15.3 overs is fantastic. Hashim Amla played one of the finest knocks we would ever see but we finished up really well. When we came back to the change room the talk was that the ground is small and we have the batters to do it. That was pretty evident in the first six overs. The way Jos and Parthiv batted at the start was magnificent. That's the kind of firepower we have."
Maxwell: "They were pretty favourable to batting. In saying that I thought 198 was a good score. Thought we'd be able to defend it. Especially here. Unfortunately we let our chances slip. Positives, Hashim's hundred. And Marsh's start. He hit the ball beautifully. Amla's all class. Plenty of positives on the batting side, but the bowlers had a tough night. We have to make sure we take every catch that comes to us."
23:06 hrs IST: SIX! And that's it. MI thrash KXIP by 8 wickets to go to top of IPL 2017 standings.
23:02 hrs IST: MI need 8 off 30. It's time-out.
22:59 hrs IST: SIX! And that's fifty for Rana. His 3rd in IPL. Gut feeling - The southpaw will play for India within the next six months.
22:56 hrs IST: Good over from Mohit. Just four off it. MI need 29 off 36. It's all too easy now for the visitors.
22:52 hrs IST: OUT! Buttler c Maxwell b Mohit 77(37). But it's too late now. The Englishman smashed seven fours and five sixes at a strike-rate of 208.10.
22:49 hrs IST: Consecutive sixes (again). Buttler...Buttler...Buttler... He has completely overshadowed Amla's ton. MI needed a special one and Buttler has done exactly that.
22:46 hrs IST: Good comeback from Swapnil. Just four runs off his next few deliveries. MI need 49 off 48.
22:43 hrs IST: Two sixes in a row from Rana. He moves to 40 off just 19 balls. Not to forget, five sixes!
22:39 hrs IST: Excellent over in context of the game. Just six runs off it. MI need 76 off 60. Buttler 60*, Rana 20*
22:36 hrs IST: Swapnil Singh now.
22:35 hrs IST: SIX! Too short from Axar, Buttler goes back and hammers it over deep square leg. MI need 82 off 66.
22:34 hrs IST: Buttler is currently scoring at a strike-rate of 214.
22:31 hrs IST: Double and that's fifty for Buttler. His first in IPL. One of the best power-hitters in the cricketing world currently.
22:29 hrs IST: Eight runs off the next five balls. MI need 98 off 66.
22:26 hrs IST: SIX! Short ball from Stoinis, Rana moves quickly and whacks it over fine-leg. First of the night for him.
22:24 hrs IST: Tidy over from Parthiv. Just four runs off it. MI need 112 off 78. Buttler 43*, Rana 2*
22:20 hrs IST: Nitish Rana at No.3. He has two fifties to this name this season (so far).
22:19 hrs IST: WICKET! Parthiv c Maxwell b Stoinis 37(18). Some relief for KXIP.
22:15 hrs IST: Consecutive boundaries for Parthiv. Absolute carnage! 10 boundaries and four sixes inside the powerplay.
22:13 hrs IST: Three more boundaries on Buttler. He's just hitting them for fun. Excellent stuff. Moves to 39. MI are 68/0 after 5 overs.
22:08 hrs IST: Six and a four for Parthiv. MI are 51/0 after 4 overs. Buttler 27*, Parthiv 21*
22:05 hrs IST: Three boundaries and two sixes in the first three overs. Rohit couldn't have asked for anything better.
22:03 hrs IST: FOUR! Buttler on fire. Races to 22 in no-time. MI are 34/0 after 3 overs.
22:01 hrs IST: FOUR! Overpitched from Sandeep, Buttlers gives himself room and powers it in the gap between cover and mid-off.
21:59 hrs IST: Sandeep to continue.
21:58 hrs IST: Costly over from Ishant. 11 runs off it. MI off to a brilliant start.
21:55 hrs IST: Ishant Sharma now.
21:54 hrs IST: SIX! Length ball, Buttler shuffles and flicks it over mid-wicket for a maximum. MI are 10/0 after first over.
21:51 hrs IST: Sandeep Sharma to start the proceedings for KXIP. Parthiv to face the first ball.
21:50 hrs IST: Welcome back!
21:37 hrs IST: Five runs off the last four balls. KXIP finish on 198/4. Amla remains unbeaten on 104. He is congratulated by the opposition players. We'll be back in a short while with MI's chase.
21:33 hrs IST: SIX! And that's maiden IPL ton for Amla. What an innings! Deserves it. The South African has made MI bowlers look clueless.
21:31 hrs IST: Malinga to bowl the last over. He starts with a wide.
21:30 hrs IST: 10 runs off the over. Bumrah ends with figures of 1/30. KXIP are 180/4 after 19 overs. Amla 90*, Axar 8*
21:26 hrs IST: Bumrah to bowl the penultimate over.
21:25 hrs IST: Good over from McClenaghan. Just five off it. He finishes with figures of 2/46. KXIP are 170/4 after 18 overs.
21:22 hrs IST: Axar Patel is in at No. 6
21:21 hrs IST: WICKET! Stoinis c Pollard b McClenaghan 1(3).
21:17 hrs IST: OUT! Maxwell b Bumrah 40(18). Just the wicket MI wanted. But has the damage been done?
21:15 hrs IST: 61 runs in the last three overs.
21:14 hrs IST: Two boundaries off the next ball deliveries. Amla moves to 77. Can he score his maiden IPL ton? KXIP are 161/2 after 16 overs.
21:11 hrs IST: Consecutive sixes from Amla now. The Indore crowd has lit up. KXIP would be disappointed if they don't get to 220.
21:09 hrs IST: 6,6,4,4,6. Can this over be the real game changer?
21:07 hrs IST: KXIP are 139/2 after 15 overs. Amla 57*, Maxwell 39*.
21:04 hrs IST: SIX! Low full-toss from McClenaghan and Maxwell hits it flat over square leg. Maxwell, you beauty!
21:03 hrs IST: Two boundaries in a row now. Maxi on fire! What on earth this guy can't do?
21:02 hrs IST: SIX! Another one. Length ball. Makes slight room and smashes it straight down the ground.
21:01 hrs IST: SIX! Stand and deliver. Overpitched from McClenaghan and Maxwell launches it over long-on. What a shot!
21:00 hrs IST: Single. Maxwell moves to 12. KXIP are 111/2 after 14 overs.
20:58 hrs IST: Consecutive boundaries for Maxwell. He needs to stay till the end if KXIP are to get anywhere around 190.
20:55 hrs IST: Five runs off the next 5 balls. KXIP are 100/2 after 13 overs. Amla 56*, Maxwell 2*
20:52 hrs IST: FOUR! Slightly short from Krunal and Amla cuts it between cover and point.
20:51 hrs IST: Single and that's fifty for Amla. His 3rd in IPL. Classy innings! KXIP are 91/2 after 12 overs.
20:48 hrs IST: FOUR! Slower ball from Malinga, Amla opens the bat face and works it over backward point. Moves to 44.
20:46 hrs IST: OUT! Krunal gets Saha. Just when another partnership was building, MI strike. KXIP are 80/2 after 11 overs.
20:44 hrs IST: SIX! Flatter delivery from Krunal, Amla comes down the track and lofts it over long-on.
20:42 hrs IST: Good start from Bumrah. Mixing his pace well. KXIP are 69/1 after 10 overs. How much can they score in the next 60 balls.
20:40 hrs IST: Off cutters, back of the hand deliveries seem difficult to score.
20:38 hrs IST: Bumrah comes into the attack.
20:37 hrs IST: Spinners have really tightened the screws. Just 24 runs since the departure of Marsh. KXIP are 83/1 after 9 overs. Amla 29*, Saha 6*
20:33 hrs IST: Another over with singles and doubles. KXIP are 58/1 after 8 overs. Strategic time-out.
20:30 hrs IST: Eight balls since the last boundary. KXIP are 52/1 after 7 overs. Amla 23*, Saha 2*
20:27 hrs IST: Krunal Pandya comes in for his first over.
20:26 hrs IST: Saha the next man in. KXIP are 46/1 after 6 overs.
20:25 hrs IST: WICKET! Marsh c Pollard b McClenaghan 26(21). Looked poised for a big one.
20:24 hrs IST: FOUR! Too short from McClenaghan (maybe he is looking for extra bounce) and Marsh hammers the pull to the mid-wicket boundary.
20:21 hrs IST: Good from Malinga. Just a run off the next four balls. KXIP are 39/0 after 5 overs. Marsh 22*, Amla 16*
20:18 hrs IST: SIX! Length delivery from Malinga, Amla gets into position early and smacks it over long-on for a maximum. Fantastic!
20:17 hrs IST: Malinga is the second change. From over the wicket
20:16 hrs IST: Decent start from Bhajji. Six runs off it. KXIP are 32/0 after 4 overs.
20:14 hrs IST: Harbhajan now.
20:14 hrs IST: Dot ball. KXIP are 26/0 after 3 overs.
20:12 hrs IST: FOUR! Width on offer (again), Marsh cuts it along the ground. Finds the gap really well.
20:11 hrs IST: FOUR! Touch short from Hardik, outside off, Marsh cuts it well over backward point.
20:09 hrs IST: Single for Marsh. KXIP are 15/0 after 2 overs. Hardik to continue.
20:07 hrs IST: FOUR! First boundary for Amla. He needs to get a big one tonight. Anything around 180 would be a good score for the hosts
20:05 hrs IST: Mitchell McClenaghan from the other end. He is MI's highest wicket-taker this season (so far) with seven wickets.
20:04 hrs IST: Single off the last ball for Amla. KXIP are 8/0 after first over.
20:02 hrs IST: FOUR! Poor delivery from Hardik. Short, wide and Marsh cuts it through point for his first boundary.
20:01 hrs IST: Amla gets off the mark. Length ball, he gets into position and works it to short mid-wicket for a single.
19:58 hrs IST: Live action. Shaun Marsh, playing his first game of the tournament, arrives in the middle with Amla. Hardik Pandya to bowl the first over.
19:46 hrs IST: Meanwhile, this player - who suffered a shoulder injury last year - is all set to make a comeback shortly after Champions Trophy. Can you guess who it is? Find out here
19:40 hrs IST: So Kings XI Punjab have dropped Eoin Morgan and David Miller. Big call. MI are unchanged.
19:35 hrs IST: Playing XI of both teams:
MI: Parthiv Patel (wk), Jos Buttler, Nitish Rana, Rohit Sharma (c), Kieron Pollard, Krunal Pandya, Hardik Pandya, Harbhajan Singh, Mitchell McClenaghan, Lasith Malinga, Jasprit Bumrah
KXIP: Hashim Amla, Shaun Marsh, Glenn Maxwell(c), Marcus Stoinis, Wriddhiman Saha(wk), Axar Patel, Gurkeerat Singh Mann, Swapnil Singh, Mohit Sharma, Sandeep Sharma, Ishant Sharma
19:31 hrs IST: Mumbai Indians have won the toss and have chosen to bowl first.
19:29 hrs IST: Lendl Simmons of Mumbai Indians has scored his only IPL century vs Kings XI Punjab. Will he get a game tonight?
19:27 hrs IST: Harbhajan Singh needs just one more scalp to become the third Indian and 19th bowler overall to complete a double century of wickets in T20s. Currently, the off-spinner has 199 wickets at 25.58 in 222 games.
19:25 hrs IST: Toss in five minutes!
19:16 hrs IST: Mumbai Indians, after losing their opening game against Rising Pune Supergiant, have won four in row. Nitish Rana and the Pandya brothers have rose to the occasion and skipper Rohit Sharma has also struck form at the right time. On the other hand, Kings XI Punjab - who have secured two wins in five games so far - will look to put their IPL 2017 campaign back on track tonight.
STAT ATTACK - Lasith Malinga needs three more wickets to become the first bowler to claim 150 wickets in IPL. The Sri Lankan fast bowler has 147 wickets at 18.11 in 101 matches for Mumbai Indians since 2009.
19:10 hrs IST: Good evening and welcome to our live coverage of match 22 of IPL 2017 between Kings XI Punjab and Mumbai Indians.
The biggest problem for KXIP has been the form of their overseas batsmen. Glenn Maxwell and Hashim Amla played brilliantly in the first two matches, but both of them have struggled to score runs ever since.
The situation has been even worse for David Miller and Eoin Morgan as both of them have failed to produce a single big innings in the tournament so far. (STANDINGS | ALL THE RESULTS)
Historically, Mumbai Indians (MI) have a slender lead over Kings XI Punjab as they have won 9 out of their last 17 meetings. (IPL SCHEDULE)
However, KXIP have not lost a single match at the Holkar Stadium in Indore this season and they will surely be looking to put their IPL campaign back on track with a win over the in-form MI at their lucky 'home' ground.
Close