Bill soon to regulate bovine breeding in Rajasthan
The state government will soon come up with a bill to regulate sale of bovine semen and artificial insemination services for improving cattle breeds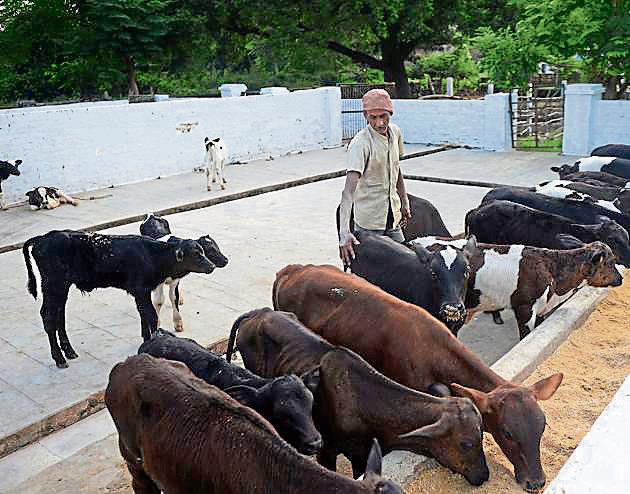 Updated on Oct 22, 2017 07:30 PM IST
The state government will soon come up with a bill to regulate sale of bovine semen and artificial insemination services for improving cattle breeds.
A draft of the Rajasthan Bovine Breeding (Regulation of Production and Sale of Bovine Semen and Artificial Insemination Services) Bill, 2017, is under discussion, government sources said.
Once the bill becomes an Act, people, companies, NGOs and associations will have register themselves with a state authority for establishing and operating semen stations for breeding.
The bill stipulates collection of semen of the bulls certified by the state authority. "Bulls have to undergo tests, conform to breed characteristics and meet the minimum standards for various traits in terms of quantity and quality as may be specified by the state authority," an official said, referring to the bill.
"It is the government's responsibility to provide better quality semen," agriculture minister Prabhu Lal Saini said.
"A bill is being processed for breed improvement, so that services given by private concerns will be verified. This will curb illegal activities in the field of breeding and artificial insemination."
A semen station is required to provide details of a bull, whose semen doses it will produce, store, sell and supply to artificial insemination service providers.
"With implementation of the Act, no person, company, institution, NGO, breeders' association, and semen stations shall provide artificial insemination services without obtaining a registration certificate from the state authority," an official said.
"No person will act as an artificial insemination technician and provide his services unless he has the requisite qualification and experience as prescribed by the state authority, undergoes prescribed training and has registered himself with any registered service provider."
There are about 84 lakh milch cows in the state. Among them percentage of desi species like Gir, Tharparkar, Kankri, Sahi and Harayan are less and has been going down, officials said.
In the livestock census, the state government plans to enumerate breed-wise details of its cattle population to improve progeny of indigenous breeds and enhance milk production, officials said.
Close Story
Personalise your news feed. Follow trending topics