Bengal BJP leaders write to ECI seeking poll panel's help to organise rath yatra in the state
The two-page letter written on November 9 alleges there is no space for engaging in political activities for the Bharatiya Janata Party in West Bengal.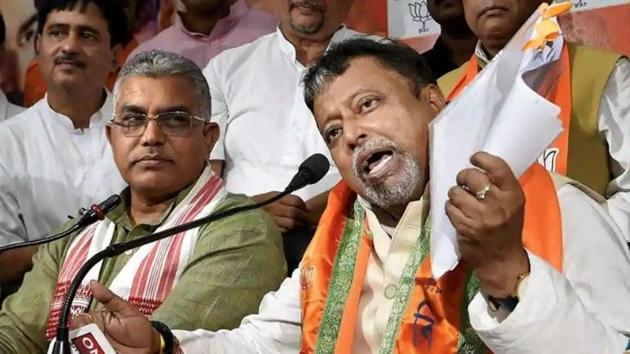 Published on Nov 13, 2018 10:33 AM IST
Hindustan Times |
, Kolkata
HT Correspondent
Allegedly stonewalled by the state government after seeking appointment to discuss the routes and modalities of their rath yatra in December-January, Bengal BJP leaders have written to the Election Commission of India (ECI) seeking the poll panel's intervention to "ensure its smooth journey".
The rally of three raths labelled as Ganatantra Bachao Yatra (Rally for Saving Democracy) that is supposed to start in the first week of December is so far the most high-profile and spectacular political programme by the saffron party in the state involving top leaders such as party president Amit Shah and chief ministers from about 20 states.
Read: Anyone resisting rath yatra in Bengal will be crushed under wheels: BJP women's chief
The two-page letter written on November 9 and signed by Mukul Roy, the convenor of election management committee for the Lok Sabha polls, alleges there is no space for engaging in political activities for the party in West Bengal with the Mamata Banerjee government not allowing public rallies, processions and yatras.
"We want to draw your attention to the law and order situation in West Bengal and request you to intervene in this matter and ensure the smooth journey of our 'Ganatantra Bachao Yatra and day-to-day political activities," wrote Roy.
BJP state leaders had earlier threatened to move court if their requests are ignored by the administration.
Read: BJP plans rath yatra covering all constituencies in Bengal in December, January
Trinamool Congress legislator and food and supplies minister Jyotipriyo Mullick shot back saying, "A party takes recourse to such measures only when it lacks popular support. While one leader threatens to crush opponents under the wheels of the chariots, another is rushing to a body that has no connection with or locus standi in the matter."
"We are aware that law and order is a state subject, but if we are not allowed to hold rallies, processions and other political programmes, how will we perform our role as an opposition party. Whom will we turn to?" remarked Roy explaining the rationale of his letter to the ECI.
Roy's letter detailed how the party wrote to the chief secretary, home secretary and director general of police to "obtain necessary permission and no-objections from respective district administration and police authority" and failed to elicit any response.
Read: Mamata to take centre stage at Dalit community matriarch's birth centenary
The letter described Bengal as an island of violence and persecution in an otherwise "free and fair polling system" in the country and requested the poll panel to do its bit to ensure the democratic space in West Bengal.
According to initial plan, the yatra is supposed to cover about 11,000 km and tough each of the 294 assembly constituencies of the state.
The BJP Women's wing chief Locket Chatterjee has already threatened that anyone who attempts to obstruct the yatra crushed under the wheels of the chariot.
The letter also mentioned, "the death of around 100 people" in the panchayat elections in the state this year.
Close Story