How to throw a quick and easy Thanksgiving party
Updated on Nov 24, 2022 12:46 PM IST
We have created a helpful checklist of things you should keep in mind while throwing a thanksgiving or friendsgiving party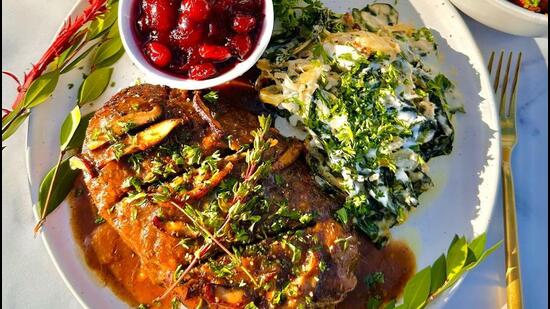 Whether you are doing a Thanksgiving party with family or a Friendsgiving event, here are some things to keep in mind. While this event is culturally significant in the West, it can be celebrated as a day to count your blessings and be grateful for the people who have made a difference in your life.
FOOD
In the West, turkey is the pièce de résistance of the Thanksgiving meal. You can opt for a stuffed chicken or a roasted pig, while vegetarians can have the head of a cauliflower. Honey-roasted carrots and sautéed vegetables spiced with Indian flavours like turmeric, cumin, garam masala and more make for a great accompaniment. Pumpkins and sweet potatoes are a big part of a Thanksgiving meal, so you can make a pie or soup or just roast them. Corn pakoras make for delicious finger food along with mini samosas and tikkas. Roasted baby potatoes with Cajun spices or classic Indian flavours work well too.
DRINKS
While you dig into all the yummy food, do not forget to include some on-theme drinks as well. Some options which are worth including in your Thanksgiving meal are virgin cranberry mojitos, caramel apple punch or an apple cider sangria. If you want a warm drink option, opt for a pumpkin-spiced latte, which is a great option to serve your guests this season.
ACTIVITIES
No party is complete without fun games that includes both adults and kids alike. One such activity would be to get your attendees to write down the things they are thankful for. To do this, take a large piece of craft paper and stick it to a blank wall. Ensure that it is close to the party area and at a focal point. In large font, write the words 'I am thankful for…' and leave sketch pens to allow your guests to fill it in. You can also add a blank page to the kid's dining table and throw on a few crayon pencils, allowing them to let their creativity run free. Alternatively, play bingo but replace the numbers with experiences that are both common and uncommon to your group.
DECOR
Keep the decor simple, yet classic with warm accents like a red and white checkered tablecloth or a table runner. Don't shy away from bringing out the good cutlery and add maple leaf place cards to each dinner plate set for a personal touch. White, red or gold candles set will create a cosy atmosphere. Add green leaves to the paper lanterns for a cute faux pumpkin decor.
Personalise your news feed. Follow trending topics