5 tips to up your dental care game for healthy and cavity-free teeth
Jan 17, 2023 11:14 AM IST
Check out some important tips for your oral hygiene routine in order to step up your dental care game and keep an array of issues like tooth decay and discolouration at bay.
Have you ever looked in the mirror, stared at your smile and wondered, "Were my teeth always this yellow? "Or "Did my smile change with time?" It's possible that it's not just a hallucination or it's not something in your head. It's probably your daily oral care routine that needs to be modified. Maintaining your oral health is a vital part of living a healthy lifestyle. Strong teeth, healthy gums and a halitosis-free mouth are signs of good overall health and important aspects of oral hygiene.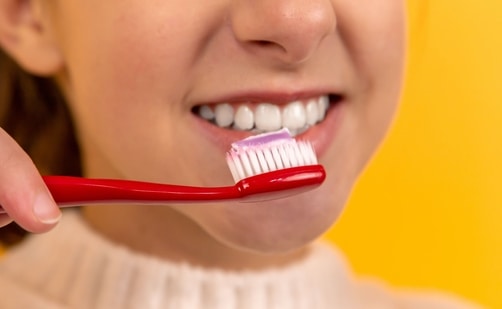 (Also read: Oral hygiene: Simple dental care tips to restore your gum health )
Dr. Kshama Chandan, Celebrity Dentist and Founder of House of Tooth, Mumbai, explains the basic yet significant things you must add to your oral hygiene routine in order to step up your dental care game and keep an array of issues like tooth decay and discolouration at bay. "Brush, floss, rinse, and repeat" is everyone's oral hygiene mantra. It turns out there is a lot more that you can do to keep your teeth healthy, breath fresh, your gums and your smile white and bright.
1. Brush your teeth twice daily
Brush your teeth twice daily, morning and night, for at least two minutes, with a proper brushing technique. Hold your toothbrush at a 45-degree angle to your gums and try using short back-and-forth movements across the tops and sides of your teeth. Make sure the brush reaches all the surfaces of your teeth- outer, inner and most importantly the chewing surface.
2. Choose your toothbrush wisely
Amongst all the variety of toothbrushes available, usually, an electric toothbrush or a smaller head soft bristle toothbrush is the most recommended. Both of these ensure a gentle cleansing without damaging or wearing away the enamel and inflicting any possible long-term wear pattern on your teeth. Remember to replace your toothbrush every 3-4 months or sooner if you have fallen sick.
3. Floss regularly
Flossing goes hand in hand with brushing. An interdental floss is an effective tool to take out all the plaque and debris in between the teeth that a toothbrush can't reach. Floss at least once a day morning or before bed at night to prevent decay and keep your teeth healthy. It is recommended to use an 18-20 inches long piece of floss, wind it around your fingers, hold it tightly between your thumb and forefinger and gently guide it up and down between your teeth.
Use cleaner, fresh sections of floss as you move from one tooth to another. For those finding it hard to floss or those with sensitive and inflamed gums a water pick is a viable option. A water glosser makes the whole process more effective, comfortable and makes it easier to remove plaque, food particles, and bacteria.
4. Use an antibacterial mouthwash
Including a mouthwash in your daily oral care routine serves as an added defence against bacteria living in your mouth. Mouthwash gets into the crevices and soft tissue of your mouth that you may not always brush and helps to combat bad breath and tooth decay. It's always better to use your mouthwash immediately after brushing and flossing morning and night.
5. Give your tongue some attention
Your tongues, like your teeth and gums, can play host to a variety of bacteria causing bad breath. Some toothbrushes contain the tooth scraper on the back of the head. That area is used to clean off your tongue and brush away the remaining bacteria. Scraping your tongue should be a part of your daily dental care routine. This small tool will help you remove bacteria and improve your breath. The more you follow this hygiene routine, the cleaner your mouth will be.
Maintaining oral hygiene is an integral component of your overall body health. By following these dental hygiene tips, using the right products and improving your brushing technique will help you to keep your teeth healthy and free from the cavity.