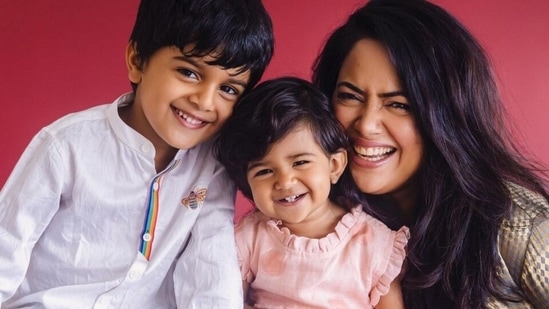 Sameera Reddy trains in the rain with her kids, watch new workout video
Sameera Reddy does skipping and goes for a run with her kids in her latest workout video. The actor trained with her two munchkins in the rain and gave us the perfect weekend motivation.
By Krishna Priya Pallavi
, Delhi
PUBLISHED ON JUL 17, 2021 03:23 PM IST
Actor Sameera Reddy is a staunch advocate of living a healthy lifestyle while talking about body positivity. The actor has been documenting her fitness journey on Instagram and constantly motivates her fans to do the same. Her latest video shows the star training in the rain with her children, and it is the cutest thing you will see today.
Sameera, who is currently working on her goal to lose weight by Diwali, shared a video of herself skipping and running with her son and daughter. Their fun workout clip will pump you up to get out of bed and indulge in a thrilling routine.
Sameera captioned the video, "Nyra and Hans training with Mama #strongertogether I've started skipping and running this week and my god it's hard!!! But I had to change up the routine! It's raining but no excuses peeps! Messy Mama is focuseeeeddd! How about you? 3 months till my Diwali Goal #letsdothis #fitnessmotivation #momlife #fitnessjourney."
+
ALSO READ: Sameera Reddy reveals her fitness mantra, shares pics
Sharing the video, Sameera wrote that she has started skipping and running to reach her goal weight of 75kg. She added that doing both exercises is hard. However, she is focused and will soon achieve her goal.
The video begins with Sameera skipping the rope, followed by Hans and Nyra trying their hands at it. Then, the munchkins follow their mother around as she completes running laps. In the end, a message flashes on the screen as the trio hug each other. It reads, "You can do it mama."
Sameera has included different routines to reach her goal weight. Earlier, she had revealed that she was also doing yoga to take care of her body. She had said that she currently weighed 84.9 kg after following intermittent fasting and doing yoga. Her goal weight is 75 kg.
+
Sameera has often said that she is determined to achieve her goal. But for her staying fit does not mean compromising on doing things that she loves.
Close